Jurassic World: Dominion Dominates Fandom Wikis - The Loop
Play Sound
Last edited:
23 March 2022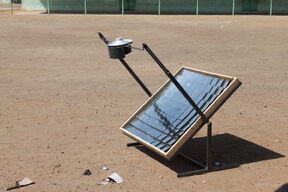 100 Suns is a solar stove developed by Amogh Sahaje. The solar stove is claimed to have a simple design that can be easily constructed at home with inexpensive readily available materials and cook as fast as a conventional stove. The solar stove is also said to have a robust and modular design which requires less maintenance and makes mending, if required, very cheap and easy.
The construction manual for 100 Suns can be downloaded from the following link: 100 Suns Construction Manual
News
[
]
May 2022: National Institute of Rural Development Hyderabad (http://nirdpr.org.in/) installs 100 Suns at their Rural Technology Park.
February 2022: 100 Suns Solar Stoves installed in the Little Rann of Kutch in India for salt farming families as a pilot project in collaboration with GIAN (https://gian.org/).

December 2021: Over 300 persons from refugee and host communities trained in constructing the 100 Suns solar stoves in different regions of Sudan in collaboration with UNDP. Three Manufacturing units are being established which shall be operated by the trained persons. https://tinyurl.com/27jxk763
October 2020: 100 Suns Solar Stove installed for a small eatery in Ahmedabad, India.
March 2020: Five Solar Stoves constructed for Agro Science Center Nandurbar, India.
December 2019: 100 Suns Solar Stove presented at the Serendipity Art Festival in Goa, India, under the theme of 'Inventions as works of Art'.
May 2019: Development Support Center India (DSC India) installed 100 Suns at its field office at Khandbara, Maharashtra. They plan to subsequently deploy it in their project villages.
November 2018: Comprehensive Rural Health Project (CRHP), Jamkhed, Maharashtra India installed 100 Suns solar stove at its campus. They are planning to eventually disseminate it in around 300 villages they are engaged in.
October 2018: Newspaper report: A 100 Suns to the Rescue
September 2018: Partners in Sustainable Development, an NGO based in Ghana built its first 100 Suns solar stove. Mr. Annor Douglas, the CEO of the organization plans to deploy it in the rural parts of Ghana.
April 2018: Devrai Art Village, Panchgani India installs 100 Suns solar stove.
Audio and video
[
]
Contact
[
]
Amogh Sahaje
Email: a.sahaje@yahoo.co.in