This article is about a group or individual that may no longer be active in solar cooking promotion. It is retained here for archival purposes.


Last edited:
12 April 2012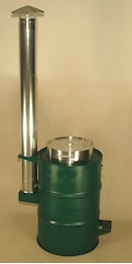 The 60 Liter Stove is a highly efficient stove that is designed to cut fuel use by 75%, and reduce smoke pollution by 90%. It will cook large batches of food using twigs and small branches.
It incorporates an extra large 15 gallon cooking pot. The stove will boil ten gallons of water in less than 30 minutes, and continue to boil with just a few small sticks of wood. It is unparalleled in quick cooking times, reduced fuel use, and minimal smoke and greenhouse gas emissions.
Chimney and Cap: the five foot chimney draws smoke and soot away from the cook, and is designed to create the ideal draft for clean burning.
Pot and Lid: each stove comes with a heavy duty (¼ inch thick) 60 liter or 15 gallon pot with a close fitting lid. The pot precisely fits down into the stove for maximum heat transfer efficiency.
Internal Design: the pot is surrounded by a precisely designed heavy steel cylinder that forces the hot gasses from the fire to scrape against the bottom and the sides of the pot. This unbeatable heat transfer results in the pot cooking a lot faster on less wood.
Combustion Chamber: The heart of this stove is an advanced design combustion chamber, developed by the Aprovecho Research Center in Oregon. The long lasting special high temperature 24 gauge stainless steel chamber is surrounded with lightweight insulation. The firebox generates clean burning temperatures above 1100 degrees Celsius.
Safety: The insulated body of the stove remains cool to the touch while in operation, and the recessed firebox minimizes potential for burns. The 75 pound stove can be easily moved by one or two people, while at the same time the big stove is very stable and almost impossible to tip over.
Performance: this chart shows fuel use, emissions, and cook times compared to an open fire. The results speak for themselves.
External links
Edit
Fred Colgan
Tel: +1 (541) 337-0641
Community content is available under
CC-BY-SA
unless otherwise noted.