Last edited:
1 November 2014
This article is about an entity that either no longer exists or that may no longer be active in solar cooking promotion. It is retained here for archival purposes.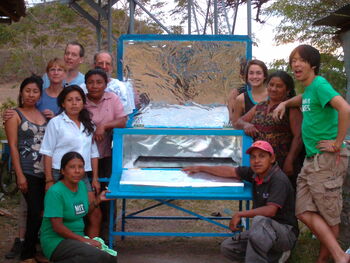 In 2007 the Solar Oven Team partnered with Grupo Fenix, an organization from the Universidad Nacional de Ingeneria in Nicaragua that works in rural areas to increase awareness of sustainable lifestyles and research renewable energy, and Las Mujeres Solares de Totogalpa, a collective of women using solar technologies to offset te use of biomass fuels in their homes. In a region suffering from deforestation, solar ovens reduce the need for women to spend hours of their day gathering resources and reduce the health risks from fires. dealing specifically with a small community in Sabana Grande, the Solar Oven Team works to increase solar oven usage by creating a sustainable solution that is culturally acceptable and desirable.
Test several alternative insulation materials for use in the solar cookers for utility and durability:

wood shavings from planing wood - used presently
rice hulls
coffee bean husks
fiberglass
Develop a better mechanism for supporting the lid/reflector:

the present wooden support rod is awkward to use and difficult to align
Design a prefabricatable, light weight, easy to ship and assemble cooker:
Develop a lightweight cooker that can be prefabricated from locally available materials in Sabana Grande, or other rural communities, and easily assembled at a distant site would make distribution of solar cookers much easier than present
Research the possibility of using Fresnel or other lenses to help focus more light into a cooker, instead of or in addition to reflectors to allow more heat in the cooker.
Design and prototype small cookers for use in the Ithaca, NY area, roughly 42 degrees North Latitude, with sloped fronts (glazing) to better capture light during the winter months. Two cookers will be made for demonstrating use and function in the area.
For more information please visit our solar cooker project wiki.
News and recent developments
[
edit
|
edit source
]
Summer 2013: During Spring Break of 2013, 8 students and team members traveled to Sabana Grande. The team included Meghan Hilbert, Emma LeJeune, Joanna Cherches, Hayley Kantor, Kevin Keene, Chris Perrotti, Angel Martinez and Tim Bond from Cornell and Ginger Ortega from UAM in Nicaragua. We arrived in Managua at midday on Sunday March 17th, were met by Lyndsey Chapman of Grupo Fenix, bused to Sabana Grande and met our families. Each person of our team stayed with the family of a different member of Las Mujeres Solares de Totogalpa. Our technical exchange began Monday morning. We described our several projects in progress during the last year and Las Mujeres described their projects. We decided to build a portable oven of a new style developed by a carpenter (and the women) who volunteered with the Solar Women for several months, a new solar water distiller with a different heating plate design and a bicycle powered electricity generator which would not require modifying the bike. Members of the Las Mujeres Solares de Totogalpa, Jovenes Pedaleando Hacia El Futuro our team split into three groups to work on the projects.
March 2011: The student team visited Sabana Grande during spring break to build a new large cooker with a new metal stand for use in the soon to be completed Solar Restaurant being built by Las Mujeres Solares de Totogalpa at their Centro Solar. We plan to Sabana Grande in March 2012 to continue our work with our friends there.
Tim Bond, Staff Advisor
Solar Cooker Project Team at Cornell University
Email: tkb2@cornell.edu
Community content is available under
CC-BY-SA
unless otherwise noted.