The ARUN 100 is an institutional cooking solar array. The Akshardham Temple located in New Delhi, India was the first in the country to install the ARUN 100 solar steam generating system for community cooking purposes. MNRE has partly funded this installation and Clique Solar has manufactured and installed the system. The system was put into service in November 2012, and in July 2013, Clique Solar received the "Best Solar Thermal Technology" award at the prestigious Intersolar Awards held in Munich, Germany.
The system has been designed with a capacity to handle 2,000 - 3,000 meals on a clear sunny day, saving approximately 30 to 50 scm of PNG each day in operation.
The ARUN dish automatically tracks the sun from morning to evening. The receiver coil at the focus of the dish transfers the heat of the sun to the heat transfer medium (water). Once the system starts generating steam, the pressure in the line starts increasing. Once this pressure matches the pressure in the existing boiler header, a valve opens and steam is delivered to the common header. This process continues whenever the sun is available. When the sun is not available, the existing boiler system is turned on. This switchover between the solar and existing boiler system is automatic. Read more about the system here: ARUN 100 Installation at Akshardham Temple, New Delhi - Ajay Chandak
May 2016: Solar thermal excellence award - Ramakrishna Mission Students' Home in Chennai was recently conferred with an award for Concentrated Solar Thermal Excellence (CST) for their Solar Cooking System by MNRE, Government of India. The award was given for the school's installation of the ARUN 100 institutional solar steam generating and heat storage system. Award for excellence - NYOOOZ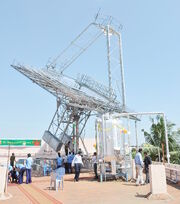 March 2015: Investment brings large-scale solar cooking to Chennai school for orphans and underprivileged boys - Starting in 2013, a partnership between the United Nation Development Programme, India's Ministry of New and Renewable Energy, and the Global Environment Facility, led to a project to install a ARUN 100 solar concentrator at the Ramakrishna Mission's Students' Home which serves orphaned an underprivileged boys. The system provides enough energy to cook 3000 meals per day and reduces LPG consumption by half which leads to a savings of US$8000 per year. Read more...
ARUN 100 with Thermal Storage variation
[
edit
|
edit source
]
Ram Krishna Mission Student's Home, Mylapore, Chennai wanted to adopt solar cooking system for its hostel. However the desired cooking times and the availability of sunshine was not matching up. Breakfast is cooked at 4.00 a.m. and lunch cooking starts at 7.00 a.m., while dinner is cooked after 5.00 p.m. Hence a system with heat storage was designed and installed. System consists of an ARUN 100 solar steam generating system. The system was commissioned on October 26, 2013.
The basic aim of the control system in this integration scheme is to deliver steam to the existing boiler header, and the excess steam to be delivered to thermal storage for non-solar hours of operation. Pressurized water is used to store excess steam generated mid-day.
Ajay Chandak has provided this useful graph illustrating the times when cooking heat is taken from storage, very early and late in the day, and mid-day when excess steam is transfered to the heat storage system.
Read more about this system here: ARUN 100 with Thermal Storage at Ramkrishna Mission, Chennai - Ajay Chandak
Clique Solar
149, BCD, First Floor,Govt. Industrial Estate, Charkop Village Naka
Mumbai - 400 066, Maharashtra
India
Tel. +91 022-2860 9011/2/3/4
Fax: +91 022-2860 9734
Email: info@cliquesolar.com
Web: http://www.cliquesolar.com/index.aspx
Community content is available under
CC-BY-SA
unless otherwise noted.