Last edited:
5 August 2019
| | |
| --- | --- |
| | Solar Cooker Success in Afghanistan! |
Events
International conferences
NEW: 

2-13 December, 2019 (Feria de Madrid in Madrid, Spain): COP25 - The United Nations Framework Convention on Climate Change (UNFCCC) is hosting the twenty-fifth session of the Conference of the Parties (COP 25) has been scheduled to take place in Feria de Madrid in Madrid, Spain from 2-13 December, 2019. More information...
22-24 January 2020 (Faro, Portugal): CON

SOL

FOOD

2020

- To be held at the Institute of Engineering, Universidade do Algarve, Campus da Penha. The conference will focus on solar thermal food processing. The deadline for receipt of abstracts was 15 June 2019. More information... 
See also: Global Calendar of Events and past events in Afghanistan
News
May 2017: Contribute your data: Drive solar cooking results - Solar cooking contributes to long-term progress from cleaner, more efficient, sustainable cooking solutions worldwide. It is crucial to convey the positive health, economic, and environmental impacts of solar cooking to government agencies and other stakeholders. To help build this case, SCI is reaching out to all solar cooking partners. Solar Cookers International (SCI) invites your input in the form of data on baseline information, number and type of solar cookers, number of years of the project, location, outcomes, etc. With your help, we can work to include solar-thermal cooking in national energy and sustainability plans. You provide:
Number of solar cookers
Type
Location
Time period
Distributed
Sold
Manufactured
Submit your solar cooking data by filling out a simple form on the Solar Cookers International website or email info@solarcookers.org.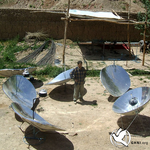 November 2015: Global Hope Network International reports delivering 86 solar cookers in the Yoakawlang District and Bamyan Province of Afghanistan. They note that local solar cooker production and sales have also increased in these areas. Read more...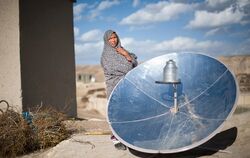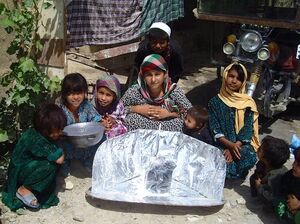 July 2015: National Energy Globe Award Afghanistan 2015 was given to Trust In Education - The jury noted that Trust in Education, under the leadership of Jack Howell, is distributing solar cookers to the masses living in refugee camps in Kabul, Afghanistan. Not only does this company aid in the feeding and protection of many people, but also helps to protect the environment by keeping harmful wastes from the landfill. Read more...
October 2014: The Global Hope Network International reports its recent success in transported 300 solar cookers to rural villages in central Afghanistan where all 300 were purchased by villagers.
March 2014: Afghan refugees let the sunshine in - Thanks to the passion of volunteer Jack Howell, Trust in Education (TIE) initiated a solar oven project in 2010. TIE started with five solar cookers made by Jack, and deliverd them to Afghanistan in August 2010. That's how it all began. On February 8, 2014 over 60 students from five Bay Area, California high schools joined TIE to build CooKit solar cookers. They are part of the over 100 high schools with Interact Clubs fro District 5170. The district plans on providing 5,170 CooKits to Afghan refugee families. Assuming an average of ten members per family, that makes 50,000 people who will be introduced to solar cooking as a result. TIE already has 500 solar cookers in refugee camps, and has requests for more.
April 2013: Interesting facts about the Sun Oven - Recently Paul Munsen, Sun Ovens International president, was questioned about where their ovens were being sold. They have been sold in over 130 countries. The Sun Oven is usually considered to be the standard which other solar box cookers are judged by. They are well made of quality components and quite durable. They have a revised version of the Sun Oven called the All American Sun Oven that has a 20% larger cooking area and new wind resistance features. Interestingly, forty-two percent of the Sun Ovens sold worldwide are sold in the state of Utah, USA. Munsen believes seventy percent of the ovens are being kept on shelves with emergency food supplies, the rest are used on a regular basis. The owners appreciate the versatility of the cooker, with the added benefit of helping to lower household kitchen temperatures during hot summer months. When Munsen was recently demonstrating in the Sun Oven in Afghanistan to a group of local women, he was told the cooker could not provide the smoky favor desired in their flatbread, known as naan. Paul's wife suggested adding a few drops of liquid smoke to the batter. A recent delivery of ovens was accompanied by a 55-gallon drum of liquid smoke. The liquid smoke offers some advantages over smoky fires. Munsen says women cooking over fires can inhale as much smoke as they'd get from smoking three packs of cigarettes a day, and children are more likely to contract acute lower respiratory and eye infections. Read more...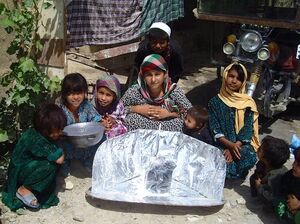 April 2013: Jack Howell reports that once the 100 volunteer-built solar ovens were delivered, a solar box cooker variation with a wooden base and 1" of rigid insulation, refugee families were bused to the Trust in Education office in Kabul, Afghanistan. They were given a four-hour lesson on how to use the solar ovens, and each family was given an oven to take back to their camp. Since this initial project, the new cookers are a CooKit variation, being produced at a local box manufacturing company in San Leandro, California. The reflective material used for the solar panel cookers is recycled Mylar coffee bean bags from Peet's coffee headquartered in Berkeley, California. They are cut open and cleaned by adults with developmental disabilities by the people from Futures Explored in Lafayette, CA. With the reflective interior surface facing out, they are then stapled to the cooker panels by the Afghans. We have delivered 2,000 cookers to Afghanistan and collected over 20,000 bags from Peet's (keeping many Mylar bags from the landfill.) The new cookers are working very well and Afghans love them.
October 2012: Parabolic solar cookers delivered to Afghanistan's remote Wakhan Corridor. The Kirghiz tribe live at the end of this slender finger of land in northeastern Afghanistan. Their primary fuel source for cooking has been dried yak dung, creating smoky conditions in their yurts. The buffalo-like yaks are used for most of their transportation needs. In June, Jeff Waalkes in Kyrgyzstan and Grace Magney with the Global Hope Network in Kabul were able to deliver ten parabolic solar cookers to the tribe. Grace organized the procurement and had the cookers loaded onto a truck. Jeff's responsibility was to get the truck into the Wakhan Corridor, and where the road petered out, strap everything including the solar cookers to the backs of yaks to deliver them to the Kirghiz. Initially hesitant, members of the tribe were soon cooking food and boiling water. See more of Jeff's photos of the delivery.
September 2012: Kabul parabolic solar stove company, Starlight Afghan Free Energy Co. improve their reflective surface with a tested 95% reflectivity and are proudly manufacturing 100% Afghan made stoves.
History
This country, much in Western news in the last years as the refuge of Al-Quaeda members, has actually had solar activity for some time. A newspaper account (Kabul New Times, July 6,1985 (in the Soviet era) discusses research activity for utilization of solar energy, conducted under the auspices of the Solar Energy Institute, a part of the Academy of Sciences of the Democratic Republic of Afghanistan. The effort was principally directed towards the potential heating of houses (not cooking, in the article shown) in recognition of "an increasing deficiency of traditional (presumably meaning wood) and other energy sources". The article further states that since Afghanistan has 300 sunny days per year, conditions are favorable for generating solar energy. The device pictured in the article is a flat plate collector, with two scientists working on its development. Not long after this article was published however, the solar research work most likely ceased with the end of the Soviet regime and the beginning of the Taliban period.
SERVE Solar Project
In a later era, this one under Taliban rule, the SERVE Solar Project, operating in Peshawar, Pakistan, moved its operations to Jalalabad, Afghanistan, in order to serve the population of refugees then returning to Afghanistan, after the departure of the Soviets. SERVE is a British humanitarian agency with projects in health, disability services, relief, and environmental issues. Its work in Pakistan began in refugee camps filled by an Afghan population in 1980. While working on other problems, SERVE discovered the severity of fuel shortages and based on that need, developed a large scale and very successful solar cooking project (see the report on Pakistan). Refugees who moved back took their box cookers with them and demand in Afghanistan was substantial. Initally, SERVE trucked box cookers to Kabul for sale in the market places. Later, they established an office in-country. In 2001, as Taliban rule tightened, SERVE (considered to be a "Christian" organization and hence not acceptable) was forcibly ejected from the country, its gates locked, its staff deported. (Newspaper clipping, NYTimes, date?) After Taliban rule ended, and under the present US led military assistance while the provisional government becomes established and stable, solar cooking has returned to the country. Several projects are underway currently, all too new to have been evaluated for the achievement of their goals. The following agencies are known to have a presence in the country, with a solar cooking component.
Gordon and Grace Magney
Under the leadership of retired SERVE staffer, Gordon Magney (now desceased) and his wife Grace Magney, who returned to live in Kabul in 2002, a small project is underway utilizing a new box cooker developed by an American NGO, the Solar Oven Society (See section in chapter Multi-National Promoters). The new cooker, called the Sport is made of recycled soda bottles with a Mylar cover and (soon to be available) shiny reflectors. Four hundred of the cookers were shipped to Kabul, unassembled, along with the equipment required to assemble the finished product. Under the supervision of Magney, that has now been accomplished. Training of users and sale of the cookers at a cost subsidized by a number of Minnesota churches is underway.
Temple Solar Project
Another project in Afghanistan is sponsored by the Rotary international network. A humanitarian unit called The Temple Solar Project was established by several Rotary groups in November of 1998. It has been supplying large community sized cookers called The Villager (produced by Sun Ovens International) to communities around the world. The cost of each villager is $10,000, plus shipping costs of an additional $3,500. Five of the Villagers have been shipped to Afghanistan; two are already installed and in operation. The others are in transit or awaiting delivery. The first oven was installed in a school, in collaboration with an organization called Friends for Afghan Redevelopment, cooking food for students and staff.. Some smaller solar cookers are not particularly effective in cooking the traditional Afghan bread, an unleavened "naan"-type, which is however easily made in the Village. The large oven can also be used for bakeries as income generating projects or in institutional settings such as schools or hospitals. Logistical difficulties are continuous, including moving the goods through customs, appropriate training, and so on, but the projects are proceeding according to plan.
Laila Petty
An individual, Laila Petty, was prepared and equipped, by an experienced solar cook associated with SCI, to promote solar cooking, prior to a extended visit she was planning to make to Afghanistan. A native Dari speaker, Ms. Petty was particularly interested in the plight of the "internal displaced persons" (IDP) in Afghanistan who do not receive international assistance from refugee organizations, but are nonetheless homeless and poorly served by charitable organizations. Early in her yearlong stay in Afghanistan, she made a number of contacts with relief agencies; did a number of demonstrations, more or less on her own, and conducted training for cooks in several IDP locations. Her work was well received, but agencies in the country were already overburdened by the difficulties of working in the country and none took up her offer to assist in development of a solar cooking project. She was even able to locate a, potential manufacturer of CooKits, the device she was using to demonstrate, and the cheapest solar cookers available. However, none of her work resulted in any substantial interest. She ultimately found a different cause to work on, but would be willing to assist in a solar project should one develop.
See also
Archived articles
Climate and culture
Solar Cookers International has rated Afghanistan as the #10 country in the world in terms of solar cooking potential (See: The 25 countries with the most solar cooking potential). The estimated number of people in Afghanistan with fuel scarcity in 2020 is 6,800,000.
See also
Resources
Possible funders
Reports
Project evaluations
Audio and Video
Articles in the media
Contacts
SCI Associates
NGOs
Manufacturers and vendors
Individuals
Government agencies
Educational institutions
See also
External links
References
Community content is available under
CC-BY-SA
unless otherwise noted.