October 2014: The Global Hope Network International reports its recent success in transported 300 solar cookers to rural villages in central Afghanistan where all 300 were purchased by villagers.
March 2014: Afghan refugees let the sunshine in - Thanks to the passion of volunteer Jack Howell, Trust in Education (TIE) initiated a solar oven project in 2010. TIE started with five solar cookers made by Jack, and deliverd them to Afghanistan in August 2010. That's how it all began. On February 8, 2014 over 60 students from five Bay Area, California high schools joined TIE to build CooKit solar cookers. They are part of the over 100 high schools with Interact Clubs fro District 5170. The district plans on providing 5,170 CooKits to Afghan refugee families. Assuming an average of ten members per family, that makes 50,000 people who will be introduced to solar cooking as a result. TIE already has 500 solar cookers in refugee camps, and has requests for more.
April 2013: Interesting facts about the Sun Oven - Recently Paul Munsen, Sun Ovens International president, was questioned about where their ovens were being sold. They have been sold in over 130 countries. The Sun Oven is usually considered to be the standard which other solar box cookers are judged by. They are well made of quality components and quite durable. They have a revised version of the Sun Oven called the All American Sun Oven that has a 20% larger cooking area and new wind resistance features. Interestingly, forty-two percent of the Sun Ovens sold worldwide are sold in the state of Utah, USA. Munsen believes seventy percent of the ovens are being kept on shelves with emergency food supplies, the rest are used on a regular basis. The owners appreciate the versatility of the cooker, with the added benefit of helping to lower household kitchen temperatures during hot summer months. When Munsen was recently demonstrating in the Sun Oven in Afghanistan to a group of local women, he was told the cooker could not provide the smoky favor desired in their flatbread, known as naan. Paul's wife suggested adding a few drops of liquid smoke to the batter. A recent delivery of ovens was accompanied by a 55-gallon drum of liquid smoke. The liquid smoke offers some advantages over smoky fires. Munsen says women cooking over fires can inhale as much smoke as they'd get from smoking three packs of cigarettes a day, and children are more likely to contract acute lower respiratory and eye infections. Read more...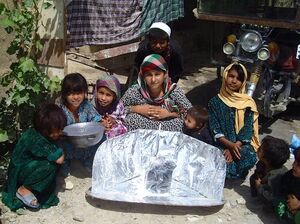 April 2013: Jack Howell reports that once the 100 volunteer-built solar ovens were delivered, a solar box cooker variation with a wooden base and 1" of rigid insulation, refugee families were bused to the Trust in Education office in Kabul, Afghanistan. They were given a four-hour lesson on how to use the solar ovens, and each family was given an oven to take back to their camp. Since this initial project, the new cookers are a CooKit variation, being produced at a local box manufacturing company in San Leandro, California. The reflective material used for the solar panel cookers is recycled Mylar coffee bean bags from Peet's coffee headquartered in Berkeley, California. They are cut open and cleaned by adults with developmental disabilities by the people from Futures Explored in Lafayette, CA. With the reflective interior surface facing out, they are then stapled to the cooker panels by the Afghans. We have delivered 2,000 cookers to Afghanistan and collected over 20,000 bags from Peet's (keeping many Mylar bags from the landfill.) The new cookers are working very well and Afghans love them.
October 2012: Parabolic solar cookers delivered to Afghanistan's remote Wakhan Corridor. The Kirghiz tribe live at the end of this slender finger of land in northeastern Afghanistan. Their primary fuel source for cooking has been dried yak dung, creating smoky conditions in their yurts. The buffalo-like yaks are used for most of their transportation needs. In June, Jeff Waalkes in Kyrgyzstan and Grace Magney with the Global Hope Network in Kabul were able to deliver ten parabolic solar cookers to the tribe. Grace organized the procurement and had the cookers loaded onto a truck. Jeff's responsibility was to get the truck into the Wakhan Corridor, and where the road petered out, strap everything including the solar cookers to the backs of yaks to deliver them to the Kirghiz. Initially hesitant, members of the tribe were soon cooking food and boiling water. See more of Jeff's photos of the delivery.
September 2012: Kabul parabolic solar stove company, Starlight Afghan Free Energy Co. improve their reflective surface with a tested 95% reflectivity and are proudly manufacturing 100% Afghan made stoves.
July 2011 Patricia McArdle was interviewed on the Kojo Nnambi Show by Rebecca Roberts to discuss her first book, Farishta, and her work bringing solar ovens to the rural poor in Afghanistan. Listen to the interview.
June 2011: Voice of America interviews Patricia McArdle about her novel Farishta - Solar Cookers International board-member Patricia McArdle discusses her award-winning novel in which solar cooking in Afghanistan is featured. Audio available here.
September 2010: Trust in Education is a nonprofit that has been involved with building schools in Afghanistan, and has recently begun to send a few solar ovens to the area where they have projects. They hope to build up their efforts helping to introduce solar cooking to local villagers.
June 2010: SCI board member Pat McArdle's novel about solar cooking in Afghanistan wins Amazon's Breakthrough Novel Award!
May 2010: A Scheffler Community Kitchen is currently being installed at the Jamhuriat High School for Girls in Afghanistan, through the efforts of Solare Brücke. Located in the heart of Kabul, it is planned to be operational in June. Of the current enrollment of 1000 girls, the new kitchen will serve approximately 700 students who have lunch at the school each day. Everyone there looks forward to stop using the wood-fired kitchen stove, and are quite proud that the entire new solar kitchen has been produced in Afghanistan.
April 2010: Afghan Scouts Harness Solar Energy - U.S. Army Soldiers are teaming with the Afghan Boy Scouts and Girls Scouts in Kabul, reducing the need to use wood as a fuel source. Through finding an alternate fuel source they are helping to create a cleaner Afghan environment while creating a more economical way of cooking. The solution: a solar oven, a box with a glass lid and reflective panels that absorb energy from the sun, trapping the energy inside the box to heat food and water. Solar ovens can bake, fry or steam any type of food.
August 2005: Manufacturing of the first Scheffler Community Kitchen in Afghanistan was started in the Afghan Bedmoschk Solar Centre. The Solar Centre is initiated and run by our partner organisation Afghan Bedmoschk Solar Centre e.V. Scheffler reflectors can be used for solar cooking, solar baking, solar food processing and as well for production of steam for applications of process heat or for the requirements of hospitals (laundry , autoclaves, cooking). The first application planed in Bedmoschk is a Solar Tandur for cooking the local flatbread. The technical part of the project is done by Solare Brücke e.V.
Community content is available under
CC-BY-SA
unless otherwise noted.