Last edited:

6 August 2020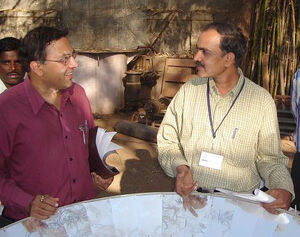 Professor Ajay Chandak is the founder of Promoters, Researchers and Innovators in New and Clean Energy, a non-governmental organisation in Dhule, India.
November 2019: The PRINCE-40 wins award - The PRINCE-40 parabolic solar cooker, designed to serve a community, has won a National Grand Challenge for designing a robust, efficient, and compact community solar cooker. The challenge was from Department of Science and Technology, Government of India. The award focussed on community solar cooker designs.  
July 2019: In the second week of July, Dr. Chandak will lead an environmental expedition to Ladakh to demonstrate the ability of solar thermal parabolic cookers to cook food and boil tea with the power of the sun even when snow is on the ground and temperatures are below freezing. Ladakh, a high-altitude desert with more than 325 clear sunny days and no locally available cooking fuel is an ideal region for cooking with solar thermal devices. Using solar cookers whenever the sun is shining can significantly reduce the amount of subsidized LPG fuel that residents of this region must currently purchase and import every year. Ajay and his team will demonstrate low cost, easy to use PRINCE solar cookers at schools and rural child care centers (Aanganwadis). They will carry out a solar cooking expedition to Khardungla Pass, at an elevation of 5360 mt (17585.2 ft) on the 10th of July. Ajay also plans to donate a PRINCE-40 solar community cooker to Indian Army personnel for pilot testing so that it can be used in remote outposts in this region where all cooking fuel must be imported at tremendous expense. Ajay has been instrumental in training and mentoring entrepreneurs from Ladakh since 2010. These entrepreneurs have manufactured and installed almost 1000 domestic solar cookers in the region.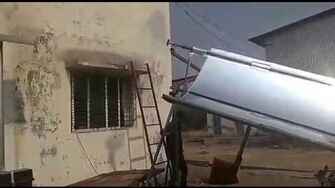 May 2018: Dr. Ajay Chandak, SCI Global Advisor, seeks a US partner for project development of inclined trough solar concentrator for a grant from the United States-India Science and Technology Endowment fund (IUSSTF): "Commercializing Technologies for Societal Impact." The pilot project can be seen in this video: Link to Pilot Project. Dr. Chandak is confident the cost of this concentrator will be at least 40% less than the corresponding cost of concentrators in the market. The fund aims to select and financially support promising joint US-India entrepreneurial initiatives. Grant size: up to INR 2.50 Crores (approx. $400,000 USD). To participate, contact Dr. Chandak well before the 15 June 2018 deadline: renewable.consultant@gmail.com
Community content is available under
CC-BY-SA
unless otherwise noted.