Jurassic World: Dominion Dominates Fandom Wikis - The Loop
Play Sound
Last edited:

26 January 2022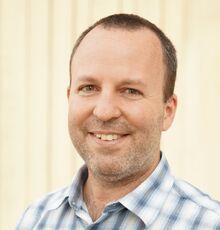 Dr. Alan Bigelow joined Solar Cookers International in 2016 as Director of Science and Main Representative at the United Nations. He leads testing and performance evaluation programs at Solar Cookers International and advocates for solar-thermal cooking at the United Nations in New York.
Alan is a physicist who started solar cooking in 2008. He has led solar cooking workshops locally in New York and internationally in India, Nepal and Haiti. He participated in a solar expedition in Nepal where during nine days at high altitude all meals were prepared using portable solar cookers. He designed solar-energy workshops as a Scientist-in-Residence at the Hudson River Museum and he included solar cooking in a course on sustainable engineering he designed and teaches at Columbia University's Science Honors Program
Prior to joining Solar Cookers International, Alan had a 15-year physics research career at Columbia University Medical Center developing innovative technology for radiation-biology studies. He has authored numerous peer-reviewed journal articles and is listed as an inventor on a patent for a safe sterilization method that uses a specific range of ultraviolet light to selectively damage bacteria and viruses while not harming human cells.
Alan received a Ph.D. in Physics in 2000. He is also an accomplished musician and co-founded the solar-powered band Solar Punch that has combined science and music to raise awareness and educate about environmental issues and solutions. He is a passionate solar chef and is often solar cooking at home or in public.
News
[
]
September 2017: Dr. Alan Bigelow addresses the UN - Alan reached a large audience on 25 August in New York with his message to learn, support, and partner with the solar cooking sector. We need to take advantage of this zero emission technology, and scale the solar cooking sector together. Read more...
April 2016: As a result of a collaboration at the United Nations, Buddhist Tzu Chi Foundation invited Dr. Alan Bigelow to speak for Solar Cookers International during the Strength from Disaster conference in Nepal, April 2016. He gave a presentation describing solar cookers' potential in medical clinics during disaster relief: cooking food for patients, pasteurizing water, developing an appropriate solar autoclave, and providing air conditioning (using the example at the Muni Seva Ashram, Gujarat, India). Bigelow also visited a potential solar cooker testing center in Kathmandu, and a zero-waste Tibetan nunnery.
Performance Evaluation Process (PEP)
[
]
Solar Cookers International has designed and built portable test stations for a performance evaluation process (PEP) for solar thermal cookers. These PEP test stations make for a single, uniform platform used for evaluating the thermal performance of solar cookers in a network of testing centers convened by SCI. Having a common test platform across the solar cooker industry creates a level playing field by which cooker performance can be compared. This initiative by SCI is a response to the solar cooking sector's expressed need for an independent, neutral agency to develop the capacity for testing solar thermal cooking devices. The PEP test station is based on commercially-available, low-cost components, including: thermocouples, an anemometer, a pyranometer and Arduino hardware. The test station control software was designed by SCI to conduct the American Society of Agricultural and Biological Engineers ASAE S580.1 protocol for Testing and Reporting Solar Cooker Performance; it measures temperature changes in an amount of water proportional to the intercept area of a solar cooker, while monitoring wind speed and solar insolation, for normalizing results.
Audio and video
[
]
July 2014: Alan Bigelow's presentation "Solar Cooking on a Trek in Nepal" delivered at the SCInet convention in July, 2014 included the video below.
Documents
[
]
January 2018: Solar Cookers International Test Stations for a Performance Evaluation Process Motivate a Network of Testing Centers (Abstract) - Alan Bigelow, et al
See also
[
]
Contact
[
]
Alan Bigelow