This article is about a group or individual that may no longer be active in solar cooking. It is retained here for archival purposes.


Last edited:
31 December 2012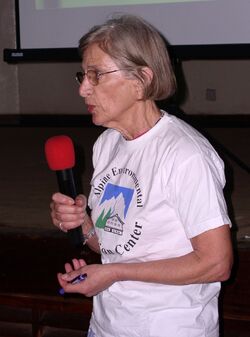 Alison Curtis directs the Solar Health and Education Project (SHEP), which promote solar cooking in Kenya and Zambia, using and teaching use of TetraPak carton cone cookers. She also is a volunteer United Nations Representative for Solar Cookers International in Geneva, Switzerland.
Recent news and developments
December 2012: The Solar Health and Education Project (SHEP) has created a project at a community-based nursery school in Livingstone for unschooled mothers, whose only source of income has been illegally making charcoal. During the course of the program, they learned how to make and use the CooKit solar cooker as an income generating activity, and formed themselves into a registered group called Solar Ventures (SV). They have been holding SHEP-funded workshops at clinics, schools, agricultural shows, where they won 1st place for the most interesting booth in 2011, and government-sponsored functions on energy and conservation. They were invited to Lusaka to run a three-day workshop for a UK based NGO. Their life is certainly different now since their introduction to solar cooking.
November 2010: Alison Curtis recently visited Livingstone and witnessed an awareness-raising skit performed by the solar team. "The skit was about a woman who solar cooked and had many visitors," Curtis says. "A curious neighbor who wanted to taste the food; a charcoal producer who asked why the woman was not buying charcoal any more; a forestry official who was happy that all the trees were not being chopped and that there were more birds coming to the forest; an electric company meter reader who tried to say that the CooKit must be electric and that the meter was incorrect; and a group of orphans and grannies complaining that they need medicines for coughs and skin burns [caused by traditional cooking fires]." Curtis continues, "The woman with the CooKit told each of the visitors all about solar cookers and she let them taste the food. Then all the visitors bought homemade CooKits from the woman!"
August 2010: The Solar Health and Education Project (SHEP) began in 2007 to fund solar cooking workshops in rural areas of Zambia, and also with the urban poor in the Livingstone area. The main goal of the workshops was to introduce solar cooking methods to the community in a sustainable fashion. Most at the workshop have little education, but are completely sold on harvesting the sun for their daily needs of cooking fuel. The team, with direction from Alison Curtis, developed a system to appoint a local leader at the workshop to follow-up with a group of participants to help and encourage using the new cookers. Now, three years later, the solar team has ten excellent leaders who take turns spreading the solar news by setting up at shows, events, museum gatherings, school playgrounds, clinics and so on. These unschooled women leaders have learned to fill in a simple form, which SHEP developed with their input, so they have the knowledge to complete a request for funds themselves. The headmaster at the nursery school reads these requests and grants the money from SHEP to hold the demonstration or workshop. The women do the shopping, keep receipts, hold the event and then fill in a very basic report. They are paid for their workshop day @ $2.00 per event. The women are quite resourceful, as they have learned to make Cookits from cartons and reflective Crisp wrappers found in the trash.
February 2005: Slideshow on the Solar Health & Education Project - Alison Curtis
Contact
Alison Curtis
Schadaulistrasse 1
Lenk 3755
Switzerland
Email: avcurtis@bluewin.ch