Last edited:
31 October 2017
Amane Studio is located in Saku, Nagano, Japan. They began manufacturing parabolic solar cookers in 2002. As of 2014 they had distributed 3000 solar cookers, and had introduced over 1000 people to solar cooking with classes and demonstrations.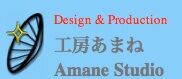 Amane Studio
Motoharu Takizawa
1138-1
Saku, Nagano, 384-2102
Japan
Tel: +81-267-51-5430
Email: info@amane-studio.jp
Web: http://amane-studio.jp (English version)
Community content is available under
CC-BY-SA
unless otherwise noted.