This article is about a group or individual that may no longer be active in solar cooking. It is retained here for archival purposes.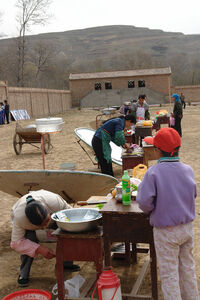 Since 2003, the Amity Foundation has distributed 20,000 solar stoves and sponsored the installation of biogas systems in more than 600 locations in Qinghai Province, China.
News and recent developments
July 2008: A stew of potatoes and beef, sweet-and-sour cabbage, deep-fried chicken fillet … Women from Chaergoumen Village in Huzhu County, Qinghai, put their cooking skills on display. A cooking contest, initiated by Amity's local partner organisation, was held here in April and a wide variety of mouthwatering dishes were cooked on solar and biogas stoves. Fifty villagers and thirty students from the local school took part in the contest. Its aim was to promote the use of environmentally friendly stoves by families in rural Qinghai.[1]
See also
External links
Contact
Amity Foundation
71 Han Kou Road
Nanjing
210008 China
Fax: +86 (25) 8326-0909
Email: amitynj@amity.org.cn
Web: http://www.amityfoundation.org/