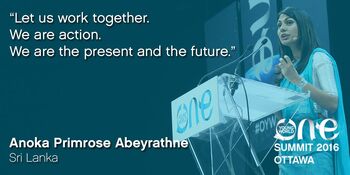 Anoka Abeyrathne is a volunteer and activist in Sri Lanka. She is the SAARC Youth Award Recipient 2010 for Outstanding Contribution to Protection of the Environment and Mitigation of Climate Change. A British Council Climate Champion, she is also the Sri Lankan representative to the International Youth Forum on Climate Finance 2010. Her work targets social entrepreneurship, renewable energy and youth awareness building.
Facebook: https://www.facebook.com/anokaabeyrathne
Community content is available under
CC-BY-SA
unless otherwise noted.