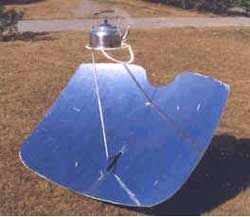 This parabolic cooker, known as the Chinese cooker, has been distributed in China, Tibet, America and Africa. China is considered as one of the leaders in the distribution of solar cookers. During 2002, China distributed around of 560,000 cookers. This model, promoted by the Rural Energy Industry Chinese Association, is made of cast iron 3 mm thick. Aluminium film acts as reflecting material. The base of the grill is fixed, while the reflector should be orientated to follow the sun´s rays. It is produced in three sizes with different reflecting areas: 1,5 sq. m. (800 w) and 2 sq. m. (1000 w). Although it is a heavy cooker (approximately 80 Kg), the manufacturer defines the cooker as mobile and, when folded, it can be stored very easily. Besides the cookers for sale, in Nepal another project was carried out, where they manufactured other handicraft cookers using different materials, such as iron, cement and mud.

[This text was copied from this page: http://www.terra.org/html/s/sol/cocina/directorio/fichaen.php?id=28.]

See also
External links
Contact
Community content is available under
CC-BY-SA
unless otherwise noted.