Naomi's Sherry Chutney Chicken Bites
4 halves skinned & boned chicken breasts
2 cups half & half
1 1/2 cups mayonnaise
3 tbsp. mango chutney
2 tbsp. dry sherry
1 tbsp. sherry vinegar
2 tbsp. plus 1 tsp. curry powder
1 tsp. turmeric
2 cups finely chopped salted roasted peanuts
Preheat oven to 177 °C (350 °F). Place chicken breasts in a shallow baking dish just large enough to hold them. Pour half and half over them and bake for 30 minutes. Let cool and cut into 1" cubes. Process mayonnaise, chutney, sherry, vinegar, curry powder and turmeric in a blender or food processor. Dip chicken pieces into the curry mayonnaise and roll in the chopped nuts. Refrigerate 30 minutes. Arrange on a serving plate with fancy toothpicks. *This recipe is from "One Million Recipes" CD-Rom located at http://www.acrllc.com
Sunbeam Chicken Wings
This recipe is wonderful in the HotPot but will work well in any cooker that gets hot enough to cook chicken.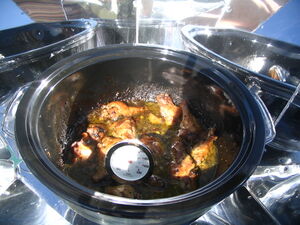 1/3 cup brown sugar
1/4 cup tapioca flour or 3 tablespoons minute tapioca
1/4 cup soy sauce
Juice and rind of 1/2 orange
2 teaspoons dark sesame oil or spicy sesame oil blend
3 cloves garlic, crushed
2 green onions, sliced
1 teaspoon sea salt
1 teaspoon dried basil or Thai basil
1/4 teaspoon Chinese 5-Spice powder or cinnamon
1/2 teaspoon turmeric
1 teaspoon paprika
2 tablespoons black sesame seed
2 T. sherry or white wine
2 T. Hoisin Sauce
A dash of Tabasco or pinch of cayenne
3-4 lbs. "party wings" or chicken wings (the two larger parts... disjoint and discard tips or use for stock) or wing "drummettes"
Combine sugar and tapioca; add soy sauce and mix well. Add remaining sauce ingredients and mix well. Combine with chicken wings and mix well. (This can be done the night before, if you refrigerate the mixture overnight.) Place in dark, oiled pot, HotPot pot, or roaster with a dark cover, place thermometer sensor (if using) in the middle, cover, enclose (if using panel cooker... a box oven or HotPot would not require an enclosure), and set out in solar cooker by 10am on a sunny day. If you are using a panel or funnel cooker, turn the enclosed pot front-to-back after an hour or so. When the thermometer reaches 66 °C (150 °F) (around 12:30 or 1pm, if you don't have a thermometer—sooner if there are definite signs of steam), open and give things one good but gentle stir, then shut it back up quickly. Turn front-to-back again after an hour. Wings must reach 82 °C (180 °F) to be safe, but will be even better if they simmer gently for a while. If the top is browning, you can give it another gentle stir or two, to let more of the pieces get a little brown, though it will be tender and mysteriously delicious whether it browns or not.
If you have a HotPot or other solar cooker that can handle four or five quarts, you can double this recipe for a crowd, but get it out early! If you can't find hoisin sauce, substitute oyster flavored sauce, molasses, or ketchup.
Can be kept hot for two or three hours in a retained heat cooker or box oven with extra insulation (old quilt, pillows, etc.).
Note: You could use other chicken parts in the sauce, such as thighs, drumsticks, etc., or even a cut-up whole chicken though the smaller wing parts are nice for appetizers. If you have a HotPot or other cooker that can handle four or five quarts/liters of food, you can double the recipe for a crowd, but set it out early!
Mini-Bagel Pizzas
These are especially fun to cook in cookers like the Copenhagen Solar Cooker Light that can power a dark fry pan with a glass lid and no extra covers needed, but any roaster or baking pans that will work for other foods in your solar cookers will work just fine. These make terrific sample foods, since most people like them and they are usually done in fifteen minutes to half an hour.
Optional toppings: sliced black or green olives, mushroom bits, chopped pepperoni, onion bits, bell pepper bits, fennel seeds, Parmesan cheese
Cut mini-bagels in half (usually they come partially cut and you are just finishing the job). Spread pizza sauce on cut side, sprinkle on any desired toppings, pile on some Mozzarella, and set out to cook, covering if needed for your cooker. Done when steaming hot and cheese is melted.