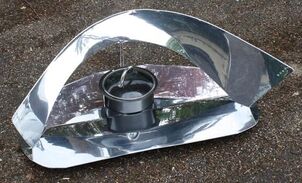 Applied Green Technology develops consumer products that generate heat and light by converting freely available resources such as sunshine, wind and gravity.
Our product portfolio currently includes a range of high performance solar panel cookers, as well as economical and robust solar power and lighting systems, and we are in the process of developing a number of new products for water distillation and solar energy concentration.
We were set up in 2012 to commercialize the inventions of Matthew Rollins, Technical Director. Matthew is passionate about using freely available natural resources to generate energy and has spent many years designing products and systems. MD Roger Whitten works with Matthew on material composition and sourcing, whilst Viv Sloan, Marketing Director, is concerned with external communications and marketing.
Recent news and developments
See also
External links
Contact
Viv Sloan
Applied Green Technology Ltd
Southgate House
St. George's Way
Stevenage
Hertfordshire, SG1 1HG<br. United Kingdom
Tel.: +44(0)1438726269
Email; viv@appliedgreentechnology.com
Community content is available under
CC-BY-SA
unless otherwise noted.