| | |
| --- | --- |
| | Fundación EcoAndina has been working to bring viable energy alternatives to communities in the remote mountainous areas of Argentina. The Fundación EcoAndina began working there in 1989, showing the village how they could harness the sun for their energy needs. Pictured is a Scheffler Community Kitchen that they have constructed. |
Events
[
]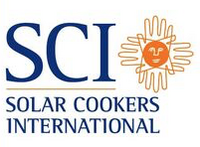 NEW: 

Webinar:

Thursday, 11 November 2021, 1:00pm UTC: - Solar Cookers International will present a webinar showing how solar cooking helps to improve public health, and the health of the environment around the globe. As part of this year's COP26 in Glasgow, Scotland, it will take place as a side event at the World Health Organization pavilion. There is limited space available for those interested in participating in this free event. Register early.
22-26 November 2021: 2nd National Congress for Solar Drying and Cooking Food - An affiliated group of universities in Mexico will host an online conference relating to solar food drying and cooking, as well as, food safety and energy savings realized with minimal environmental impact. Participants can register to view the presentations, or apply for presentation consideration. The conference will be in Spanish. Registration information... - (English version)
17-23 December 2021: Solar Cooking Awareness Week (Southern Hemisphere) - A loosely organized bid to acknowledge the fun and benefits of solar cooking. Show someone how to solar cook and share a meal.
24-26 January 2022: Fourth International Conference: Advances in Solar Thermal Food Processing - CONSOLFOOD Chairman, Celestino Ruivo, has announced an extended call for abstracts for the upcoming conference in January 2022, which is now planned to be an online event. Advances in solar cooking as well as solar food processing will be considered for inclusion. The event schedule and submission requirements are in CONSOLFOOD 2022 conference information.
See also: Global Calendar of Events and past events in Argentina
News
[
]
December 2014: Virginia Bauso and the Fundación EcoAndina have been working to bring viable energy alternatives to communities in the remote mountainous areas of Argentina. In particular, the community of Misa Rumi. The Fundación EcoAndina began working there in 1989, showing the village how they could harness the sun for their energy needs. Currently, the entire village of Misa Rumi is self-sufficient, producing their own electricity for lighting and heating and cooking with solar cookers. Virginia travels there, and to other surrounding communities to introduce solar cooking technology, and also provide long-term assistance in maintaining the cookers. The young people in Misa Rumi have grown proficient in the operation the solar cookers, and are relived they do not have to spend as much time as their elders gathering scarce firewood. The solar cookers serve the people's immediate needs, but they also take some pressure off the fragile arid environment. Read the article in Aljazeera, and watch the recently produced video documenting their efforts. Seizing solar power in Argentina
May 2013: Project "Energy Square" provides students and members of the general public in the municipality of San Isidro with interactive displays that teach them about science and technology. The module that focuses on energy includes a solar oven. For more information: Exploratorio.com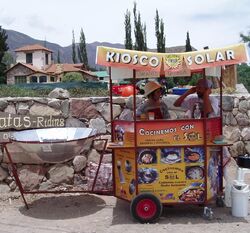 February: 2013: With help from Fundación EcoAndina and WISIONS Initiative, there has been a successful launch of solar powered food carts in operation in northern Argentina. During the celebrations of Carnival of Puna, which spans almost all of February, the intrepid promoters of the sun's energy walked a few new solar kiosks through the streets in Tilcara, Humahuaca, La Quiaca, Purmamarca and Uquía, tourist sites the northern province of Jujuy. Each Kiosco SOLAR consists of a wheeled trolley, waterproof roof, and a parabolic solar cooker. "People are incredulous and astonished when the cart is in operation," says Marta Rojas, responsible for opening a kiosk this month in Tilcara. As a safety concern, there has been a need to begin replace traditional food carts, where typically food is cooked directly over gas canisters or open fires.
History
[
]
Archived articles
Climate and culture
[
]
Resources
[
]
Possible funders
[
]
Facebook groups
[
]
Blogs
[
]
Reports
[
]
Project evaluations
[
]
Articles in the media
[
]
Audio and video
[
]
December 2014: Seizing Solar Power - Aljazeera A documentary of the village of Misa Rumi and their conversion to solar power, from electricity for lighting and heating to solar cookers. The village has become energy self-sufficient.
Contacts
[
]
The entities listed below are either based in Argentina, or have established solar cooking projects there:
SCI Associates
[
]
NGOs
[
]
Manufacturers and vendors
[
]
Individuals
[
]
Government agencies
[
]
Educational institutions
[
]
See also
[
]
References
[
]