Last edited:
9 December 2015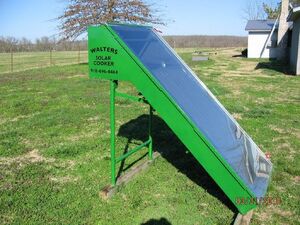 Arlus Walters is a resident of Oklahoma, and is the inventor of the Walters Solar Cooker. Besides his interest in solar cooker design, he also operates a heritage turkey farming operation with his family in rural Oklahoma. Arlus is a man who prefers things of historical value, that have a style all of their own.
See also
Contact
Arlus Walters
Rt 3 Box 1410
Stilwell, Oklahoma 74960
USA
Tel: +1 (918) 696-0464
Email: alwalters44@gmail.com
Facebook: https://www.facebook.com/arlus.walters
YouTube: https://www.youtube.com/user/Sesshomar121/feed
Community content is available under
CC-BY-SA
unless otherwise noted.