Last edited:
2 March 2021
| | |
| --- | --- |
| | |
NEW: 

Webinar:

Saturday, 24 April 2021 (6:00am - 7:30am PDT, 13:00 - 14:30 GMT): Adventures with Solar and Haybox Cooking - SF Innovation LTD, with Seggy Segaran, will present their experiences using solar and haybox cookers to save energy, and the range of improved combustion stoves they also use. This Zoom event is free but requires registration. More information...

NEW: 

Webinar:

Thursday, 29 April 2021 (2:00pm - 3:30am CEST, 12:00 - 13:30 GMT): Understanding the multilateral climate funds - The Women and Gender Constituency continues with their final webinar of the series: "Funding Gender-Just Climate Solutions". This Zoom event is free but requires registration. More information...

NEW: 

Webinar:

(TBD): CONSOLFOOD: Baking bread in your solar cooker - Cooks are invited to send a 90 second maximum, video showing how to bake bread using the sun. Selected webinar videos will be compiled in a YouTube playlist for ease of presentation during the webinar. Submission requirements, by 30 April 2021
See also: Global Calendar of Events and past events in Armenia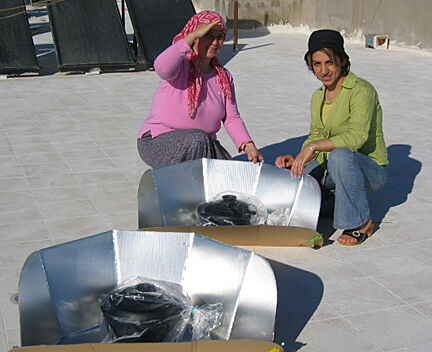 April 2007: Longtime solar cooking advocate and trainer Wilfred Pimentel, along with Ken Goyer and Cynthia Wee, led a two-day integrated cooking workshop in Pambak, Vanadzor last August. They taught three technologies: solar cookers, fuel-efficient stoves, and heat-retention cookers. With access to these complementary technologies, food can be cooked regardless of time of the day and season, and with a maximum of overall fuel savings. The group demonstrated both panel-type and parabolic-type solar cookers, though the region's altitude and climate limit the amount of solar cooking that can be done with simple solar cookers. Seventeen people from a number of Armenian villages attended the workshop held at the Peace Corps training center. Each participant received a CooKit and educational literature. They plan to return to their villages and begin teaching others about integrated cooking.
The entities listed below are either based in Armenia, or have established solar cooking projects there:
Manufacturers and vendors
[
edit source
]
Educational institutions
[
edit source
]
Community content is available under
CC-BY-SA
unless otherwise noted.