Last edited:
6 August 2019
Events
International conferences
5-7 November, 2019 (Nairobi, Kenya): Clean Cooking Forum 2019 - The Clean Cooking Alliance and the Kenya Ministry of Energy will co-host the Clean Cooking Forum 2019, to be held in Nairobi, Kenya, from 5-7 November. With the theme of "Investment. Innovation. Impact," the sector's flagship event will bring together hundreds of attendees from around the world working to build an inclusive industry that makes clean cooking accessible to the three billion people who live each day without it. More information...

22-24 January 2020 (Faro, Portugal): CON

SOL

FOOD

2020

- To be held at the Institute of Engineering, Universidade do Algarve, Campus da Penha. The conference will focus on solar thermal food processing. The deadline for receipt of abstracts was 15 June 2019. More information... 
Call for applications
See also: Global Calendar of Events and past events in Armenia
News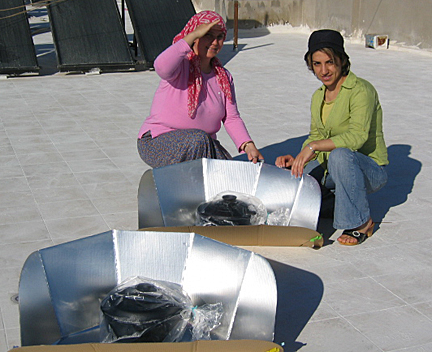 April 2007: Longtime solar cooking advocate and trainer Wilfred Pimentel, along with Ken Goyer and Cynthia Wee, led a two-day integrated cooking workshop in Pambak, Vanadzor last August. They taught three technologies: solar cookers, fuel-efficient stoves, and heat-retention cookers. With access to these complementary technologies, food can be cooked regardless of time of the day and season, and with a maximum of overall fuel savings. The group demonstrated both panel-type and parabolic-type solar cookers, though the region's altitude and climate limit the amount of solar cooking that can be done with simple solar cookers. Seventeen people from a number of Armenian villages attended the workshop held at the Peace Corps training center. Each participant received a CooKit and educational literature. They plan to return to their villages and begin teaching others about integrated cooking.
Climate and culture
Resources
Possible funders
Reports
Contacts
SCI Associates
NGOs
Manufacturers and vendors
Individuals
Government agencies
Educational institutions
See also
References
Community content is available under
CC-BY-SA
unless otherwise noted.