Last edited:
28 February 2018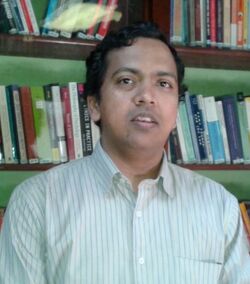 Dr. Arvind Chel is Associate Professor (Mechanical) and Director (Research) at MGMs Jawaharlal Nehru Engineering College, Aurangabad (Maharashtra). He had teaching in Engineering Colleges in Maharashtra and then pursued Ph.D. from IIT Delhi in 2011. He recently completed on Jan 9, 2015 Postdoctoral from Ghent University, Belgium with research publication in Elsevier based on his advanced research in the renowned European University at Belgium. He has made the record as FIRST youngest Engineering faculty with post-doctorate qualification in the Dr. Babasaheb Ambedkar University, Aurangabad (Maharashtra) from Mahatma Gandhi Mission, Aurangabad. Dr.Chel acts as Editor-in-chief for the national Journal VISTA-A National Journal on Energy, Environment and Engineering. He is active member of review panel to many international Journals in the field of Renewable Energy, Green Building, Thermodynamics, Heat Transfer, I.C. Engine, Refrigeration and Air-conditioning, Solar Thermal Applications, Building Physics etc. Dr. Chel has published more than 30 International Journal Papers in reputed publishers Elsevier, Wiley etc. He received "Global Innovation Award" from IIT Kanpur, Best Paper Award from IIT Delhi International Conference SOLARIS-2007, One Patent published online at India Govt Patent Office, nominated for Best Researcher Award 2012 for the field of Renewable Energy at IIT Delhi for highest publications in his department during his Ph.D. He was actively involved as President of Energy Forum during his Ph.D. at IIT Delhi.
[Text copied from https://www.livedna.net/?dna=91.280 on 23 October 2020]
Arvind Chel
Research Student
Center for Energy Studies
Block V, IIT Delhi
Hauz Khas, New Delhi, 110016
India
Tel. +91–9968144689
Email: dr.arvindchel@gmail.com
Facebook: https://www.facebook.com/arvind.chel
LinkedIn: https://www.linkedin.com/in/dr-arvind-chel-51186411
Community content is available under
CC-BY-SA
unless otherwise noted.