Last edited:
28 February 2018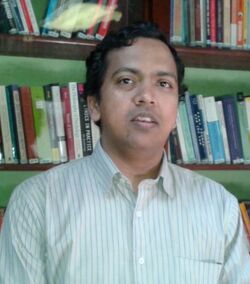 Arvind Chel
is a Postdoctoral Researcher at Ghent University,
Belgium
. He has experience in developing and making solar instruments (New type of Pyrheliometer for measuring direct beam radiation as minor project at IIT Bombay). He graduated as B.E.(Mechanical) from Government Eng. College, Aurangabad. After completing his M.Tech (Energy Systems Engineering) from IIT Bombay, he is now pursuing his Ph.D. from Centre for Energy Studies, IIT Delhi.
He has recently developed and fabricated the novel Hybrid Solar-Biomass Cook Stove, a stove that efficiently burns biomass fuel and also incorporates a solar reflector.

News and recent developments
See also
Contact
Arvind Chel
Research Student
Center for Energy Studies
Block V, IIT Delhi
Hauz Khas, New Delhi, 110016
India
Tel. +91–9968144689
Email: dr.arvindchel@gmail.com
Facebook: https://www.facebook.com/arvind.chel
LinkedIn: https://www.linkedin.com/in/dr-arvind-chel-51186411