Last edited:
6 August 2019
Events
International conferences
NEW: 

2-13 December, 2019 (Madrid, Spain): COP25 - The United Nations Framework Convention on Climate Change (UNFCCC) is hosting the twenty-fifth session of the Conference of the Parties (COP25) has been scheduled to take place in Feria de Madrid in Madrid, Spain from 2-13 December, 2019. More information...

22-24 January 2020 (Faro, Portugal): CON

SOL

FOOD

2020

- To be held at the Institute of Engineering, Universidade do Algarve, Campus da Penha. The conference will focus on solar thermal food processing. The deadline for receipt of abstracts was 15 June 2019. More information... 
See also: Global Calendar of Events and past events in Azerbaijan
News
History
Climate and culture
Given the increasing necessity, President Ilham Aliyev signed a decree in 2015 on the allocation of one million manats to develop programs for the development of alternative and renewable energy sources by 2020. Also, the EU has allocated EURO 13 million for the unification of legislation of Azerbaijan with the European legislation in this field.[1]
See also
Resources
Possible funders
Reports
Articles in the media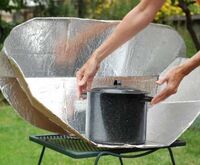 Web pages
Contacts
SCI Associates
NGOs
Manufacturers and vendors
Individuals
Government agencies
Educational institutions
See also
Cite error: <ref> tags exist, but no <references/> tag was found
Community content is available under
CC-BY-SA
unless otherwise noted.