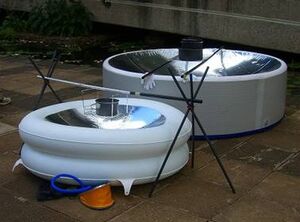 The inflatable Balloon Solar Cooker was designed by Mr. Toshi Omhura, one of the founders of Solar Cooker Japan (SCJ). SCJ's current goals are to promote the planting of the Jatropha trees while also promoting solar cooking using this cooker. Mr. Kazimito was in Nairobi, Kenya in 2008, holding preliminary discussions with the former Solar Cookers International East Africa Office about a partnership. A team from SCJ later followed with the prototype cookers for field tests in Kenya.
Weight and size typically have been a problem with transporting parabolic solar cookers. However, those characteristics are benefits, when keeping the oven stable in windy conditions. Clearly, this design will pack small for remarkable portability. It will need to rely on weights, or possibly stakes to keep it steady in the wind. Solar Cookers International East Africa Office (SCI-EA) conducted field tests on this cooker on behalf of SCJ. The goal was to enable in-country production of the same cookers, should they pass the field test. SCI-EA undertook a study for them both in Kisumu and Kajiado and found it to not to be user friendly and also very huge and cumbersome. There were also issues of durability, pot holder, storage and even use of pumps, we could not even get local glue to mend any thorn pricks on the balloon, and not local pumps that could inflate it easily, etc. A report will be forthcoming.
An interesting feature of the design is the suspended clear tray for holding the cookware. It is a little unclear in the video, but some type of grill with a surrounding clear tray would be a nice feature to keep food spilling unto the parabolic reflector, as long as it did not limit the amount of light on the pot
Community content is available under
CC-BY-SA
unless otherwise noted.