Jurassic World: Dominion Dominates Fandom Wikis - The Loop
Play Sound
Last edited:
8 October 2010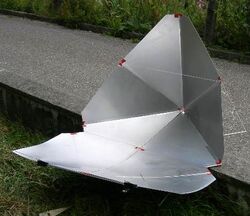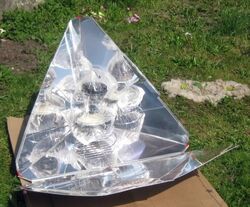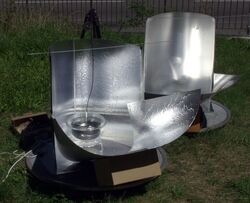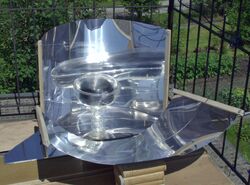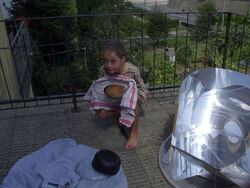 The Barisot Cooker is made from used printing plates joined with tape and some hook and loop fasteners. Printing plates show good anti-oxidative properties. A layer of aluminium foil or high efficiency reflector material will increase the efficiency of the cooker. A front booster is recommended for higher latitudes. The big collector surface will also enable the capacity for early morning and late evening cooking.


Different degrees of collapsibility can be designed. For some connections good and costly quality tape will be required. Folding parts of side walls and the front booster can be stabilized by bended plate strips.


The Barisot fixed solar cookers are made from used printing plates or high reflective material. At a sun elevation of 60° oil will be heated to 200°C. The big collector surface makes early morning and late evening cooking possible. If aluminium foil or high reflective material is used, disturbing sun reflections can be avoided by a inclination of the vertical reflector.


For 2 or 3 hours no tracking has to be done. However, as temperatures of 170°C are easily and quickly attained, attention should be given to high temperatures. For completely unattended cooking we prefer the printing plates without aluminium layer – the temperature curve will be flatter.


2 plates are used, one for the front booster and one for the vertical reflector and a smaller piece is laid on the bottom (2 smaller plates e.g. 59.0*74.5mm are glued together at the bend).


Tips
[
]
Printing plates: try to make a deal with a print shop, that special care is given to your requested number of printing plates - flat or upright stacking with paper sheet in-between or reversed stacking (back side against back side, front side against front side), the use of solvents to remove the printing colour can thus be avoided.


Baking bread: temperatures reached are high enough for baking a crusty bread under the condition that excessive moisture can be released. The outer shell of our oven is a glass bowl with a glass lid. If the handle is removed, there will be a hole in the middle of the lid. On the bottom of the bowl a glass support is placed on which the round baking form will be put. - The form should not touch the bowl. The baking form is covered by a reversed pot, with the bottom slightly inclined. With rising temperature water will evaporate from the dough and condensate at the cover – the inner bottom of pot. As the bottom is slightly inclined the droplets will follow the wall of the pot and drop to the bottom of the bowl. From there part of the collected water will evaporate again through the hole in the lid. The baking temperature might be on the lower side, however the humidity conditions come quite close to a professional bakery oven.


In both types several pots can be stacked.
Contact
[
]
Urs Schaermeli
Cardamom Hill Research
Marktgasse 28
CH-9220 Bischofszell☃☃