Jurassic World: Dominion Dominates Fandom Wikis - The Loop
Play Sound
Last edited:
31 October 2017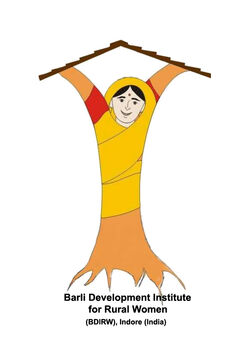 Located in the City of Indore, State of Madhya Pradesh in Central India the Barli Development Institute for Rural Women empowers young rural and tribal women to become agents of social change through the acquisition of a wide range of skills and knowledge needed to improve the lives of their families, their communities and themselves.
Most significant projects
[
]
Jimmy McGilligan Centre for Sustainable Development and the Barli Development Institute for Rural Women - The long lasting partnership of Janak McGilligan and Jimmy McGilligan has provided a depth of solar cooking instruction for rural residents in India, beginning their work in 2008. Since that time, the two facilities, the Jimmy McGilligan Centre for Sustainable Development and the Barli Development Institute for Rural Women, have trained over 150,000 youths in solar cooking, and over 6,000 rural and tribal women from over 1,000 villages to be community workers and trainers for solar cooking. They have shown communities that solar cookers can prepare their traditional and community foods with no problem, and have supervised the installation of many Scheffler Community Kitchens. Their projects have helped the self esteem of the local women, and created opportunities for them to use solar cooking to establish businesses that continue to provide community revenue. Jimmy passed away in 2011, but as of 2022, Janak continues to carry on their valuable work. Watch Janak McGilligan recall their work at CONSOLFOOD 2022
History
[
]
Since it was established in 1985 Barli Development Institute for Rural Women has been experimenting with and successfully using solar box cookers for some of its cooking.
In 1998 the then Ministry of Non Conventional Energy Sources decided to test 8.6 square metre Scheffler Community Cookers through its five regional test centres for solar thermal devices. One such centre is located at School of Environment and Energy Studies DAVV University Indore. They chose Barli Development Institute for Rural Women has an ideal place to install and test this solar cooker.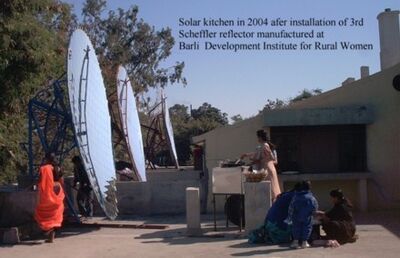 A temporary shed was built to serve as the kitchen building. This was a very basic building built with material left over from building work, the only major expense was to buy the tin sheets for the roof and some cement. When it was finished it had a tandoor and a wood burning stove for making Chapattis, the village girls would spend most of their evenings here, it had mud plastered walls, was more rural like structure and surrounding, and it sort of resembled their village homes.
In 1999 another Scheffler was added to this and the kitchen extended, a solar storage system was added, this was another invention of Wolfgang Scheffler manufactured by Deepak Gadhia in Valsad, now cooking would go on even after the sun had set, and the next morning. After this installation, Barli Development Institute for Rural Women was now cooking all the food for approximately 50 persons daily by solar energy.
Beginning in 2000, the Institute built a new dormitory complex, and on the first floor a new kitchen specially designed to use Scheffler solar cookers was constructed. As a result of this work the number of people to cook for rose to approximately 100 persons.
Seeing the large solar cookers effortlessly cooking their food while the sun is shining, some of the students now wanted to have similar solar cookers in their homes. Barli Development Institute for Rural Women started a process of supplying SK14 Parabolic solar cookers to the graduates of the Institute at subsidised prices. This work was supported by Plage in Austria. To be allowed to have a subsidised solar cooker, the graduates would have to take an extra 10 days training at the Institute on how to use, maintain and assemble the solar cookers, they are also taught about other environment protection issues, how to use the solar cooker for income generation, how to make snacks etc from crops that they normally just sell as cash crops, example soya beans etc. As a result of this, there are more than 580 SK 14 solar cookers in the homes of Barli graduates.
In December 2003 Heike Hoedt from Solare Brücke in Aislingen, Germany, came to Indore to train Barli staff and others how to build the large 10 metre square Scheffler reflectors. Shortly after this the staff of the Institute started manufacturing and establishing solar kitchens for other NGOs. By then four such kitchens were established, one in Chetna High School village Gadwada near Jhabua city where five 10 square metre Scheffler reflectors were cooking the meals for the tribal children attending school. In Village Dattigaon in Dhar a kitchen with four 10 square metre Scheffler reflectors was installed also a school established to educate tribal children. Another kitchen in a orphanage in Indore, here the solar cooker was installed on the top of a four-story building in the city centre. A kitchen with two 10 square metre reflectors were been established at a hostel for village girls in Dhani village in Dhar district. Two more Scheffler solar cookers have been installed at the Institute itself.
The students have also begun to incorporate the integrated cooking method with their training. This allows for additional dishes to be prepared using only one cooktop. Once the cooking food has reached the desired temperature, the cookpot is placed into an insulated container to continue cooking, and the cooktop is free to prepare another dish. This technique also allows for food to cook and be ready to serve later in the day, well past sunset.
In 2004 the Barli Development Institute for Rural Women started training existing Micro Credit Groups how to use solar cookers for food processing and income generation. For example, one group of 8 women landless laborers in the Betul district of Madhya Pradesh cook 2 hours during the peak sunshine each day using SK14 solar cookers. They make and pack local snacks, which they sell in the village markets and supply to the village panchayat meeting etc. and earn between 75 and 100 rupees each day.

News
[
]
5th - 7th May 2016 : A solar cooker training program (for assembling, maintenance and food processing by use of SK 14 solar cookers) was organised in the campus for the 110th batch of Barli Institute's graduating women-trainees.
March 2015: SCInet member wins national award - Janak McGilligan won the prestigious national Padmashri award for distinguished achievement in social service on January 26, 2015. The Padma Awards is one of the highest civilian awards given in India. As former Director and co-founder of the Barli Development Institute for Rural Women, she pioneered solar parabolic cooking for community use.
May 2013: It was a solar week at Barli's in which a week-long solar cooker training of SK-14 solar cookers was organised at the Institute's campus (5-11 May 2013). The training was attended by 26 trainee-women of the outgoing 104th batch of women trainees. The rural and tribal women trainees eagerly learnt the process of assembling the solar cookers, cooking various dishes, and maintaining the cookers. The training was conducted by Mr. Yogesh Jadhav (Chief Operating Officer, Barli Institute) who took over from Mr. Jimmy McGilligan when he retired from the Institute in April 2011. After the training each of the trainees promised to save the environment and use the solar cookers.
July 2011: Sir Jimmy McGilligan has passed way as a result of an auto accident. Recently he had been awarded the Order of the British Empire for his and his wife's, Dr. Janak, pioneer work at the Barli Development Institute for Rural Women in India. The McGilligans hosted the 2009 Asia region Conference on Solar Cooking and Food Processing and are long-time promoters of solar cookers and other labor-saving skills for rural women in Bangalaore, India.
March 2009: We are kept very busy here with all the work of the Institute. during the march we conducted 2 solar cooker trainings. One for Micro Credit Unit members of the Self help groups of State Bank of India in solar food processing using SK 14 and another on training to engineers on the construction of 2.7 metre Schefflers. we are now planning a more structured training for the 2.7 schefflers to be on a regular basis. we get regular visits from colleges students on educational tours, yesterday we had 35 students from the Ambedkar National Institute of Social Sciences for most of the day they interacted with our students, saw all the solar cooking being done etc.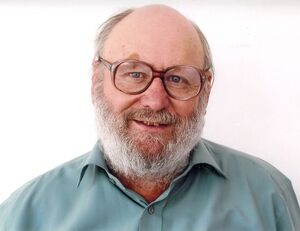 November 2008: Jimmy McGilligan, Manager of Barli Development Institute for Rural Women originally from Northern Ireland received his medal, OBE an honour bestowed by her Majesty the Queen Elizabeth II of the United Kingdom at Windsor Castle during investiture ceremony on November 11. "For his services to social causes and the use of alternative energy in rural communities.
June 2008: Jimmy McGilligan has been awarded an OBE in Her Majesty the Queen's Birthday Honours list 2008. "For his services to social causes and the use of alternative energy in rural communities in India", is the recognition of his dedicated service to the rural and tribal women in central India;
See Also
[
]
External links
[
]
Contact
[
]
Yogesh Jadhav, Chief Operating Officer,
Barli Development Institute for Rural Women
180 Bhamori New Dewas Road Indore 452010
Madhya Pradesh
India
Email: yogesh@barli.org
Web: http://www.barli.org
Facebook: https://www.facebook.com/barli.development