Last edited:
23 April 2021
| | |
| --- | --- |
| | |
Events
[
]
NEW: 

15-17 September 2021: Climate Chance Summit Africa 2021 - Registration is open to attend the virtual 3rd edition of the Climate Chance Africa Summit. Three days of sessions on key themes and sectors of climate action hosted by non-state actors engaged in climate change in Africa. There is no charge for attendance, but registration is required
NEW: 

Friday, 17 September 2021 (10:30am CDT, 15:30 GMT): Homeschool program on solar cooking - The Syracuse-Turkey Creek Township Public Library, in Syracuse, Indiana, USA, offers online programs for homeschool students on Fridays at 10:30am. This program is described as learning to build and use a solar cooker. Read more...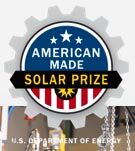 NEW: 

5 October 2021: American made solar competition - The U.S. Dept. of Energy is sponsoring a a multi-part competition to spur solar manufacturing, develop innovative solar solutions and products, and create domestic jobs and opportunities through public-private partnerships. The contest is open to U.S. residents, and the final phase is still open for submittals until 5 October 2021. Much of the attention has been with photovoltaic solutions, and this last phase is structured with two tracks that focus separately on hardware and software components. Solar cooking equipment should qualify as hardware solutions. Read more about the competition...
NEW: 

22-26 November 2021: 2nd National Congress for Solar Drying and Cooking Food - An affiliated group of universities in Mexico will host an online conference relating to solar food drying and cooking, as well as, food safety and energy savings realized with minimal environmental impact. Participants can register to view the presentations, or apply for presentation consideration. The conference will be in Spanish. Registration information... - (English version)
17-23 December 2021: Solar Cooking Awareness Week (Southern Hemisphere) - A loosely organized bid to acknowledge the fun and benefits of solar cooking. Show someone how to solar cook and share a meal.
24-26 January 2022: Fourth International Conference: Advances in Solar Thermal Food Processing - CONSOLFOOD Chairman, Celestino Ruivo, has announced an extended call for abstracts for the upcoming conference in January 2022, which is now planned to be an online event. Advances in solar cooking as well as solar food processing will be considered for inclusion. The event schedule and submission requirements are in CONSOLFOOD 2022 conference information.
See also: Global Calendar of Events and past events in Benin
News
[
]
April 2021: Youth-based solar food drying venture in Benin - The SéDEc project is led by Inti in partnership with REJEVE, the Youth Network for a Green Economy based in Natitingou in Benin and Kocali Food, a social enterprise that markets local agri-food products. The objective of the project is to develop energetically innovative activities by creating a network for the production and marketing of products transformed by solar drying. The Initial project focuses on drying mango for sale. More information...
October 2013: Margaret Koshoni reports that their recent work has been foccussed in the village of Dokundji, located in the Republic of Benin. With no electricity and little vegetation, most of the residents are using solar cooking to prepare meals. They have devised a method to be able to cut up a single aluminum windshield shade to produce two solar cookers.
January 2013: The GRADES-AFRICA Foundation is planning to hold solar cooker workshops at selected churches - They are located around the commercial city of Cotonou in Benin. Our experience working with schools shows that after teaching the technology to students, it was intended they go back home, to try to teach their parents. However, during this process, most students could not properly pass on the technology, and unfortunately their parents lost interest. In the upcoming program, GRADES-AFRICA intends to directly teach women's groups at selected churches. The workshops will run March through May 2013, and will include approximately five churches and 130 participants.
November 2008: Solar Cookers International (SCI) plans to assist with efforts to bring safe water and integrated cooking methods to the central town of Copargo. The pilot project is being initiated by Gabriel Kpadonou, sanitation and public hygiene officer at the Ministry of Health in Cotonou, and executive director of the nonprofit organization Environmental Engineering Group (EEG). Through increased visibility and furthered collaborations with health and water professionals in neighboring countries such as Niger, Togo and Burkina Faso, SCI hopes that this opportunity will provide a gateway to increased activities in West Africa. The coming year looks to be an exciting one, with the expansion of programs to three new countries and the inclusion of integrated cooking methods and water testing into current and future projects. Trees in rural areas cannot replenish themselves as quickly as they are being cut down for fuel, and contaminated water cannot purify itself at the rate that microorganisms are causing disease, and so our mission continues.
History
[
]
Vincent Nnanna
Relatively little information has been found about solar cooking activity in Benin. One individual, a man named Vincent Nnanna, has reported having aided in the building and distribution of around 200 cookers. Information about his work and a Solar Club Benin with 20 members was founded in the Solar Cooker Review of November, 2002.
Archived articles
Climate and culture
[
]
See also
Resources
[
]
Possible funders
[
]
Facebook groups
[
]
Reports
[
]
Audio and video
[
]
Articles in the media
[
]
Web pages
[
]
Contacts
[
]
The entities listed below are either based in Benin, or have established solar cooking projects there:
SCI Associates
[
]
NGOs
[
]
Manufacturers and vendors
[
]
Individuals
[
]
Government agencies
[
]
Educational institutions
[
]
See also
[
]
References
[
]