Jurassic World: Dominion Dominates Fandom Wikis - The Loop
Play Sound
Last edited:

17 December 2021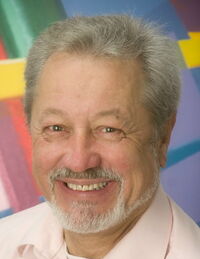 Bernhard Müller was Manager of Research and Development for Mueller Solartechnik in Offenheim, Germany. He is the inventor of the Pil Kaar, Kundu Kaar, Zèbre and Mata Hari solar cookers and modified the Primrose of Roger Bernard. Bernhard is a founding member of the Solar Cookers International Network, a member of American Society of Agricultural and Biological Engineers (ASABE), a member of International Solar Energy Society (ISES), a supporting member of EG-Solar e.V., and a board member of Lernen - Helfen - Leben e.V..
The solar cooker production ended in 2012 (retirement). As per November 2012 Bernhard Müller limits his activities to consulting, independent solar cookers tests and publication of information on solar cooking as well as traveling around the world helping with the introduction of solar cooking.

News
[
]
November 2017: Bernhard Müller of Lernen - Helfen - Leben e.V. held a 2-day solar cooking workshop at the Korando Education Centre in Kisumu County, Kenya. Topics included the use of solar cookers, heat-retention cooking, thermodynamics, optics, thermoelectrical generators (TEGs), gasifiers, health issues related to traditional cookstoves, the Uridu anti-poverty campaign, and the use of a WAPI. The intra-African coordination for the event was done by Faustine Odaba and the local coordination was done by John Amayo. The solar cookers used in the workshop were Sharon Clausson's Copenhagen Solar Cooker Light, One Earth Designs' SolSource, a TWR box cooker of 1994, Kenyan made CooKit panel cookers, a LightOven of Hartmut Ehmler, and a funnel cooker designed by Bernhard Müller.
April 2017: Bernhard Müller has been elected as board member of the German development aid organisation Lernen - Helfen - Leben e.V.
March 2016: Bernhard Müller has written an excellent explanation of how fuel-efficient gasifier stoves work and are constructed. See: Gasifiers
November 2014: Bernhard Müller started a fundraiser at betterplace.org to support seminars and workshops directed at the use and production of fireless cookers for the Kenyan NGOs NAREWAMA and FOTO."
October 2014: Bernie Müller is working on the development of a counter-current solar food dryer which saves 50% on space and materials compared to common solar tunnel dryers. Involved in the development are Faustine Odaba of NAREWAMA, John Amayo of SURE, Prof. Wilson Ogola of the Technical University of Kenya as well as some experts from Uganda. NAREWAMA has also appointed Bernhard Müller as their Technical coordinator for Europe.
April 2014: Bernie Müller describes his latest approach for measuring the aperture openings, or solar collection area, for solar cookers here: Explanations of the Aperture Area - Bernhard Müller
September 2013: Bernie Müller invented the Jar-in-Jar heat trap and gave some of them to NGOs in Kenya. Learn more about this in the Wiki-rubrics Glazing and Solar cooking pots.
December 2012: Bernie Müller has published findings based on his experimentation with a twin Fresnel lens solar cooker. This cooker was never meant to be a production prototype, and his company, Müller Solartechnik, no longer manufactures solar cookers. As an engineering exercise, he has shown that incorporating the Fresnel lens produces quite high temperatures: 278 °C (532 °F). However, the usable cooking area is small.
November 2012: Bernie Müller finished the solar cookers manufacturing activities and limited the business to consulting, designs of new cookers, publication of various brochures and independent solar cookers tests.
Publications
[
]
Audio and video
[
]
See also
[
]
Contact
[
]
Bernhard Müller
Mühlstraße 26
65760 Eschborn
Germany

Email: bs_mueller@gmx.net
Web: https://www.babamoto.org
Facebook: https://www.facebook.com/Yogibernd
Twitter: @yogibernd
YouTube: https://www.youtube.com/user/Yogibernd
[[Category:Uganda|Müller