Last edited:
28 February 2018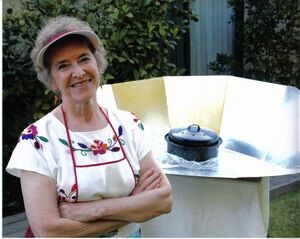 Bev Blum was a aounder, first President 1987-89, first Executive Director of Solar Cookers International (SCI) from 1989-1999 and 2003-2006, and Board President 2010-11.
SCI produced, sold and distributed many thousands of copies of educational guides for making, using and promoting solar cookers, including a case statment used by UNESCO when the UN (briefly) approved a resolution establishing a Solar Cookers Program World Solar Cookers Program, 1998 - 2003.
At SCI's world conference in Granada, Spain in 2006 Bev led formation of the Solar Cookers World Network by and for independent solar cooker promoters and organizations for info exchange and collective advocacy. After producing periodic network newsletters 2006-2010, the network is now maintained by the website www.solarcooking.org. At SCI, Bev developed a foldable box cooker in 1992 that fit within its lid, and also coordinated many volunters -- Roger Bernard, Barbara Kerr, Jay Campbell and Ed Pejack -- to create the CooKit in 1994, the the lowest-cost family cooker, mass-produced or hand-made. By the Year 2000, CooKits were produced independently in 28+ countries. Starting in 1995, Bev helped SCI launch projects promoting Cookits and training families in Kenya refugee camps Kakuma and Dadaab (27,000), in Ethiopian camp Aisha (3000) for UNHCR and community market-based projects in Zimbabwe (10,000) for UNESCO with U. Zimbabwe Development Technology Centre and Kenya (6,000) with local NGO, NYACODA. Independent evaluations in each project confirmed wide acceptance, use and benefits - saving time, labor and wood and reducing water-born diseases.
Bev is now retired, but enjoys following the ongoing progress in solar cookers' ever-widening spread, diversity and transition to wide commercial production, promotion and distribution.  
Recent articles in the media
Edit
News and recent developments
Edit
October 2006: Bev organized a weekend meeting of US solar cookers producers and promoters in Minneapolis, hosted by Solar Oven Society.
March 2007: Bev was an invited speaker at a Bolivian conference launching a GTZ project to reduce kitchen smoke in 100,000 households with Bolivian solar cookers and fuel-efficient stoves by David Whitfield and Ruth Saavedra.
April 2007: Martha Port from Solar Oven Society and Bev Blum presented papers, and Bev demonstrated and taught how to build solar CooKits at a conference titled "Killer in the Kitchen: Household air pollution and Appropriate Technology Solutions" sponsored by SIFAT the Sparkman Center for Global Health, and the University of Alabama at Birmingham Framework Program in November 2006 in Alabama. To address indoor air pollution from smoky cooking fires attendees learned to make and use fuel-efficient Rocket stoves, heat-retention cookers, and solar cookers.
In 2007 and 2009 Bev presented papers at Asia Region Conferences of the Network in Kathmandu, Nepal and Bangalore, India.
Audio and video
Edit
Documents
Edit
External links
Edit
Bev Blum
4271 Round Valley Circle
Stockton, California 95207
USA
Community content is available under
CC-BY-SA
unless otherwise noted.