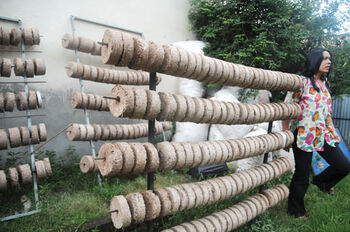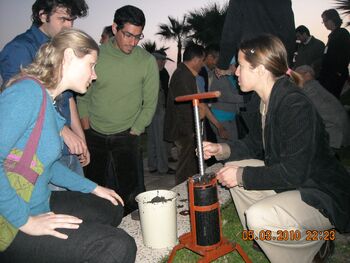 Collect any type of waste from you home or office including paper, cardboard boxes, saw dust, scrap wood, rice husk, fruit wastes, grass, leaves, kitchen wastes, agriculture and forest residues or industrial wastes. Shred 'em, cut 'em, soak 'em and hammer 'em and what you get is a pulp. A stinking good chunk of pulp. Now press the pulp, dry it for two to three days and what you have is your briquette, all ready to burn in a range of stoves ranging from mud stove with one burner to rocket stove and room chimneys. It is energy efficient, cost-effective, manages waste and moreover an inexpensive alternate source of energy that can fuel simple households to business houses.
A kilo of briquettes costs Rs. 16 (20 cents US) and a kg and half will take care of a day's cooking for a family size of four," Shrestha Arpan says, who just got back from training disadvantaged communities in Bajura, Humla & Jumla (Nepal) about this indigenous technology. "If we could take this technology to a larger scale, imagine what 600 tonnes of daily valley waste could be transformed into – 70 per cent of the waste could be utilized to make briquettes while the rest 30 could be used to manufacture compost."
[Excerpt from The Himalayan Beacon website, Sept. 4, 2009.]
News
August 2015: The Mount Kenya Energy Project's German organisation Lernen-Helfen-Leben e.V. has focused on the construction of gasifier/pyrolysis stoves during the past threeyears. These stoves perform very well when pellets or Biomass briquettes made from plant waste are used. In my discussions with MKICDO board members we came to the conclusion that making briquettes for sale could be a viable income-generating project for the Kiini workshop. It would also be in line with our plans to build gasifier stoves at the new institute and train promotors to market them. Mugo found a young entrepreneur who already had some experiences in setting up such projects. We met and came up with a basic outline for a medium-scale business. The briquets will be made of sawdust and coffee husks. Sawdust is readily available from carpentry workshops. The husks are a waste product at coffee dry mills and are sold very cheaply. We went to a nearby coffee cooperative and made arrangements to be given priority once we need these raw materials.
Constructions plans
Variations
Honeycomb biomass briquettes
Briquettes make use of compacted agricultural wastes, including fallen dry leaves, for fuel. Beehive briquettes (a honeycomb beehive-shaped biomass briquette) are made using a hand mould. The air channels help the briquette burn more easily.
Resources
Reports
Audio and video
NGOs using biomass briquettes
External links
Community content is available under
CC-BY-SA
unless otherwise noted.