The article below is about a solar cooking promoter who is now deceased. This information is maintained here as a tribute to the important work done by Bob Larson.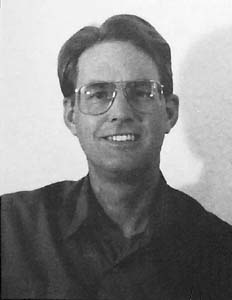 Bob Larson
July 19, 1945 - April 18, 2000
May he rest in peace.
In honor of Bob's life and devotion to the spread of solar cooking, these members and friends of Solar Cookers International established the "Bob Larson Memorial Fund."
Beverly & George Blum
Patricia Bruce
Sherry Cole
Barbara Kerr
Chuck Larson
Julie K. Loring
Virginie & John Mitchem
Dan & Laura Perin
Clark & Eleanor Shimeall
SCI Staff
Bob Larson was a special person to very many people. Sherry and I have especially fond memories of him. Shortly after we began working with solar box cookers in 1976 we went to meet Bob in South Phoenix where he was Director of the Energy House, a demonstration home for the city of Phoenix. We wanted to show him our original cardboard solar cooker and ask for his evaluation. From this very beginning, he was always ready to be helpful, devoted to developing solar cooking. Bob knew first hand of the poverty in South Phoenix where pennies saved on fuel costs meant more food on the table. And even in the early 1970s he was very aware of the impending firewood shortages in Africa and around the world.
Bob and his friends would use various versions of our early solar cookers and comment, providing very valuable feedback. And we did workshops together at the Energy House and went to various demonstrations and a number of Earth Day activities over the years.
When we met him, he was a dynamic young man recently returned from Kenya where he had spent time as a Peace Corps volunteer. Hired by the city of Phoenix, he was having great fun building and demonstrating all kinds of energy conserving add-ons for a small, run-down home in the poorest section of Phoenix – insulation, heating walls, solar water heaters, organic garden, and then solar box cookers.
After Phoenix cut their energy project, he struggled to develop a business that would support his growing family. Always working in alternative energy, his love was solar cooking. He became a Montessori teacher and help run a small private school (where children heated their lunches in solar cookers.) He helped his wife develop her book, Solar Cooking Naturally relishing his role of taste testing recipes. And over the years he and his wife wrote Sunlight Works -- Solar Science Educational Activities for Children and Practical Solutions, Sustainable Self Reliance Skills and Emergency Energy Survival Choices. Both are very good textbooks. He demonstrated solar cooking and taught in schools all over Arizona.
He was very proud of his boys. He was the first man I knew who could keep one or the other of his very young children with him for hours while he worked. Handy with bottles. Handy with diapers. He tuned in to their early needs in a very gentle, comforting way.
Shortly after I moved to the White Mountains, Bob and his family came to live next door to where I was building. He helped put together the original Kerr-Cole Experimental Home – carpentry, insulation, dry wall, and the electric fence to keep the cattle from breaking through my new windows. When they found that he could not make a living in Taylor, they moved to Sedona where he built his successful business. At every opportunity he talked about, demonstrated and sold solar cookers. Initially, he sold the EcoCookers and then expanded into many different designs of cookers as they became available. He had a most extensive collection of solar cookers, covering all different levels of technology.
Later for, I think it was seven years, he organized the soccer team for the Sedona High School and devoted a great deal of time coaching the teams for each of his boys.
Being true to his long term devotion to solar cooking, he was harassed by the need to make money in an atmosphere and time when there was frustratingly little money to be made in solar energy, much less in solar cooking. But he wanted to see solar cooking in use all over the world and did the best he could to make this dream come true. He was very proud of being on the Board of Solar Cookers International, speaking and demonstrating on their behalf many times in many countries.
In this sense he was a pioneer on the leading edge of solar cooking. He was a dear friend and support to Sherry Cole and me. We will certainly miss him.
Community content is available under
CC-BY-SA
unless otherwise noted.