Last edited:
11 June 2020
| | |
| --- | --- |
| | Inti reports a decade of success - Inti reports they have distributed more than 20,000 ecological appliances since 2000. From these 20,000, 14,000 have been solar cookers, mainly distributed in the South American countries of Peru, Bolivia, Chile, and Argentina. Additionally, 5,000 Rocket Stoves were distributed in the African countries of Benin, Chad, and Guinea, as well as to the South American countries. Besides solar cookers and stoves, they have also provided Heat-retention cookers, solar food dryers and solar showers. |
Events
[
]
NEW: 

15-17 September 2021: Climate Chance Summit Africa 2021 - Registration is open to attend the virtual 3rd edition of the Climate Chance Africa Summit. Three days of sessions on key themes and sectors of climate action hosted by non-state actors engaged in climate change in Africa. There is no charge for attendance, but registration is required
NEW: 

Friday, 17 September 2021 (10:30am CDT, 15:30 GMT): Homeschool program on solar cooking - The Syracuse-Turkey Creek Township Public Library, in Syracuse, Indiana, USA, offers online programs for homeschool students on Fridays at 10:30am. This program is described as learning to build and use a solar cooker. Read more...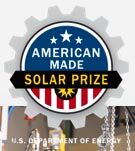 NEW: 

5 October 2021: American made solar competition - The U.S. Dept. of Energy is sponsoring a a multi-part competition to spur solar manufacturing, develop innovative solar solutions and products, and create domestic jobs and opportunities through public-private partnerships. The contest is open to U.S. residents, and the final phase is still open for submittals until 5 October 2021. Much of the attention has been with photovoltaic solutions, and this last phase is structured with two tracks that focus separately on hardware and software components. Solar cooking equipment should qualify as hardware solutions. Read more about the competition...
NEW: 

22-26 November 2021: 2nd National Congress for Solar Drying and Cooking Food - An affiliated group of universities in Mexico will host an online conference relating to solar food drying and cooking, as well as, food safety and energy savings realized with minimal environmental impact. Participants can register to view the presentations, or apply for presentation consideration. The conference will be in Spanish. Registration information... - (English version)
17-23 December 2021: Solar Cooking Awareness Week (Southern Hemisphere) - A loosely organized bid to acknowledge the fun and benefits of solar cooking. Show someone how to solar cook and share a meal.
24-26 January 2022: Fourth International Conference: Advances in Solar Thermal Food Processing - CONSOLFOOD Chairman, Celestino Ruivo, has announced an extended call for abstracts for the upcoming conference in January 2022, which is now planned to be an online event. Advances in solar cooking as well as solar food processing will be considered for inclusion. The event schedule and submission requirements are in CONSOLFOOD 2022 conference information.
See also: Global Calendar of Events and past events in Bolivia
News
[
]
September 2015: Bolivia Inti-Sud Soleil (BISS), in association with Engineers without Borders, has started a new project called Plug in Peru (PIP), implemented by three engineering students from École Centrale de Nantes. Photovoltaic (PV) panels were added to the solar stoves, which were distributed in the Andes. While the solar cooker is in position for cooking, these PV panels will store energy to charge cell phones, radios, and batteries – a need that was identified in the local villages. The students' project was based in La Paz, on the premises of Inti Illimani (BISS' partner in Bolivia), which enabled the team to obtain the necessary materials and build the kits before the workshop which was organized in the community of Ch'uxña Quta, 250 km north of La Paz. Despite some initial technical difficulties, this project raised interest from the local population, and the team left one of the kits behind so that the villagers could use it as needed. Follow-up visits will be made by local teams to evaluate the use of the kits.
History
[
]
David and Ruth Whitfield
A very active promoting team, David Whitfield and his wife Ruth Whitfield, established what is most likely the largest program on this continent. It is organized in conventional manner, with workshops held in various villages in which people are taught how to build their own wooden box cookers. Ruth is a Bolivian, and David an American expat. The couple taught thousands of people to make and use their own solar cookers. Fuel shortages are a substantial problem in this part of the mountainous region of South America, and the purchase of gas, sometimes a necessity, is very costly.
For a number of years, Ruth and David struggled along with minimum resources of dollars but endless enthusiasm and faith in themselves and the potential of solar cooking. Eventually, they were privileged to receive financial and technical assistance from the French organization INTI. The pilot program, required prior to application for a larger grant, was begun in 2003, when Wilfred Pimentel visited Bolivia for that purpose. Thus far, while more or less a hand to mouth operation, they have assisted households in dozens of villages to make and build their own cookers. They have also attempted to evaluate the usage of new cooks. When calculating the carbon emissions that did not enter the atmosphere because of the solar cookers, the figures are quite impressive.
The Whitfields actively sought to educate themselves about the entire range of solar devices and, indeed, about improved combustion stovess and fireless cookers, in the interest of assisting people to develop a complete and integrated cooking system for the household.
They promoted parabolics with the cooperation of EG-Solar, a German group, which states that 200 such parabolic cookers have been distributed in South America, at a cost of around USD 90. The usual means of doing that is shipment of components, with local assembly, making shipping costs less and thus the device cheaper to the purchaser.
Archived articles
Climate and culture
[
]
Resources
[
]
Possible funders
[
]
Facebook groups
[
]
Reports
[
]
Project evaluations
[
]
Articles in the media
[
]
Audio and video
[
]
August 2010: A short film by Julia Kumari Drapkin. She speaks with

Ruth Saveeda

, A native Bolivian, who has worked to improve the lives of women and children in poor communities by introducing solar cooking. Like many areas, These communities are experiencing deforestation, and the smoke from traditional wood stoves has damaged the health of residents, beyond those directly involved with cooking. She helped found

Sobre la Roca

, which makes high quality solar box cookers from recycled materials as part of their efforts to spread her message.
Proyecto TAMBO (I) - Cocinas solares parabólicas en Bolivia - José Garrido
External links
[
]
Contacts
[
]
The entities listed below are either based in Bolivia, or have established solar cooking projects there:
SCI Associates
[
]
NGOs
[
]
Manufacturers and vendors
[
]
Individuals
[
]
Government agencies
[
]
Educational institutions
[
]
See also
[
]
References
[
]