July 2009: Jose Albano reports that a government-sponsored solar box cooker workshop conducted by Paulo Araujo was featured on a Globo TV national news broadcast.
March 2007: José Guimarães writes to describe his project of introducing solar box cookers in the school system in Aracaju, Brazil. More...
January 2007: Alexandre Souza reports that he and some friends from São Paulo and Boa Vista have tried the Bernard panel model twice. They are making a short movie and one of the characters is a kind of "green tortured" person. Both experiences took place in public space: a public park and a public square. Both were successful (They cooked wild rice with pumpkin and sliced apples). After 2 hours, they served the food for everyone interested and recorded their opinions. They have also printed the plans from the Solar Cooking Archive and given out booklets to hundreds of visitors in the park (Ibirapuera Park in São Paulo, where the International Biennale of Arts is held). A group of Tibetan monks showed up and said they also use the Bernard model in the mountains of Tibet. When they finish the movie, they would like to send it to festivals and to be shown in ecological meetings.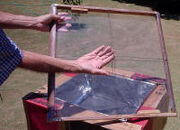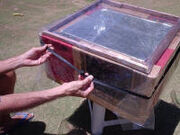 March 2006: Enthusiastic new solar promoter Jose Albano (see Solar Cooking Archive informs, inspires Brazilian promoter, has developed an interesting solar box cooker lid system that creates a double-paned plastic window effect and stops air loss through the lid/cooker joint. Mr. Albano notes that this idea works best in areas near the equator, where the sun is often directly overhead and reflectors are not required. The system can be used with cookers made from various materials, including cardboard and wood. The first step is to build a four-sided lid frame using wooden boards about one-inch thick. Next, tautly attach wires in a crosswise fashion on both sides of the wooden frame, creating a "skeleton" that will serve to separate two layers of plastic sheeting and allow for insulating air space between them. Spread a sheet of transparent plastic across one side of the frame, wrap the ends around to the opposite side of each board, and secure with staples. After food has been placed in the cooker, place the lid on top of the four walls of the cooker with the plastic side down. A larger sheet of transparent plastic is then draped over the lid partway down all four sides of the cooker. This sheet is secured using a rubber tube or similar fastener, preventing air from escaping. [Editor's note: Solar Cookers International recommends polypropylene, polyester or polycarbonate plastic sheeting.]
July 2005: Professor Arnaldo Moura Bezerra reports that the small city of Uirauna, in the "backwoods" of the state of Paraiba, boasts its own solar cooker production unit. A priest known as Father Domingues manages production of parabolic cookers based on the SK-14 cookers developed by EG-Solar of Germany. Residents use the cookers daily. Contact Arnaldo Moura Bezerra by e-mail: mourabezerra@uol.com.br
Community content is available under
CC-BY-SA
unless otherwise noted.