Jurassic World: Dominion Dominates Fandom Wikis - The Loop
Play Sound
See also: Solar restaurants and bakeries
On-demand webinars
July 2021: Baking a Solar Bread Webinar: - A few months ago, CONSOLFOOD organizers sent a request for short videos of unique bread baking ideas from the bakers in the solar cooking community. Once the entries where reviewed, a number of them were selected to be presented in a video compilation. Originally aired on 4 July 2021, the video can be seen here.
Helpful Hints

Use your favorite recipe, or frozen bread dough from the store. After dough has raised in a well-oiled dark pan with lid, put it into preheated solar oven and bake 1 1/2 to 2 hours, refocusing once during cooking period (if convenient). In general it is best to bake bread in a pan with a lid. This will prevent or cut back on condensation on the glazing. When crust is firm and golden brown, turn loaf out onto a rack to cool.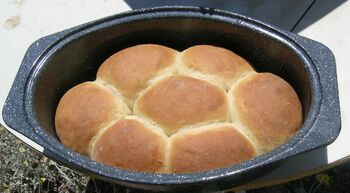 Milk and sugar or honey in bread dough aid in browning. Eggs in bread dough also aid browning and may help to prevent the bread from falling when oven temperatures are low. To add egg to a bread recipe that does not call for eggs, break the egg(s) into the measuring cup before adding other liquid, then add the called-for liquid until you reach the measuring mark specified in your recipe. Whisk lightly with small whisk or fork and add to recipe as specified.
For better browning of the top crust and to lessen condensation in the oven, buy dark bread pans in matched sets and use one upside-down as a cover. Secure with binder clips.
Yeast breads can do the final rise in the refrigerator, so you don't have to get up extraordinarily early to get bread into your solar oven early in the day. Just make your dough the night before and be sure the yeast is awake and lively when you form your loaf/loaves and get them into the pan(s). Put on lids, if you are using lids (or cover with oiled plastic wrap), and refrigerate immediately. The dough will rise most of the way before the yeast gets cold and goes to sleep. When you get up, take the pan(s) out to start warming up a bit while your solar oven is preheating. Put the loaf/loaves in the preheated oven once it reaches at least 225F (remove plastic wrap if used!), and proceed as usual.
Orange Banana Oatmeal Bread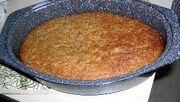 This is moist and delicious. The sweetness inherent in the bananas are tempered by the orange juice and zest, so if you are usually overwhelmed by how sweet most banana bread tastes and want something a little less sweet and healthier, give this a try.
1/2 cup room temperature butter (1 stick)
1/2 cup white OR brown sugar
2 eggs
2/3 cup orange juice
1 teaspoon orange zest
1 teaspoon vanilla
1 1/2 cup smashed banana (3 medium)
1/2 teaspoon salt
1 1/2 teaspoon baking powder
1 teaspoon baking soda
1 teaspoon cinnamon
1 cup all purpose flour
1 cup whole wheat flour
1 cup quick cooking oats

Beat the butter and sugar until fluffy. Add the eggs and vanilla and mix. Add the orange juice, crushed bananas, and orange zest. Mix well.
Mix the dry ingredients together and add the dry ingredients to the wet ingredients. Do not overmix. Pour in a large loaf pan or put in several smaller pans. Bake until the edges brown and the middle springs back under the touch.
From: http://www.HeavenSentFood.com
Pizza Bread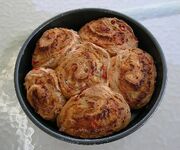 This is an interesting bread that is moist and pretty healthy. I wanted pizza but didn't want to heat up the oven in the house so I decided to toss the pizza ingredients into a white bread dough. It turned out pretty good, and was easy to make.
1 cup warm water
1/3 cup tomato paste

Mix the tomato paste and the water in your bread mixing bowl. Add to the water and stir:
1 tablespoon yeast
1 tablespoon white sugar
2 teaspoons salt
1 cup finely chopped onions
1 cup finely chopped green, red, or yellow peppers
3 oz chopped pepperoni
1 teaspoon dried oregano
1/2 teaspoon dried basil
1/2 teaspoon powdered garlic or 2 cloves crushed fresh garlic

Add a half cup at a time:

4 cups (+/-) bread flour

Stir well and knead until the dough springs back under your touch.

Let it rise in a warm location until doubled. Punch down and roll into a rectangle as if you were making cinnamon rolls. Sprinkle 4 cups of shredded mozarella over the rectangle, and pinch the dough tightly together along the edges.

Cut into 1 1/2" pieces, and put in a baking pan. Let rise a little bit (not fully), and place in oven. The rolls are done when the mozarella cheese starts to brown on top of the rolls.

This makes a big recipe. You can either cut the recipe in half or refrigerate half of it while the first half bakes.

You can add anything to it: diced olives, anchovies, cooked and crumbled sausage, romano or parmesan cheese.

Freeze if you don't eat it all at once. Like tomatoes, bread should never be refrigerated. It dries out in the refrigerator but not the freezer.


From http://www.HeavenSentFood.com.
Carrot, Zucchini & Pineapple Quick Bread
Mix the dry ingredients:
1 cup of quick oatmeal (not instant)
1 cup of flour
1 teaspoon baking powder
1/2 teaspoon baking soda
1 teaspoon cinnamon
1/2 teaspoon nutmeg
1/2 teaspoon cloves
3/4 teaspoon salt

Stir to make sure that the ingredients are combined. Mix the wet ingredients in a separate bowl:
1/2 cup vegetable oil (not olive oil)
2 eggs
Beat until the eggs are mixed with the oil. Add:
1/3 cup pineapple juice (more if the dough seems too thick)
1/2 cup well drained canned crushed pineapple
1 cup shredded zucchini
1 cup shredded carrots

Stir. Add
1/2 cup brown sugar
1 teaspoon vanilla

Stir.
Combine the dry ingredients with the wet ingredients, being careful not to overmix. Put in an oiled pan, and bake until the center springs back under a light touch.
This is a sweet, rich quick bread suitable for snacking or breakfast. It warms easily in the morning to send the kids off to school with a healthy breakfast full of fruits and vegetables. If you do not eat it all at once, store it covered in the refrigerator.
from: http://www.HeavenSentFood.com
One Big Fun Yogurt Muffin
Note: This recipe was designed for a 3-4 cup backpacker pot in an EZ-3 Solar Cooker, but it should work in any cooker that can take such a pot. You can think of this as either a giant muffin or one small coffee cake. Either way it is moist and delicious! Perfect for singles, couples, or a kids' tea party.
1 cup biscuit or pancake mix
2 tablespoons sugar or brown sugar
1/4 teaspoon baking soda
1 egg, beaten
6 ounces yogurt, any flavor
2 tablespoons melted butter or canola oil
1/4 cup raisins or nuts or dried fruit bits (optional)
Mix dry ingredients. Mix wet ingredients and combine with dry ones. Stir in fruit or nuts if using. Put into greased small (3-4 cup) pot with dark lid. Cover and set to cook by late morning. Give it at least an hour before checking. When it is done, it will feel firm and springy in the middle. It may be more moist than a muffin in your oven and may not brown as much depending on sun conditions. If in doubt, leave it in a while longer. Your muffin will not burn in an EZ-3 or other simple solar cooker.
If you want to add seasonings, you can use 1/4 teaspoon of cinnamon or allspice or nutmeg or pumpkin pie spice, or even some grated orange or lemon or lime peel, depending on what you think will go with your yogurt flavor.
Do not try to bake a muffin on a marginal cooking day. Muffins need bright sun to cook. If you are using an EZ-3, use your booster panel.
Zucchini Loaf
3 eggs
1 teaspoon vanilla
1 cup oil
2 cups grated zucchini
2 cups sugar
Beat above ingredients until light. Add:
3 cups flour
1/4 teaspoon baking powder
3 teaspoons cinnamon
1 teaspoon baking soda
1 teaspoon salt
Chopped nuts if desired
Place in dark pan. Cover. Cook for 2 to 3 hours in a solar oven. Let bread cool in pan for 10 minutes and then remove from pan.
Dutch Rye Bread
4 cups rye meal
1 1/2 teaspoons salt
2 teaspoons molasses
3 to 3 1/2 cups boiling water
1 cup cracked wheat
1 tablespoon kelp powder
2 tablespoons oil
Mix all ingredients together. Cover and let stand overnight. Add more wheat flour if necessary in order to shape loaf. Roll loaf in wheat germ. Place loaf in loaf pan and place in a dark colored pan, cover, and cook in solar oven all day or all afternoon. When completely cooled, wrap in moist towel, waxed paper or plastic, and refrigerate for one or two days before serving with butter, cream cheese, to accompany soups, etc.
Beer Bread
3 cups self-rising flour
2 tablespoons sugar
1 12-oz. can of beer, at room temperature
cheese slices
Mix first three ingredients together and place in buttered black pan with lid. Place cheese slices on top. Cover. Cook in solar oven for 2 or 3 hours.
Easy French Bread
1 package yeast
2 cups water
4 1/2 cups white flour
1 tablespoon sugar
2 teaspoons salt
Dissolve yeast in one cup lukewarm water. Sift flour with sugar and salt into a large bowl. Stir in dissolved yeast. Add just enough of the second cup of water to hold dough together. Mix until dough is sticky. Cover with a cloth and let rise until doubled. Butter or grease a round roaster and add dough to dark pan. Let rise another half hour. Cover. Bake in solar oven until golden brown, about 2 hours.
Foolproof Whole Wheat Bread
2 tablespoons dry yeast
5 cups hot water
2/3 cup oil
12 cups whole wheat flour (or 7 cups whole wheat flour & 5 cups white flour)
1/2 cup warm water
2 tablespoons salt
2/3 cup honey or sugar
Sprinkle yeast into 1/2 cup warm water. Let stand 10-15 minutes. Add 1 tablespoon sugar. Combine the remaining 4 1/2 cups hot water with 7 cups whole wheat flour in a large bowl. Add salt, oil and honey or sugar. Continue mixing until well blended. Add 1 cup flour to mixture. Add prepared yeast to mixture and blend thoroughly. Add 3 to 4 more cups of flour.
Knead for 10 minutes or until there is a consistency like cookie dough. A stickier dough will result in moister bread.
Oil hands and divide dough into 4 parts. Mold into loaves on oiled counter. Place in oiled pans. Oil top of loaves if soft crust is desired.
Cover loaves with damp cloth and let rise 1/3 in bulk.
Place loaf pans in dark pans with lids, or insert an empty loaf pan on top of each loaf of dough. Cover. Place in solar oven by 11 a.m. Cook 2 1/2 hours.
Cornbread A La Sol
Dry Ingredients: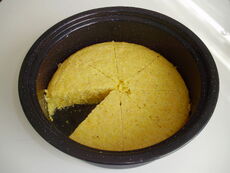 1/2 cup corn meal
1/2 cup corn flour
1 cup white flour
2 tablespoons baking powder (preferably aluminum-free)
3 tablespoons sugar
pinch salt
Liquid Ingredients:
1 egg
3 tablespoons oil
1 cup milk
Blend the liquid ingredients together. Add the dry ingredients and mix thoroughly. Pour into a 7 x 11 inch pan (preferably one with the underneath painted black). Bakes in about 1 to 2 hours. Consider it done when 'fault lines' appear to be running along the top.
Heather's Wheat Berry Bread
2 cups wheat berries
Flour for dusting
Water for sprouting
Sprout the wheat berries for a day. Rinse the sprouts and grind them to a paste. Lightly dust the inner container of a box solar oven with the flour. Shape the ground sprouts into a mound and place in the inner container. Let the bread bake in the solar cooker for the day.
Comments: The bread is similar to "manna bread" available in the US. It is sticky, moist, and sweet. Additions such as raisins or dates could be nice.
Zero carbon footprint Spelt Bread
Ingredients:
1 package of dry yeast
4 tablespoons of honey
4 tablespoons of olive oil
1 teaspoon of salt
2 cups of solar warmed water 50 C. (125 F.)
Mix these ingredients well in a bowl. Make sure the all of the yeast dissolves in the water and none is left sticking to the sides of the bowl. Allow the mixture to sit for about 5 minutes and watch for the bubbling action of the yeast spinging to life. Once you have confirmed that the yeast is activated, you are ready to add the flour.
Add:
4 cups of all purpose flour
1 cup of spelt flour
Mix well and add either spelt flour or all purpose flour, if necessary, until the dough is dry enough to stick to itself and not to the wall of the bowl. Knead for about 10 minutes. Take a golfball size piece of dough and pull it apart with your hands. When the dough can be stretched thin, the dough has been kneaded long enough. Cover the bowl and place in a warm place. I like to use a slightly larger pot with some solar warmed water in it and place the bowl with dough in it in the water. Then put a lid on the larger pot. The water holds it's heat well and is evenly distibuted and keeps the surface of the dough moist. After the dough has doubled in size, punch it down and shape the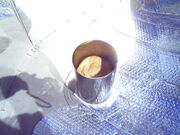 dough so that it fits in your bread pan. On a bright, sunny day, with the sun at least 45 degrees above the horizon, place your dark colored bread pan and dough in a solar oven that has reflectors. You should have loaf of bread in about 2 hours. The aroma of the bread fills the air on the down wind side of the cooker. Funny, you may not want to stand on the down wind side when cooking with a wood fire, but you do when cooking bread in a clean cooking solar oven.
Fruit bread
Simple & Terrific Solar Oven Bread Recipe
An easy to make, all-purpose, healthy loaf of sublime warmth, flavor and texture. Many bread recipes require a baking temperature of 204 °C (400 °F), but this loaf bakes well at 177 °C (350 °F).
Ingredients for two loaves:
5 cups of whole wheat flour
2 cups of oats
3 tablespoons brown sugar
1 egg
1 tablespoon of sea salt
1/4 cup of melted butter
1 1/2 cup of lukewarm water
1 cup of lukewarm milk
1 1/2 tablespoons instant yeast
Make the dough
In a large bowl, combine milk, water, and sugar, then add the yeast.
Mix in the egg and melted butter until all are blended.
Add the flour, oats, and salt.
Mix well by hand or mixer for at least one minute
Let it sit for 5 minutes.
Mix again with spoon or mixer for 2 minutes and check the dough.
If it's still very wet, add flour a tablespoon at a time until it is handle-able but a bit sticky.
If it's too stiff, add water a tablespoon at a time until it is handle-able but a bit sticky.
Continue stirring or mixing for 5 more minutes.
Let it rise:
Dump the dough onto a lightly floured surface.
Knead it just 3-4 times.
Oil your mixing bowl with olive oil or canola oil.
Put the dough back into the mixing bowl.
Cover with wet towl and let it sit for 1 to 1 1/2 hours. It should double in size in that time.
Into the pans:
Divide the dough into 2 equal parts.
Coat the inside of 2 bread loaf pans with olive oil or butter.
Form each dough piece into a rectangular sheet the same width as the loaf pans.
Roll each dough piece up into a log and place into the loaf pans.
Let them sit at room temperature to rise, for about an hour.
Halfway through the hour, open and position your solar cooking for full temperature cooking.
Bake your bread:
Place loaf pans in oven cooking chamber for around 20 minutes then rotate the pans.
Bake another 20 minutes and check the loaves. They should sound hollow when tapped. If you have a digital thermometer, the loaves are done when the center reaches 88 °C (190 °F).
When done, remove from oven and turn the pans over on a clean surface to remove the loaves.
Place the loaves on a rack to cool.
See also