This article is about an entity that either no longer exists or that may no longer be active in solar cooking promotion. It is retained here for archival purposes.


Last edited:
7 December 2015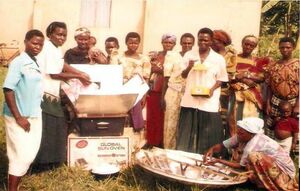 Mr. Busobozi Tegras is Coordinator of the Welfare Society for Solar Development (formerly Welfare Society for Disabled People). Starting in 1998, this group has enabled over 13,000 people to solar cook. It promotes integrated cooking and food drying solutions that also include energy saving stoves and solar dryers. Other activists in his group include Matama Jolly, David Kaahwa, Julius Sunday, James Kivumbi, Mate Giladys, Norah Kimara, Marriam Nsungwa, Florence Namataka, Jane Karungi and Christopher Byona.
Recent news and developments
[
]
October 2014: Busobozi Tegras has released a summary of the problems of air quality faced by the citizens of Uganda when cooking over open fires.
Audio and video
[
]
Contact
[
]
PO Box 240
Hoima
Uganda
Tel: +256-774-952023
Email: busobozitegras@yahoo.com and wsdsolar@yahoo.com