Jurassic World: Dominion Dominates Fandom Wikis - The Loop
Play Sound
Last edited:
13 November 2021
The CEDESOL Foundation believes that there is hope for the many disenfranchised of this world. Our goal is to enrich humanity by equipping people with social and technological tools that permit them to direct their own destinies. All of our activities center around three key concepts; Alternative Education, Renewable Energy and Social Justice. The founders, David and Ruth Whitfield, bring together synergistic experiences unifying business administration, and social sciences with appropriate technology transfer. They have been promoting alternative energy and solar cooking in Bolivia since 2003.
News
[
]
May 2014: David Whitfield relates that he and his wife, Ruth, have been involved with solar cooking for sixteen years, and working on alternative energy solutions in Bolivia since 2003. Over that period, the CEDESOL foundation has distributed over 7000 solar cookers.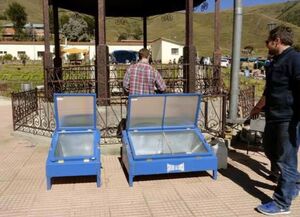 September 2013: The municipality of Cocapata is located behind the Cordillera Tunari, we needed more than three hours from the city to get there. This time we were invited by the municipality to participate with our ecological cookers in their local fair of typical meals, charango and season fruits. Local people were interested in knowing more about the solar cookers because generally they use dung to prepare their meals. Currently we are in the process to consolidate a project for more than 80 solar cookers for Cocapata.
March 2013: Sol Food is published Written by David and Ruth Whitfield, Sol Food is a cookbook, but it isn't just a cookbook. In its pages you'll find all the information and advice you need to start solar cooking in your own backyard, plus over 54 solar cooking recipes to put on your table. The Whitfields are the founders of the CEDESOL Foundation, and they share many of team's adventures, gleaned from over a decade of not-for-profit work promoting solar cooking and integrated cooking techniques in Bolivia and around the world. A percentage of the profit from book sales help fund thier efforts. David reports that CEDESOL's application for their ecological stove project is inching forward. Once certified, CEDESOL wil be able to help fund their work through verified carbon credits. Sol Food is offered as an ebook in PDF format. Contact the CEDESOL Foundation website to order their new ebook Sol Food
November 2012: Solar Cook Book from CEDESOL - Sol Food (Food for the Soul) by CEDESOL's David and Ruth Whitfield is a mouthwatering, illustrated solar cookbook. It does a wonderful job of explaining the technology and concept of ecological (integrated) cooking while providing readers with pages of indigenous recipes including vegetarian dishes for those who are trying to cut down on meat. Sol Food is sprinkled with great photos and hilarious moving accounts written by CEDESOL's interns of their adventures in Bolivia. The book opens with an entertaining history of the early days of Sobre la Roca and CEDESOL, which grew out of David and Ruth's association with the French NGO Bolivia Inti Sud Soleil. Sol Food is in the final stages of editing and will soon be available for purchase as an ebook on the CEDESOL Foundation website.
November 2012: CEDESOL Promotes Integrated Cooking Method - The Integrated Cooking Method (the combined use of solar, fuel efficient biomass and retained heat cooking devices) is the cornerstone of David and Ruth Whitfield's CEDEDSOL Ecological Stoves for Better Living project in Bolivia and Paraguay. This CEDESOL project includes local production, promotion, ducation, distribution, installation and maintenance of improved cooking devices. The project will replace traditional inefficient wood stoves in rural and urban areas, with efficient designs, which have been shown to reduce fuel-wood consumption above 60%. This program is designed to generate Voluntary (verified) Emissions eductions (VERS) by installing and monitoring more than 50'000 Ecological Stoves in Bolivia and Paraguay. VERS to reduce the cost of the stoves to users will be provided by the foundation, myclimate. Without carbon finance obtained with VERS in association with Foundation My Climate, CEDESOL's beneficiaries would not be able to access the program and receive the cookers and education. CEDESOL also acknowledges the generous assistance of Kyoto Twist Society and Green Microfinance.
April 2011: Representatives of Organizaciones Teritoriales de Bases (Territorial Base Organizations, which are national divisions in Bolivia), women's groups, campesino agricultural groups and sindicates, rural and municipal governments, and NGO's in rural areas gathered in a full-day conference on April 27th in Cochabamba to discuss the implementation of "placing 54,000 ecological stoves in 54,000 households, reducing 511,000 tCO2 over the 7 year project period" (taken from the LSC report). Read more: CEDESOL Newsletter June 2011
February 2011: Thankfully due to our partners, the Kyoto Twist Solar Cooking Society of Canada, and their special financing, CEDESOL Executive Director was able to travel to the PCIA, Partnership for Clean Indoor Air Conference in Lima, Peru from February 21-26th. The conference was designed to foster an environment where participants could network and share best practices with other household energy and health experts, take part in group discussions that identified common strategic objectives and opportunities for collaboration, and finally create commitments to achieve the four forum priorities: meeting social and behavioral needs, developing local markets, improving technology and design and performance, and monitor impacts of interventions. Additionally, CEDESOL has taken significant steps to further increase its involvement with the Gold Standard. The Gold Standard is a non profit organization with established procedures, called best practices, that set a benchmark to ensure that international organizations follow the correct methodology when measuring and monitoring carbon emissions in the environment. Read more: CEDESOL Newsletter June 2011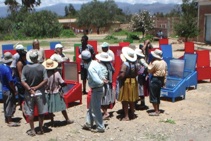 February 2011: New beginnings in Hausa Rancho - Nine CEDESOL staff members traveled to the community of Hausa Rancho to deliver 30 solar cookers to the participants in a project sponsored by the Kyoto Twist Solar Cooking Society. Hausa Rancho, a location with ample sunlight, is located 90 minutes outside the city of Cochabamba, Bolivia. The Kyoto Twist Solar Cooking Society subsidized the cost of the solar cookers, and through outside funding from supporting agencies and organizations, CEDESOL is able to further subsidize the solar cookers it sells. Each cooker costs 560 Bolivianos. The original production cost was 1,600 Bs. With this compounded subsidization, each participant pays only 200 Bs to receive a solar cooker, and afterwards participates in five training sessions held every two to three weeks over the course of three months. The staff members arrived mid-morning to begin setting up the cookers, which would be used to prepare lunch for the community, demonstrating the possibilities of solar cooking. The preparation of the meal took around two hours, and participants were amazed with the results, and were enthusiastic to begin using the solar cookers themselves. In coming months, training sessions will be held to further educate the participants on the capabilities of the cookers. Following the training period, the community will keep the solar cookers, with the expected results of lowered carbon emissions, safer cooking methods, and cleaner lives.
February 2011: CEDESOL collaborates with the Salvation Army to bring solar energy to urban poor - While CEDESOL usually focuses on projects in rural areas, a coordinated project with the Salvation Army brought the benefits of solar cooking instead to four separate urban communities on the outskirts of Cochabamba, Bolivia. It involved the presentation of both solar and wood-burning stoves to each community separately, and allowed community members to individually chose which version they would most like to receive. Following their decision, they received training sessions regarding the use of their selection. Thanks to the Salvation Army subsidizing the solar cookers from CEDESOL, the members of the community paid a mere 100 Bolivianos per solar cooker. The CEDESOL staff provided the training and organized the workshops. The efficiency of the solar cookers was proven to the community as the team cooked lunch for the participants, who were excited at the prospect of soon being able to cook for their own families with the equipment. The cookers will greatly benefit these extremely low-income areas, as they have almost no access to resources such as running water, health care, or sanitation. It is hoped that the provision of solar cooking equipment and capacity-building training sessions will give the people of these communities an economic boost, eliminate the dangers of traditional cooking methods, increase sanitation, and provide education for those participating in the project.
February 2011: CEDESOL founder, David Whitfield participates in the Partnership for Clean Indoor Air Forum in Lima, Peru - His attendance at this event represents an unparalleled opportunity for CEDESOL, and it has been possible thanks to the help of the Kyoto Twist Solar Cooking Society, who funded a major portion of the cost of this participation. The forum will provide CEDESOL with the opportunity to network with myriad organizations, establish connections, and represent CEDESOL and its cause as viable potential future recipients of aid and funding from the many donor organizations that will be present. In particular, CEDESOL is interested in pursuing a partnership with the Global Alliance for Clean Cookstoves, an organization which collaborates with other foundations, agencies, and organizations to overcome the economic hurdles that impede the mission of providing solar cookers to the developing world. With the many projects, new and ongoing in 2011, and as we continue to grow and expand, this funding is essential to further our efforts and advancing our vision to reach more communities and empower more families. While the objective of acquiring funding is imperative, the PCIA Forum also offers CEDESOL an interesting role in the Bolivian solar energy campaign itself. As one of the leading organizations providing ecological cookers in Bolivia, CEDESOL also has the opportunity and responsibility to represent the advancements made in Bolivia, essentially acting as one of the faces and representatives of the movement within the country at this international assembly. Additionally, as the producer of a leading model of ecological cookers, Kyoto Twist Solar Cooking Society recognized that CEDESOL holds an important responsibility to be present at this forefront of solar energy technology. A CEDESOL 2-burner Rocket Stove was transported by bus and installed at the conference, and demonstrated impressive results.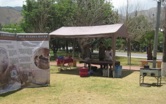 November 2010: CEDESOL makes a strong appearance at the Fería de la Construcción - CEDESOL attended the Fería de la Construccioón, held in the Campo Ferial de Cochabamba from November 18th-21st, 2010. The Fería presented an excellent opportunity for CEDESOL to demonstrate its solar energy products to those attending the event, representing Cochabamba and its surrounding areas, as well as other regions of Bolivia. Through the use of a slide show and physical demonstrations of the single and double solar cookers and the Rocket Stove, volunteers and staff educated the attendees on the possibilities of fuel efficient cooking. The presentation was well received by the crowd, and generated significant. Attendance at these types of events is an efficient way to open new doors with other communities, and introduce CEDESOL and its mission to new areas.
April 2008: Under this cooperative agreement with the US Environmental Protection Agency, CEDESOL will scale-up the industrialization process for a uniquely designed wood-burning rocket stove, which is part of our group of Ecological Cookers (a well-sealed solar box cooker based on the ULOG type solar cookers, retained heat cookers and the two-burner rocket stove with chimney). Major improvements are being made in the production process so that 2,000 of these stoves will be produced every month, compared to 300 or 400 per month before the scale-up.[1]
April 2007: CEDESOL is working to install 2000 solar cookers and 2500 fuel-efficient, two-burner "rocket" stoves in Bolivia by the end of May. Over the next 12 months it hopes to scale up to 15000 stoves and cookers. CEDESOL contributes to a campaign led by the German aid group GTZ to distribute 100,000 solar cookers, heat-retention cookers, and fuel-efficient stoves by 2010.The GTZ campaign is to be launched during an international seminar in La Paz this month.
March 2006: Paraguay continues to be an exciting place when it comes to transforming lives through solar energy. Responsible for a long chain of successes are two closely entwined organizations: la Fundación Celestina Pérez de Almada and the CEDESOL Foundation. Led by Professor Martin Almada and engineer Jean-Claude Pulfer, the twin organizations bring solar energy out of the laboratories and universities to people in need. Their projects provide enough solar equipment and training to transform whole villages, creating solar futures in several villages, and bringing those futures into the present, one village at a time. With support from the Swiss Embassy in Paraguay, the Almada-Pulfer team recently supplied solar cooking equipment to two schools for lunch preparation. Solar food dryers will provide out-of-season healthy fruit snacks to students. Dr. Almada was recently awarded a prestigious European Solar Prize from the European Association for Renewable Energies (EUROSOLAR). The award honors his "commitment for the use of renewable energies in order to give people hope and find a way out of poverty." You can find more information on this award and view a short video of Dr. Almada's work here.
Mission
[
]
The Foundation defines its institutional mission in lines of action that foment positive change in living conditions in disenfranchised populations, promoting the widest possible participation by society in the use of alternative energies to better the quality of life as a manifestation of social and economic justice.
Vision
[
]
Quality of life increase while poverty diminishes as communities are collectively edified applying alternative resources through solidarity and harmonious stewardship for the environment, achieved by working together with public and private institutions.
Primary Goal
[
]
Improve the quality of life in rural, urban and peri-urban areas by implementing practices that achieve social and economic justice through the efficient utilization of resources, appropriate technologies and alternative energies to achieve sustainable development in Bolivia and South America as a poverty reduction and environmental strategy.
Secondary Goals
[
]
Foment community based micro enterprises especially related to gender and children, to improve the economic conditions of people in specific areas of interest.
Provide social and technical assistance to other organizations to help them achieve solid management, while preserving the ecology.
Promote the micro businessman, farmer and or craftsman, their families and rural communities to help them better their lives, homes and communities through holistic sustainable activities.
Provide advice and training to empower women and children in sustainability.
Activities
[
]
Provide consultations, training courses, workshops and conferences to different interest levels, including elaborating didactical and pedagogical materials related to holistic and sustainable development.
Promote and commercialize products developed by craftsmen and micro businesses.
Develop and coordinate activities and mutual cooperation with national and international organizations having similar goals.
Lines of action
[
]
PROALDE - Dehydrated Food Products Program,
Ecological Cooking Systems Program,
The Center for Development in Alternative Technologies
Courses and training workshops
Articles in the media
[
]
Audio and video
[
]
External Links
[
]
Contact
[
]
CEDESOL Foundation (Center for Development with Solar energy)
Calle Illapa #2004, P.O. 738
Cochabamba
Bolivia

Phone: +591 4 4286382
Mobile: +591 7 7900868

Facebook: CEDESOL
Instagram:@cedesolbolivia
Twitter: https://twitter.com/cedesolbolivia
YouTube: Cedesol Bolivia
LinkedIn: CEDSOL Foundation

David Whitfield
Executive Director