Last edited:
21 October 2015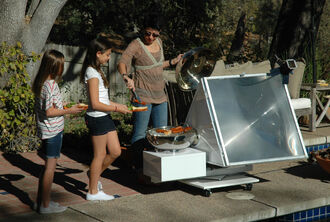 California Sunlight Corporation develops, designs, and manufactures high efficiency and cost-effective solar energy products based on a series of innovations. The emphasis of our company is on active daylighting systems, high efficiency micro-CPV systems, and solar oven, solar stove cooking systems. California Sunlight began manufacturing solar cookers in 2008 in California, USA
Bing Gu
California Sunlight Corporation
3791 Power Inn Road
Sacramento, California 95826
USA
Tel: +1 (916) 996-1584
Email: Bing.Gu@California-Sunlight.com
Web: http://www.California-Sunlight.com
Community content is available under
CC-BY-SA
unless otherwise noted.