Last edited:
6 August 2019
Events
[
]
NEW: 

Webinar:

Monday, 27 September 2021, 3:00pm - 4:00pm EDT, 19:00 - 20:00 GMT, Building a Solar Oven: A Real-World, Interdisciplinary Project for K-12 Students - Presented by Jennifer Gasser, Business Development Consultant, Solar Education Project; and Mary Buchenic, Education Director, Solar Education Project. Through innovative, hands-on lessons, Solar Education Project (SEP) helps students develop skills in STEM and other disciplines as well. Global acceptance of solar cooking begins at home. A recording of the webinar will be available after this free event. Registration information...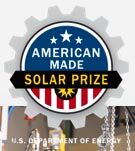 NEW: 

5 October 2021: American made solar competition - The U.S. Dept. of Energy is sponsoring a a multi-part competition to spur solar manufacturing, develop innovative solar solutions and products, and create domestic jobs and opportunities through public-private partnerships. The contest is open to U.S. residents, and the final phase is still open for submittals until 5 October 2021. Much of the attention has been with photovoltaic solutions, and this last phase is structured with two tracks that focus separately on hardware and software components. Solar cooking equipment should qualify as hardware solutions. Read more about the competition...
NEW: 

22-26 November 2021: 2nd National Congress for Solar Drying and Cooking Food - An affiliated group of universities in Mexico will host an online conference relating to solar food drying and cooking, as well as, food safety and energy savings realized with minimal environmental impact. Participants can register to view the presentations, or apply for presentation consideration. The conference will be in Spanish. Registration information... - (English version)
17-23 December 2021: Solar Cooking Awareness Week (Southern Hemisphere) - A loosely organized bid to acknowledge the fun and benefits of solar cooking. Show someone how to solar cook and share a meal.
24-26 January 2022: Fourth International Conference: Advances in Solar Thermal Food Processing - CONSOLFOOD Chairman, Celestino Ruivo, has announced an extended call for abstracts for the upcoming conference in January 2022, which is now planned to be an online event. Advances in solar cooking as well as solar food processing will be considered for inclusion. The event schedule and submission requirements are in CONSOLFOOD 2022 conference information.
See also: Global Calendar of Events and past events in Cambodia
News
[
]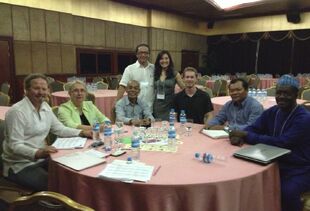 March 2013: Solar cooking promotors at the GACC conference - The Global Alliance for Clean Cookstoves sponsored the Clean Cooking Forum 2013 in Phnom Penh, Cambodia from March 18-22, 2013. The solar cooking community and the Solar Cookers World Network is being represented by Crosby Menzies (South Africa), Gabrielle Simbriger-Williams (US), Sanu Kaji Shrestha (Nepal), Scot Frank (US/China), Nguyen Tan Bich (Vietnam), Yasaya (Nigeria), Alex Kee (Malasia), Catlin Powers (US/China), and Julie Greene (USA) took the photo. The group held a solar cooking demonstration, and plan to present a joint presentation on the last day of the conference. The participation by these advocates of solar cooking helps to build the alliance with fuelwood cookstove advocates and helps spread the message of the integrated cooking method.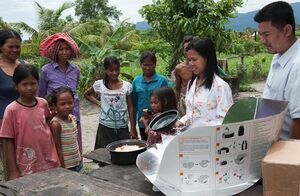 June 2010: A pilot project has begun in Tamoung Pha-em, Cambodia to introduce CooKit solar cookers to the local community. Similar to many other regions, residents have relied on wood for cooking. The area once surrounded by jungle, has mostly been turned into palm oil fields, leaving scarce wood for cooking. Families have started to rely on kerosene, or walk long distances to get wood. The project is sponsored by Global Roots, a Washington state non-profit. Patrick Firouzian recently traveled to Tamoung Pha-em with the first cooker to demonstrate it's potential. Dany Pan, a village school teacher, will use the cooker regularly and experiment to adapt local food recipes. Solar cooking pilot starts in the small community of Tamoung Pha-em
History
[
]
Archived articles
Climate and culture
[
]
See also
Resources
[
]
Possible funders
[
]
Articles in the media
[
]
Web pages
[
]
Contacts
[
]
The entities listed below are either based in Cambodia, or have established solar cooking projects there:
SCI Associates
[
]
NGOs
[
]
Manufacturers and vendors
[
]
Individuals
[
]
Government agencies
[
]
Educational institutions
[
]
See also
[
]
References
[
]