Last edited:
29 June 2020
| | |
| --- | --- |
| | |
Events
[
]
NEW: 

15-17 September 2021: Climate Chance Summit Africa 2021 - Registration is open to attend the virtual 3rd edition of the Climate Chance Africa Summit. Three days of sessions on key themes and sectors of climate action hosted by non-state actors engaged in climate change in Africa. There is no charge for attendance, but registration is required
NEW: 

Friday, 17 September 2021 (10:30am CDT, 15:30 GMT): Homeschool program on solar cooking - The Syracuse-Turkey Creek Township Public Library, in Syracuse, Indiana, USA, offers online programs for homeschool students on Fridays at 10:30am. This program is described as learning to build and use a solar cooker. Read more...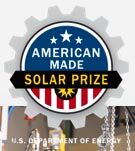 NEW: 

5 October 2021: American made solar competition - The U.S. Dept. of Energy is sponsoring a a multi-part competition to spur solar manufacturing, develop innovative solar solutions and products, and create domestic jobs and opportunities through public-private partnerships. The contest is open to U.S. residents, and the final phase is still open for submittals until 5 October 2021. Much of the attention has been with photovoltaic solutions, and this last phase is structured with two tracks that focus separately on hardware and software components. Solar cooking equipment should qualify as hardware solutions. Read more about the competition...
NEW: 

22-26 November 2021: 2nd National Congress for Solar Drying and Cooking Food - An affiliated group of universities in Mexico will host an online conference relating to solar food drying and cooking, as well as, food safety and energy savings realized with minimal environmental impact. Participants can register to view the presentations, or apply for presentation consideration. The conference will be in Spanish. Registration information... - (English version)
17-23 December 2021: Solar Cooking Awareness Week (Southern Hemisphere) - A loosely organized bid to acknowledge the fun and benefits of solar cooking. Show someone how to solar cook and share a meal.
24-26 January 2022: Fourth International Conference: Advances in Solar Thermal Food Processing - CONSOLFOOD Chairman, Celestino Ruivo, has announced an extended call for abstracts for the upcoming conference in January 2022, which is now planned to be an online event. Advances in solar cooking as well as solar food processing will be considered for inclusion. The event schedule and submission requirements are in CONSOLFOOD 2022 conference information.
See also: Global Calendar of Events and past events in Cameroon
News
[
]
February 2015: A Development and Information Center, DevICe, has been established in Tatum, Kumbo, north of Bamenda in Cameroon. After two weeks of training, the staff continues to test different types of solar ovens, provide information about water hygiene, and help with simple water quality analysis. They will also look into solar cooking. The center is run by voluntary work with a small budget. However, they are able to use a professional pyranometer from Kipp & Zonen. The project is run in partnership with Engineers Without Borders - Sweden, and sponsorship by Inpsecta in Sweden. (Inspecta provides inspections, testing, certification, technical consulting and training services.)
November 2014: Vise Gilbert Chin, CEO/President of Leéiyen, reports they have already taught more than 100 people to use solar cookers, including parabolic solar cookers, and the Heaven's Flame and CooKit solar box cookers.
November 2008: Solar Household Energy (SHE) completed a nine month 25 HotPot Pilot Program with our Cameroonian partner, the Association for the Protection of the Environment and the Fight against Desertification. The women in Maroua, Cameroon were happy with their HotPots and continue to be impressed by the variety of foods they can cook. The participants have been teaching their colleagues and friends about the HotPot. Demand for the HotPot has increased and SHE, Inc. and our partners are planning to expand the project.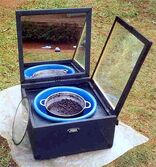 November 2007: The Organisation for Rural Education Simplicity (ORES) has been carrying out solar cooker research for several months. After experimenting with parabolic cookers, which they found difficult to keep focused on the sun as it moves, they chose to develop a solar box cooker that can cook for five people. The box can be closed to keep water warm overnight. Glass and mirrors are the only cooker materials that are not produced locally. Production cost is about $150 per cooker. Although ORES is based in Bamenda, in the western part of Cameroon, ORES hopes to promote the cookers in northern Cameroon where the Sahara Desert is encroaching and where the sun shines nine months per year.
Fall 2006: Details about SHE's pilot project were arranged with the Association for the Protection of the Environment and the Fight against Desertification. This NGO was founded by a group of Cameroonians concerned with the destruction of their environment. The project is scheduled to launch in January 2007.
History
[
]
Archived articles
Climate and culture
[
]
Northern part of the country: Sunny throughout the year and local sources of firewood are depleted. The north is a good region for solar cooking. Southern part of the country: Abundant rain and abundant firewood. (Source: Juan Urrutia Sanz, 2010-Feb-15)
See also
Resources
[
]
Possible funders
[
]
Facebook groups
[
]
Reports
[
]
Articles in the media
[
]
Web pages
[
]
Contacts
[
]
The entities listed below are either based in Cameroon, or have established solar cooking projects there:
SCI Associates
[
]
NGOs
[
]
Manufacturers and vendors
[
]
Individuals
[
]
Government agencies
[
]
Educational institutions
[
]
See also
[
]
References
[
]