Jurassic World: Dominion Dominates Fandom Wikis - The Loop
Play Sound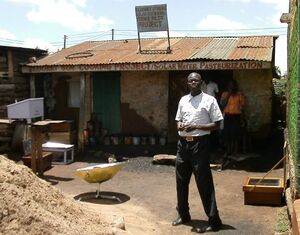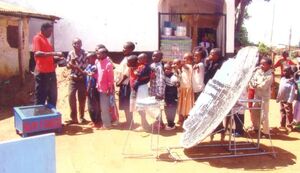 Camily Wedende is the director of Sun Cookers International in Eldoret, Kenya, and the founder and director of the Eldoret Student Projects program, a pilot program for youth engagement through solar cooking science. He began teaching others about solar cooking in 1995, and he and his wife have trained hundreds of people since then.
News
[
]
June 2016: Benefits of solar cooking explained to Rotary members -  Camily Wedende recently presented to fellow members of Rotary Club of Eldoret, Kenya. Camily is the group leader of the Eldoret Student Projects program.
June 2016: Camily Wedende reports: "We have bould 20 cookers this year for the third youth project and onother 5 wooden cookers for sale."
April 2016: Training future trainers of solar cooking - Camily Wedende, group leader of Eldoret Student Projects in Elodoret, Kenya and member of Rotary Club of Eldoret, leads a Train-the-Trainers Workshop for the Rotary Club of Gulu, Uganda. The Uganda Rotary Club is preparing to distribute 500 Haines Solar Cookers in Northern Uganda and is learning more about solar cooking from Camily's years of experience building, teaching and cooking with solar.
February 2016: Sharon Cousins has worked with Camily Wedende in Eldoret, Kenya for a number of years, helping to find ways to promote solar cooking to the local community on a shoe string budget. Sharon has experimented with a number of simple solar panel cooker designs, and her latest effort uses a large reflective bowl as a cooker base with an adjustable curved back reflector. After a recent visit, she sent Camily home with a large stainless bowl that is being used as a form to lay up paper mache copies of the shape using old newspapers. When dry and covered with aluminum foil, it becomes the base for a panel cooker. Students involved with Student Solar Cooking Science Projects Eldoret, Kenya have been eager to help with the construction.
November 2014: Camily Wedende reports that a crowd of around 200 people attended the ceremony and celebration for the successful second project team in Student Solar Cooking Science Projects Eldoret, Kenya, innovators of the Hexagon Solar Cooker. Sharon Cousins, a long time supporter of the project, wrote a speech for the new graduates. It was read by guest of honor John Amayo.
July 2014: Camily Wedende interviewed on radio station during visit to Idaho in the US. Listen to the interview.
November 2012: Student Solar Cooking Science Projects, USA and Kenya - What began as a pilot project in Eldoret, Kenya has evolved into two sister organizations, Eldoret Student Projects, founded by Sharon Cousins in the USA and a sister organization in Kenya founded by Camily Wedende. Ongoing fundraising goals include renting a small work facility. Because of limited funding, the group is always looking for ways to produce a reasonable solar cooker for $10USD or less. The partnership that led to these projects began when Camily Wedende of Eldoret read about an American youth project advised by Sharon Cousins, and contacted Sharon asking for advice on working with young people. The pilot project, which involved twenty students ages 10-18, was a stunning success. The innovative approach teaches skills that will help the students in many areas of life. They hope to create a replicable model for the harnessing the tremendous energy and enthusiasm of young people for the advancement of solar cooking in their communities and beyond.
Spring 2010: Camily Wedende and Sharon Cousins (advising and encouraging via email) began a project to involve a number of Eldoret school children in solar cooking. Students helped construct three different types of solar cookers and have been running comparison tests on the cookers. If a small fund can be arranged for materials, the students each want to make one of the model they like best to take home and use.
See Also
[
]
External Links
[
]
Contact
[
]
Camily Wedende
P.O. 1327
Eldoret
Kenya
Tel: +254-0724243798
Email: camilyw@yahoo.com