Jurassic World: Dominion Dominates Fandom Wikis - The Loop
Play Sound
Last edited:
9 December 2021
Events
[
]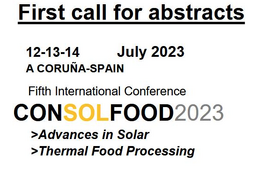 NEW: 

12-14 July 2023 (A Coruña, Spain): CONSOLFOOD2023 - Organizers have released a first call for abstracts to participate in the Fifth International Conference, taking place in Spain in 2023 as an in-person conference. The deadline for submission is 15 December 2022. More submittal information...
See also: Global Calendar of Events and past events in Canada
News
[
]
December 2021: Solar cooking and eco-farming in Mattawa, Ontario - Sustainable agriculture and solar energy come together at the Mattawa Eco Farm and Discovery Centre. Run by Helen-Anne Embry, the centre operates a greenhouse enclosure, which provides fresh produce throughtout the year. They alo roffer instruction and sales of solar ovens. Helen-Anne mentions, 'You can really cook anything; I've been able to make a loaf of bread when it's -17 outside. As long as it's a sunny or partially sunny day you can cook a meal.' Read more...
December 2020: Solar cookers donated to First Nation schools - Green Sun Rising has provided a SK14 cooker to the community of Deline, a First Nation community at the Great Bear Lake, a northern location in the Northwest Territories. Community members assembled the cooker to be given to the local school. In August 2020, They also gave a SK14 to the school in Tuktoyaktuk. It will be an assembly project for the students. However. due to the school closure, the project has been postponed until the sunnier Springtime. Tuktoyaktuk is located above the tree line surrounded by open tundra.
Gallery photo credit: Green Sun Rising
February 2016: Lethbridge students construct solar cookers - Teenagers learned how to harness solar energy to cook food during a special workshop at the Helen Schuler Nature Centre on Monday in Lethbridge, Alberta. The Extreme By Nature program was offered with funding from the Alberta Conservation Association. It was the first program in partnership with the Lethbridge Sustainable Living Association and Environment Lethbridge. Read more..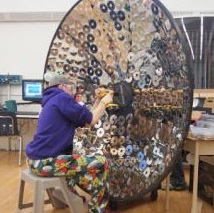 June 2013: The 2013 Solar Oven Challenge a success - Unfortunately the main event had to work around a few rain drops, but entusiasm was high among the participants. Read more about the event
February 2011: New solar distributor in Canada: Ecolo-Solaire, begin operation across Canada to supply solar BBQ, solar oven and multiple solar items!
October 2010: Lorin and Fraser Symington, two Ottawa area solar technologists have traveled to Mexico to do research and development on Solar Fire technologies.
July 2010: The Annual Solar Challenge Awards. GreenLearning Canada hosts this delectable renewable energy challenge for Canadian classes every year which challenges participants to build, test and bake with solar ovens. Students use the solar oven construction plan provided by re-energy.ca, or they design their own plans. See award winners...
June 1, 2008: A fundraising event called "Christmas in June for Darfur" is being held at the Unitarian Church of Montreal 11:30 a.m. to 1 p.m. Sunday June 1 to benefit Darfuri women refugees, Save Darfur Canada has announced. The church is located at 5035 De Maisonneuve West. The funds will be raised through the sale of gift cards to buy solar cookers at $15 each. Refugees use solar cookers to convert sunlight to heat for the cooking of food and purifying of water. For more information on this event, call Mary-Louise Engels at 514-487-2665, or mlengels@sympatico.ca. For more information on the work providing Darfur refugees with solar cookers, see Jewish World Watch.
July 2007: Sun Baked, a mission-driven business dedicated to promoting solar cooking as a sustainable practice, is now selling solar cookers through its Web site. The cookers include a box cooker from Portugal and two sizes of parabolic cookers from Germany. Several pictures of solar-cooked food can be found on the site, all of which link to a description of how the food was cooked. Sun Baked also offers a small-scale solar catering service targeted at farmer's markets and other outdoor public events in Toronto. The organic, vegan menu includes a Sun Burger and a falafel patty plate, both cooked using a parabolic solar cooker. For downtown events the equipment and food are transported using a bicycle cart.
April 2007: The Kyoto Twist Solar Cooking Society (KTSCS) continues its efforts to raise funds for solar cooking projects that reduce poverty in sun-rich, fuel-poor countries while reducing greenhouse gas emissions. (The "twist" part of the name comes from the idea that those living in wealthier nations can change, or twist, their priorities and lifestyles to better share limited resources with those most in need.) KTSCS works with nongovernmental organizations (NGOs) that have solar cooker experience and a proven track record in countries where solar cookers are an appropriate technology. NGOs can request an application packet for consideration of funding. Project structure, recipient family selection parameters, training procedures, and follow-up services must be described in detail. To track the effectiveness of the projects, and to provide accountability to its donors, KTSCS will track the success of recipient families, their financial savings due to solar cooker use, and their greenhouse gas emission reductions. KTSCS funded its first pilot project in November 2005. The group that received funding -- Ananda Marga Universal Relief Team (AMURT) -- has worked in Haiti for over 15 years and has experience conducting solar cooker projects. "The Spirit of the Kyoto [Protocol] is international cooperation on what is now being called the biggest challenge mankind has ever faced ¬ massive and rapid climate change," states the KTSCS Web site. "At an average cost of ten dollars per tonne, donating to KTSCS is an effective way to help make a difference. Cooking fires in the world today consume an estimated one billion cubic meters of wood or biomass annually, which produces an estimated one billion tonnes of carbon dioxide. Those are easy figures to remember and very significant in the mitigation of global warming."
November 2006: In April 2007, two dozen young adults will embark on a human-powered trek from the North Pole to the South Pole, following an Eastern Hemisphere route. Canada's Pole to Pole Leadership Institute, which is organizing the trek, "captures the imagination of youth world-wide by undertaking epic journeys that demonstrate how youth can overcome obstacles, become leaders in their own right, and effect positive global change." Working in conjunction with the trek team will be 80 members of advance teams that "work to produce tangible and positive results world-wide by assisting charitable projects addressing social, environmental and sustainable economic issues." One of the 10 advance teams will work on a project to provide solar cookers and training to over 1,000 African families. Contact: Pole to Pole Leadership Institute, Suite 503, 280 Nelson Street, Vancouver, British Columbia V6B 2E2, Canada. E-mail: info@poletopoleleadership.com
July 2005: Communities in Partnership, a Canadian organization that promotes solar cooking in Haiti, has introduced a new twist — the "Kyoto Twist." Canada's government is encouraging its citizens to fight global climate change by reducing individual emissions of greenhouse gasses by one ton per year. Solar cookers in developing countries that displace the use of firewood save an estimated one to two tons of greenhouse gasses per year. The Kyoto Twist — named for the world's greenhouse gas reduction treaty — enables Canadians to buy a solar cooker for a family in Haiti. The Haitian family gets immediate relief from firewood scarcity, high fuel prices and smoky kitchens, while the Canadian chalks up at least a one-ton reduction in greenhouse gasses. Contact: Jack Anderson, Box 191, Lund, BC V0N2G0, Canada. E-mail: jackanderson@prcn.org
History
[
]
Much of the nation of Canada is not well suited for solar cooking, at least for significant portions of the year, and with any other than very expensive equipment. However, the nation has provided consistent support and considerable financial resources to the cause of promoting solar cooking in places better suited than their own nation.
Communities in Partnership
Examples of this support are numerous. A community in Canada has consistently supported solar cooking activities over many years in the extremely poor nation of Haiti. As far back as 1977, Dr. Thomas Bowman and his associates from the Florida Solar Energy Center conducted a survey to learn about the situation of cooking fuels in the country. That survey told what was fairly obvious to the eye - that cooking fuel was a major problem in this very poor nation and that some solution would be needed in the near future. A Canadian group constituted itself as Communities in Partnership and began to work seriously in Haiti not long after that time. They found an excellent resource in the Haitian-American Institute, which created a small solar cooking resource center. The Canadian members systematically sought materials to stock the resource center, and it became the de facto core of solar cooking activity in the country for some years.
Haiti has, as all know, experienced considerable political tension and unrest, and still does. Through all the turmoil, solar cooking activity has gone on. After a coup in 1991, the Canadians began even more systematic activity, creating a manual on how to conduct a solar cooking project, teaching local people to carry out training, follow-up, project evaluation, and so on. The Canadians have systematically gathered information from other projects, evaluated it for potential use in Haiti, and then transferred idea to action in applied work there.
Canadian Rotary Clubs
Canadian Rotary Clubs have also been active in the support of solar cooking projects. As explained in the description of Rotary activities, the support of Rotary International for initiating a project requires a number of Rotary Clubs to contribute financial resources for the pilot activity. Much of that activity, spearheaded by Rotarian Wilfred Pimentel of California, has drawn on Canadian clubs for support. Interestingly, a number of manufacturing firms making solar cookers are located in Canada.
Archived articles
Climate and culture
[
]
Resources
[
]
Possible funders
[
]
Facebook groups
[
]
Blogs
[
]
Frequently-asked questions
[
]
Articles in the media
[
]
Audio and video
[
]
Contacts
[
]
The entities listed below are either based in Canada, or have established solar cooking projects there:
SCI Associates
[
]
NGOs
[
]
Manufacturers and vendors
[
]
Individuals
[
]
Government agencies
[
]
Educational institutions
[
]
See also
[
]
References
[
]