Jurassic World: Dominion Dominates Fandom Wikis - The Loop
Play Sound
Last edited:
13 June 2022
In March 2008, a workshop was opened by McDonald Ganisyeje in Lilongwe, under the local NGO Care & Support Network, who operate an Orphanage Centre in Area 23 / Lilongwe. The Care & Support Network is a local NGO carrying out environmental and conservation projects, HIV/Aids programmes, orphan care, and youth & gender programmes.
Solar cooker and biomass stove production is a primary focus for the agency. The improved combustion stoves do not use standard amounts of firewood and charcoal. They are ideal for use during the rainy season as an alternative source of cooking when a solar cooker can not be used. Biomass rice husks, twigs, maize stocks, biomass briquettes, and saw dust, can be used as a fuel supply. McDonald Ganisyeje is coordinating the project with Care and Support Network on a voluntary basis.
News
[
]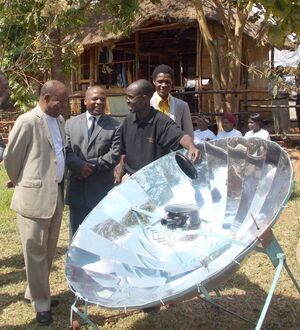 November 2012: Update from the Care and Support Network - The Care and Support Network is producing both parabolic solar cookers and CooKits and the women from Chimwemwe Centre produce briquettes from waste papers, sawdust, and maize husks as alternative source of energy. The theme of the function for this year was 'Tourism and Sustainable Energy' hence our presence there. We explained to the top government including the Minister of Tourism who visited our stands that use of solar cookers and briquettes is an alternative source of energy to using firewood and will help us protect our forests that are being depleted at an alarming rate. The Minister was impressed and bought one parabolic solar cooker the same day. Leading by example J! Land and Lake Safaris, a Tour Operator where McDonald Ganisyeje works full time provided logistical support for the solar cookers to be available at The Lilongwe Wildlife Centre where one of the parabolic solar cookers is stationed for demonstrating to the public. Land and Lake Safaris also provides waste papers from the office through the Lilongwe Wildlife Centre where the women collect them and make use for making the briquettes.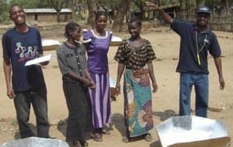 August 2010: Former African Parks Network volunteer, Pierre de Winter and his friend Mijntje van Kemenade returned to Majete Wildlife Reserve in July this year to introduce a solar cooking project to the boundary communities of Majete. The aim of the project is to train a group of women in solar cooking and the use of CooKit, demonstrating an alternative to traditional unsustainbable methods of cooking with firewood. In August, two trainers, McDonald Ganisyeje and Justin Namizinga, held the first session to train one woman selected from each CBO, and the community extension of staff of Majete.
September 2009: The Care and Support Network has established a workshop where 10 women and 3 men produce about 25 parabolic solar cookers per year. Equipment and start up were financed by Bruno & Magda Weissengruber of Austria, members of ARGE Solar Austria. It also produces CooKits.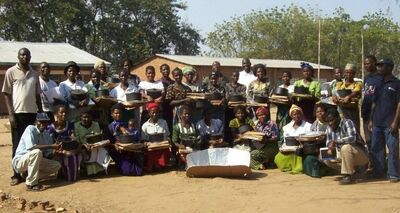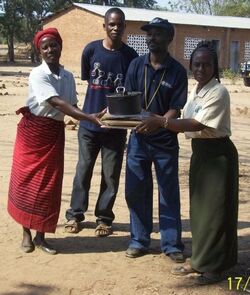 August 2008: I just had a successful solar cookers workshop at Chapananga area in Chikwawa District, a community surrounding Majete Game Reserve. This was organised through Africa Parks who are managing the Game Reserve. I trained three women trainers and 5 Africa Parks Extension staff on the first day. The following day 28 women turned up for the training, and five AP Extension staff including Stella Mzumara - Africa Parks Extension Co-ordinator. The three ladies, Trainers- Beauty, Beatrice and Selina did a wonderful demonstration of their capabilities to teach and explain some of the issues about solar cooking to the other group of women. The response was very good. Chikwawa District is one of the hottest areas in Malawi, lying along the great rift valley also known as "the lower shire". Sunshine is plenty, which is good for solar cooking. We boiled tea, cooked vegetables, eggs were well boiled (even cracked), and the sweet potatoes well cooked. The rice and beans were the only dishes that didn't cook very well. Rice because of inadequate water was added and the beans needed more than 4 hours. That was a good lesson for the women! All the 28 ladies were given a CooKit each, a heat resistant plastic bag and a black pot which were painted during the workshop. During the training I was assisted by Justin Namizinga, based in Blantyre, is one of the trainers I trained some time back and he is doing a great job! More follow up workshops will be conducted up to December.
June 2008: A tree nursery is being established at the workshop site where fruit trees and natural trees will be grown to replace the deforested areas. The solar cookers, bio energy stoves production and forestry / fruit tree nursery establishment will also act as an income generating activity and job creation for the youth and and the proceeds go towards the orphanage centre.
May 2008: McDonald trained students from Kasungu Teachers Training College in solar cooking and are very enthusiatic about it when they will be posted in the primary schools in the villages they will spread solar cooking technology to the pupils and the rural communities.
March 2008: A workshop was opened in Lilongwe under a local NGO Care & Support Network who have an Orphanage Centre in Area 23 / Lilongwe. Care & Support Network is a Local NGO carrying out Environmental conservations projects, HIV/ Aids programs, Orphan Care,Youth programs & Gender programs. Solar cookers and Bio Energy stove production is one the main projects being carried out. The Bio energy stove does not use firewood and charcoal and this is ideal for use during the rainy season as an alternative source of fuel when a solar cooker can not be used. Only biomass rice husks, twigs, maize stocks, briquettes, saw dust etc. can be used. McDonald Ganisyeje is Co-ordinating the project with Care and Support Network on voluntary basis.
November 2006: McDonald Ganisyeje of Malawi teamed up with Dr. Jan Snyder of United States in mid-2006 to build 53 panel-type solar cookers similar to the CooKit. These cookers will be sold, with the proceeds used to purchase supplies to build greater numbers of solar cookers to reach ever greater numbers of families. The project will target the Lilongwe and Nkhotakota areas first, and if all goes well will expand to other areas. Contact: McDonald Ganisyeje, Land & Lake Safaris, Box 2140, Lilongwe, Malawi. E-mail: mcdonald@landlake.net
Contact
[
]