Last edited:
19 November 2014
This article is about a group or individual that may no longer be active in solar cooking. It is retained here for archival purposes.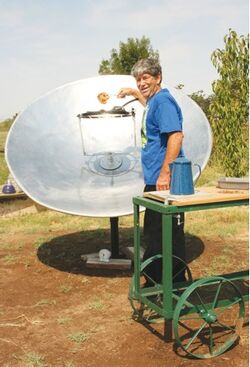 Since 2009 Carl Peters, a retired machinist in California, has been experimenting with solar oven designs. One of the solar cookers is an old C-band satellite dish converted into a parabolic cooker. Peters says when it is sunny and 55°F degrees outside, the cooking area inside the parabolic cooker can reach 370°F degrees. Peters has also cooked in his solar cookers at high altitude.
Peters had a booth set up during the Sanger Blossom Days event and has had subsequent meetings for starting up his new Central Valley Solar Cookers Club. According to Peters, the purpose of the cooking club is to learn how to solar cook, promote solar cookers as a way to save money, and a way to save the environment.
He comments that the cooking temperature on the parabolic dish is just like a stove top and can reach temperatures of 450°F degrees or hotter.
Events
See Calendar of events.
Articles in the media
Audio and video
External links
See also
Contact
Carl Peters
PO Box: 447
Sanger, California 93657
USA
Tel. +1 (559) 304-0369
Email: solar.man.peters@gmail.com