Mariellen's Eggplant Parmigiana
1 Eggplant (cut into 1/4 inch slices)
1 to 2 eggs
1 to 2 cups breadcrumbs
Olive oil
1 block of mozzarella cheese (sliced thin)
Grated parmesan cheese
Jar of spaghetti sauce (or homemade, whichever you prefer)
Preheat solar oven. In shallow bowl, beat eggs with fork. In another bowl, place breadcrumbs. Preheat skillet and coat with olive oil.
Dip eggplant slices in eggs, then coat with breadcrumbs. Brown in skillet. Save on plate.
In casserole dish, layer bottom with 1/2 of the portion of browned eggplant slices, cover with 1/2 of the spaghetti sauce, then layer with cheese, repeat with eggplant slices on top of cheese, pour remainder of spaghetti sauce over eggplant and top with cheese slices.
Put casserole in solar box oven until cooked through and cheese is bubbly and brown on top (no need to cover).
Serve with parmesan cheese. Goes great with salad and garlic bread!
Cheeseburger Pie
1 1/2 cups plus 2 tablespoons of Bisquick
1/4 cup plus 2 tablespoons water
1 pound ground beef
1/2 cup onion, chopped
1/2 teaspoon salt
1/4 teaspoon pepper
1 tablespoon Worcestershire sauce
2 eggs
1 cups small curd cottage cheese
2 fresh tomatoes, sliced
1 cup (4 oz.) shredded cheddar cheese
Mix 1 1/2 cups Bisquick with water until soft dough forms; beat vigorously 20 strokes. Gently smooth dough into ball on floured cloth-covered board. Knead 5 times, roll dough to fit bottom of 9-inch dark roaster pan. Ease into pan. Bake covered 1 hour, then add other ingredients.
Bake ground beef and onions, salt, pepper for one hour in dark round roaster; drain grease. Add 2 tablespoons Bisquick and Worcestershire sauce to the meat. Blend thoroughly, and then add the mixture to top of baked bottom crust. Mix eggs with small curd cottage cheese, pour over beef mixture. Arrange slices of tomatoes on top, sprinkle with shredded cheddar cheese. Cover and bake 1 to 1 1/2 hours.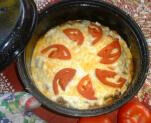 Photo courtesy of Mark Saliers
Chili Pie
2 cans of chili
1 small can sliced olives
1 cup shredded cheddar cheese
3/4 cup Bisquick
1 1/4 cup milk
3 eggs (beaten)
Butter a dark oblong or dark round roaster pan. Spread chili on bottom, then layer the olives, then layer the cheese. In a separate pan, mix Bisquick, milk, and eggs and pour over the cheese. Cover and bake until brown, about 1 1/2 hours.
Salsa
1 small onion, chopped
1 16-oz. can stewed tomatoes
Salt and pepper to taste
1/4 teaspoon garlic powder
1/4 teaspoon oregano
Combine ingredients in dark pan. Cover and bake 1 hour.
Broccoli Casserole
3 eggs
3 tablespoons flour
2 teaspoons salt
8 oz. cottage cheese
1 cup grated sharp cheddar cheese
2 packages chopped broccoli
In a dark round roaster, mix together eggs, cottage cheese, grated cheese, flour and salt. Thaw broccoli, drain and mix into egg mixture. Cover and bake 1 hour. (may use 1 large or 2 small heads of fresh broccoli).
Casserole of Fish Fillets
Fish fillets
Wheat germ
Salt and pepper
Lemon pepper
Celery salt
Green onions, chopped
Butter
Lemon juice
Place fish fillets in oiled dark casserole, sprinkle with seasoning and green onions. Dot the top of fish with butter and lemon juice. Cover. Cook briefly, until tender. If using frozen fish, you will need liquid - try some soy sauce.
Zucchini Casserole
1 and 1/2 pounds zucchini, cut in 1/4 inch rounds
1 teaspoon garlic or seasoned salt
1 teaspoon crushed oregano
(1) 10 1/2-oz. can cream of mushroom soup
1 cup grated sharp cheddar cheese
1 pound ground beef
1 cup instant rice
2 cups small curd cottage cheese
Cook zucchini in boiling, salted water until barely tender. Drain well. Sauté beef until meat is lightly browned. Add rice and seasonings. Place half the zucchini in bottom of 2 1/2 quart shallow dark casserole. Cover with beef mixture and cottage cheese. Cover with remaining zucchini. Then spread soup over all. Sprinkle with grated cheese. Cover. Bake about 1 hour until bubbly and hot.
Lentil and Rice Casserole
6 to 7 cups water or soup stock
1 cup lentils
1/2 teaspoon garlic salt
1 cup uncooked brown rice
1/2 teaspoon kelp powder
1/2 to 1 tablespoon brewer's yeast
2 onions, chopped
1 1/2 cups shredded cheddar cheese
Mix all ingredients, except cheese, in a dark colored pot. Cover and place in solar cooker all day or all afternoon (3 hours minimum).
Top with cheese or yogurt just before serving. Optional: 1 cup almonds or other nuts, carrot pieces, chopped celery, shredded cabbage, Brussels sprouts, beets or water chestnuts may be added.
Walnut Loaf
1/2 cup onion, finely chopped
1 1/2 cups walnuts, ground
2 eggs, beaten
1 cup tomato juice
1 cup celery, finely chopped
3 cups whole wheat bread crumbs
1/2 cup parsley, finely chopped
In a large bowl, mix all ingredients together. Bake in a buttered 8 x 14-inch dark loaf pan. Cover with foil, then place a black cookie sheet over the top to attract the sun's rays. Serve with tomato sauce or mushroom gravy. Season to taste.
Grits Deluxe
1 cup quick grits
1 teaspoon salt
2/3 pounds cheddar cheese, grated
Tabasco sauce, a few drops
4 cups boiling water
1/2 cup butter or margarine
1 teaspoon savory salt
2 eggs, well beaten
On surface unit, slowly sir quick grits into boiling, salted water. Reduce heat to low. Cover pan and cook 4 to 5 minutes, stirring occasionally. Remove from heat and add butter, cheddar cheese, savory salt, and Tabasco. Stir. Add eggs and mix well. Pour into greased baking dish, sprinkle with paprika, cover and back in solar oven for 2 to 3 hours (garlic and chilies are interesting additions).
Chili Relleños Casserole
2 7-oz. cans whole green chilies
1/2 pound jack cheese, shredded
1/2 pound cheddar cheese, shredded
3 eggs, beaten
3 tablespoons flour
1 small can evaporated milk
Cut chilies lengthwise, wash, remove any seeds and membrane and pat dry on paper towels. Spray a 9-inch dark casserole pan with non-stick. Layer half of chilies and then cheese, repeat layers, reserving 1/2 cup cheese for the topping. Beat eggs, add flour and milk until blended. Pour over chilies and cheese. Bake, covered, one our or until set in center.
Chicken-Broccoli Casserole
4 chicken breasts
1 cup sour cream
1 teaspoon curry
2 cans cream of chicken soup
1 teaspoon lemon juice
Broccoli, cut in pieces
Bread crumbs
Cheddar cheese, shredded
Preheat solar oven. Bone and fry 4 chicken breasts using conventional heat. Do not overcook. Set aside. In a mixing bowl, mix together undiluted soup, sour cream, lemon juice and curry. Set aside. In a dark rectangular pan, line the bottom with broccoli. Cut up the chicken and place it over the broccoli. Top with sour cream mixture. Top everything with shredded cheddar cheese and bread crumbs. Cover and place in oven. Bake about 1 to 1 1/2 hours.
Esther Garvi's Maerua crassifolia Risotto
3 dl rice
3 dl of pre solar cooked Maerua crassifolia leaves (also known as famine food)
6 chopped tomatoes
salt, pepper and spices of your choice
Mix all the ingredients with water, then cook in solar oven until the rice is done. Take out and mix with some peanut oil (or oil of your choice), fresh garlic and your famine food is ready to be enjoyed! Should you have no access to the spinage-tasting Maerua crassifolia leaves, any green leaves of your choice will do as a substitute.