Last edited:
21 June 2020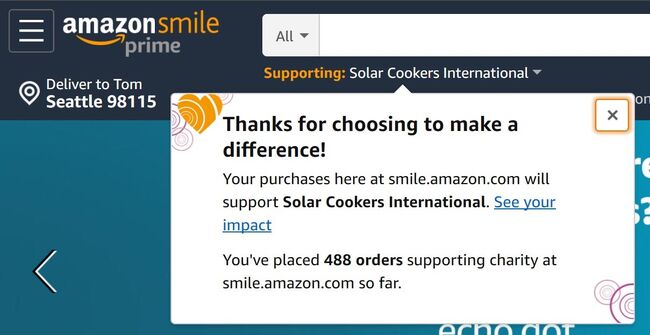 Construction and useEdit
A Treatise: Solar CookersEdit
Ashok Kundapur traces the history of development and types of solar cookers. The twelve chapters cover history, technology, indirect cooking, heat retention, construction advice, and trending design approaches. Details and purchasing information...

Cooking With SunshineEdit
The Complete Guide to Solar Cuisine with 150 Easy Sun-Cooked Recipes
Cooking With Sunshine provides everything you need to get cooking, including:
Clear explanations of how solar cooking works and its benefits over traditional methods
Instructions for building your own solar cooker using inexpensive, easy-to-find materials—and information on where to buy a ready-made solar cooker
A selection of fun and super-easy recipes to get you started
A wide variety of recipes for main dishes, accompaniments, and desserts for both vegetarian and omnivorous diets
Creative menu ideas for special diets, tastes, and occasions
"...I have been cooking with the sun for years, and Cooking with Sunshine takes away the mystery and brings the deliciousness and adventure of solar cooking to the reader." — Artist and solar cooking advocate Mary Frank
Paperback, 224 pages. See Cooking With Sunshine web page for more information.
The Sunny Side of CookingEdit
Solar cooking and other ecologically friendly cooking methods for the 21st century
Lisa Rayner
The Sunny Side of Cooking is a practical, easy-to-follow guide for both beginning and experienced solar cooks. Includes:
How to choose the right solar cooker for you based on your climate and lifestyle needs
How different types of solar cookers work
How to use a solar cooker for baking, steaming, simmering, sauteing, toasting, broiling, and more
More than 100 vegetarian solar recipes and cooking tips (animal free)
The only solar cookbook that explains in detail how to solar cook tofu, seitan and tempeh
How to bake crepes, flatbreads and tortillas, pancakes, polenta, muffins, yeast breads and pastries
How to adapt slow cooker (Crockpot) recipes to a solar cooker
How to adapt your favorite recipes to a solar cooker
How to can foods in a solar cooker using USDA safe canning guidelines
How to create a year-round sustainable cooking system by combining the use of solar cookers, fireless cookers, pressure cookers, and biomass-fueled stoves and earth ovens

"Beautifully detailed and informative. I highly recommend it both for beginners and experienced solar cooks who may pick up some useful variations and additional uses. Her recipes make one's mouth water just reading them!"
— Solar cooking pioneer Barbara Kerr
Copyright (c) 2007
128 pages. 8 1/2 inches by 5 1/2 inches. Color cover, black and white illustrations, comb binding.
$14.95 + $3 shipping and handling. Wholesale rates available.

Order by sending a check or money order to:
Lifeweaver LLC
P.O. Box 22324
Flagstaff, AZ 86002
Heaven's FlameEdit
Joseph Radabaugh
This excellent 144-page book offers a comprehensive introduction to the world of solar cooking, including a large question and answer section, a long chapter detailing who's who, and detailed plans for a very high-performance cardboard cooker and detailed cooking instructions. You can see an example of this cooker here.
Order this product from Amazon.com. Use Amazon Smile to donate a portion of the purchase price to Solar Cookers International (SCI). Sign up using your existing Amazon account at smile.amazon.com and help support SCI!

Solar Cooking for Home and CampEdit
This book gives clear and easy instructions on how to make a solar cooker using two cardboard boxes lined with aluminum foil and a few other simple materials that are readily available. Yaffe then completes the book with a number of tasty recipes like mushroom quiche and stuffed zucchini that you can cook in your very own solar cooker.
Solar Cooking: A Primer/CookbookEdit
by Harriet Kofalk
A 96-page book of natural vegetarian recipes. Contains 24 pages of background including construction plans and cooking tips. Barbara Kerr, the inventor of the cardboard solar box cooker writes of the book, "The combination of the enhanced flavor of solar-cooked foods and Harriet's lovely, carefully balanced recipes is a total win!"
Order this product from Amazon.com. Use Amazon Smile to donate a portion of the purchase price to Solar Cookers International (SCI). Sign up using your existing Amazon account at smile.amazon.com and help support SCI!
Cooking with the Sun: How to Build and Use Solar CookersEdit
A 115-page book with plans for building a plywood multi-reflector box cooker, a cardboard single-reflector box cooker, and a cardboard parabolic cooker. Contains 62 pages of American and international recipes.
Morning Sun Press
P.O. Box 413
Lafayette, California 94549
USA
Order this product from Amazon.com. Use Amazon Smile to donate a portion of the purchase price to Solar Cookers International (SCI). Sign up using your existing Amazon account at smile.amazon.com and help support SCI!
The Carbon-Free Home: 36 Remodeling Projects to Help Kick the Fossil-Fuel HabitEdit
With an endearing mix of down-to-earth practical solutions and funky DIY projects, this book provides readers with much-needed information on how to renovate habits and home to move closer to a zero-carbon existence. The Hrens, respectively a carpenter and a photovoltaic installer living in Durham, N.C., give specific and technical advice, based on their own experience, on how to lower energy use within and outside the house, with 36 projects ranging from simple and inexpensive activities like sealing drafts, resetting the water heater thermostat and planting potatoes in a barrel to more heavy-duty and costly tasks such as installing a green roof or a solar hot-water heater and replacing a lawn with a permaculture garden. Some projects, such as building an outdoor cob oven—which the authors themselves describe as time-consuming with low energy savings—will be of little interest to any but devoted backyard hobbyists. Converting from a flush toilet to humanure, which involves lugging five-gallon buckets of human waste to a compost pile on a weekly basis, is even less likely to be adopted by the urban dwellers the Hrens hope to influence. But just about anyone will find something useful to do in this book, and the detailed, clear and enlightening chapter on understanding home energy use is, alone, almost worth the purchase price.
Order this product from Amazon.com. Use Amazon Smile to donate a portion of the purchase price to Solar Cookers International (SCI). Sign up using your existing Amazon account at smile.amazon.com and help support SCI!
The Expanding World of Solar Box CookersEdit
by Barbara Prosser Kerr
Full text vailable online here.
Solar Cookers in the Third WorldEdit
by GIZ (1990)
Full text available online here: Solar Cookers in the Third World
Making the Most of Sunshine: A Handbook of Solar Energy for the Common ManEdit
A Handbook of Solar Energy for the Common Man
Vikas Publishing House Pvt Ltd
576, Masjid Road, Jangpura, New Delhi-110 014
Telephone: 4314605, 4315313, Fax: 91-11-431087
orders@vikas.gobookshopping.com

South Asia Book, P.O.Box 502, Columbia MO 65205
sabooks@juno.com, Contact: Jerry Barrier.
Phone: 573-474-0116, Fax: 573-474-8124
Order this product from Amazon.com. Use Amazon Smile to donate a portion of the purchase price to Solar Cookers International (SCI). Sign up using your existing Amazon account at smile.amazon.com and help support SCI!
How to Make, Use, and EnjoyEdit
by Solar Cookers International
Since its founding in 1987, SCI has spread solar cooking skills and technologies where they are needed most. Hundreds of thousands of people worldwide have used SCI's resources to learn how to make and use solar cookers and teach others to do the same. This extensive knowledge is condensed in this 52-page publication. Chapters include a rationale for solar cooking, directions for making a solar cooker, basic solar cooking instructions, solar cooker recipes and tips, alternative solar cooker uses, and ideas for teachers. Published in 2004 by Solar Cookers International. 52 pages.
Download book: https://solarcookers.salsalabs.org/howtomakeuseandenjoy/index.html
Solar CookersEdit
by Nicola Ulivieri
A manual-essay introducing you to the world of solar cookers that highlights the potential of these practical tools with which you can cook your dishes outdoors with solar energy alone. You will learn the history, development and refinement of solar cookers, but also the theory of apparent motion of the Sun, as well of solar radiation and its conversion into heat. This book is accompanied by a theoretical and practical section that illustrates the working principles of solar cookers: complete with the methods to build them with recycled materials, illustrative examples and advice on recipes.
CookbooksEdit
Solar Oven CookingEdit
"So you're interested in solar cooking! Whether you are a beginner or an experienced cook, Solar Oven Cooking by Merry Bevill has something for everyone." Order the ebook here: Solar Oven Cooking by Merry Bevill

More Solar Oven CookingEdit
The author notes; More Solar Oven Cooking picks up where Solar Oven Cooking left off. There is more information, more tips, and more recipes to answer your questions. Including: Types of Solar Cookers; How to Deal with Moisture in the Solar Cooker; How to Clean the Solar Cooker; More Solar Oven Cooking has recipes for foods you didn't think could be cooked in a solar oven. More Solar Oven Cooking by Merry Bevill
Milpa! from Seed to SalsaEdit
2015: After 15 years living in Mixtec Indigenous civilization in the mountains of southern Mexico, Kathy and Phil Dahl-Bredine have facilitated the Mixtec campesinos of the Center for Integral Campesino Development of the Mixteca to express this rich cultural alternative. This bilingual book features the brilliant photography of Judith Haden, recipes from dozens of campesina chefs organized by Susana Trilling, and narratives from indigenous villages. It speaks of the manner in which this ancient/modern civilization plants and works, celebrates and governs itself, its rich cuisine and its vision of its place in the grand scheme of the planet Earth.This colorful challenge to the dominant values of Western civilization helps us reflect upon the values that can assure a future for this planet that is the common home of our various civilizations. The book contains a prologue by indigenous campesino leader Jesus Leon Santos, a Goldman prize recipient, and an afterword by noted agroecologist, Miguel Altieri. Proceeds from the book go to support the work. To order, please send a check for $40 (includes shipping) to:
Instituto Paz en las Americas (or just IPA)
2645 Mountain View Road
Silver City, New Mexico 88061
USA
Written by David and Ruth Whitfield, Sol Food is a cookbook, but it isn't just a cookbook. In its pages you'll find all the information and advice you need to start solar cooking in your own backyard, plus over 54 solar cooking recipes to put on your table. The Whitfields are the founders of the CEDESOL Foundation, and they share many of team's adventures, gleaned from over a decade of not-for-profit work promoting solar cooking and integrated cooking techniques in Bolivia and around the world. A percentage of the profit from book sales help fund thier efforts. Sol Food is offered as an ebook in PDF format. More information...

A Month of SUNdays - Solar Cooking at HomeEdit
A Month of SUNdays, written by Sharlene Thomas, is a recipe book for both solar and conventional mainstream cooks. The cookbook include standard, original, and gourmet recipes, some including meat. For more information and to purchase...
This book was written to help everyone realize that using the sun's energy for cooking is practical and an effortless method of preparing delicious meals, saving our fossil fuels, and keeping America green. Solar cooking is no longer solely within the province of hikers, campers, or classroom experimentation. These everyday and gourmet recipes make it easy to discover just how delicious food tastes when cooked by the sun. In addition, you will find:
Tips and Techniques - a quick reference to basic solar cooking
Substituting Ingredients - adapting your own recipes
Breads - muffins, casseroles, yeast breads
Desserts - pudding cake, cookies, cobblers, pies, hot fudge cake
Meats - beef, venison, pork, and poultry, roasted, baked, in casseroles
Pasta and Rice - lasagna, spaghetti, manicotti
Seafood - cod, salmon, flounder, perch, haddock, and crab, baked, stuffed, and roasted
Soups - thick and hearty meals or light starters
Vegetables - casseroles, logs, side dishes
A Checklist for Solar Cooking - a quick list for beginners and old-timers, as well
Finding Solar Ovens - ready-built or build-your-own info
A General Guide to Cooking Times - meal planning based on foods and types of solar ovens used for cooking
See the energy savings on your utility bill almost immediately and enjoy a healthier lifestyle while doing your past to protect the environment for future generations.
Copyright (c) 2008
86 pps, 6"x9", color cover and two pages of colored plates, plus b&w pictures, comb binding.
$14.95 + $3 s&h.
Contact: sjthomas@mainstreamsolarcooking.com
Creative Handz
1280 White Memorial Church Rd
Willow Spring NC 27592
Heaven Sent FoodEdit
Heaven Sent Food, written by Jackie Harsha, is available either as an e-book and a printed version. The recipes were developed for omnivores who like to eat healthy, delicious food at affordable prices. The book explains solar cooking, different types of solar ovens, and offers 115+ delicious recipes. It's an easy to use, beautiful book that was illustrated by an award-winning artist. Solar energy is free - this book makes it possible for even the most inexperineced cook learn to cook for free using the sun's power, all four seasons. Once you eat solar cooked food, you will probably not want to eat any other kind. It's delicious, cooking it is free, and if you want to get the best flavors out of the food you buy, cook it with the sun. It's amazing.
Jackie's recent activities led her to promote solar cooking in a book called Energy Savers That Work. This comprehensive book cites solar cooking as the most energy efficient way to cook, as well as being the most cost-effective way to use solar energy at home.
Contact:
Jackie Harsha
+1 (480) 986-2470
Arizona, USA
Eleanor's Solar CookbookEdit
A 93-page book containing more traditional American dishes. Includes a section on canning in a solar box cooker.
Available for $10 + $2/shipping from:
Cemese Publishers
P.O. Box 1022
Borrego Springs, CA 92004
Tel: +1 (209) 478-6318
The Morning Hill Solar Cookery BookEdit
The Morning Hill Solar Cookery Book is your source for recipes, cooking techniques, and tips of all kinds for solar and conventional kitchen cookery. No matter what kind of cooker you have, you will be able to use the recipes in this book to produce hearty, healthy vegetarian food which will please all tastes.
Available for $15 postpaid from:
Morning Hill Associates
15013 Geary Crk Rd
Canyon City OR 97820
+1 541-542-2525
Email: morninghil@yahoo.com
Web: http://www.morninghill.net
An Outdoor Kitchen Full of SunshineEdit
by Kris Mazy
An Outdoor Kitchen Full of Sunshine - Cooking Outside in a Solar Oven. Saving money is the key to a large family. No one know better than author, Kris Mazy, mom of 7 amazing children. In this book, Kris shares cooking using a solar oven. You can make incredible meals, save money on power and propane and spend more time with your family.
You Can Cook using the Sun's Energy!
Over 100 Recipes that you can make and create using your solar oven. Kris has spent the last 3 years creating solar oven recipes to allow more play-time with her ever-growing family.
And that was exactly what this mom of 7 was shooting for!
From Breads to Desserts, Mains to Sides, Cooking Outside Using a Solar Oven is fast, easy and saves money!
Kris has also shared all of her solar oven gluten-free recipes. Over 50 recipes are labled as gluten-free in this book.
Enjoy delicious recipes while saving time and money.
Order this product from Amazon.com. Use Amazon Smile to donate a portion of the purchase price to Solar Cookers International (SCI). Sign up using your existing Amazon account at smile.amazon.com and help support SCI!
Also available online at www.mazybooks.com.
Sabor Solar (in English)Edit
The full text of the Sabor Solar Cookbook from Grupo Fenix shows how to cook Nicaraguan foods in a solar cooker. (Spanish version also available.)
Solar food dryingEdit
The Solar Food DryerEdit
The Solar Food Dryer describes how to use solar energy to preserve your summer's harvest. With your own solar-powered food dryer, you can quickly and efficiently dry all your extra garden veggies, fruits and herbs with free sunshine and enjoy their goodness all year long! Solar food dryers perform amazingly well under a wide range of conditions, working effectively in almost any climate where you can grow fruits and vegetables.
Read more: http://www.motherearthnews.com/shopping/detail.aspx?itemnumber=2648#ixzz3F0vfaKnV
Iqbal and His Ingenious IdeaEdit
By Elizabeth Suneby
Iqbal learns that his school's upcoming sustainability fair has the theme of sustainability, and comes up with the perfect idea for his entry: He will design a stove that doesn't produce smoke, win the prize, and help his family's health. Details and purchasing information...

Cuiseurs SolairesEdit
by Rolf Behringer and Michael Götz
Ce livre de Rolf Behringer et Michael Götz résume tout ce que nous savons sur les fours solaires - ayant 18 ans d'expérience. Le spectre va d'une introduction aux exemples de groupements et projets utilisant la cuisine solaire sous nos latitudes et jusqu'aux projets du Sud. Et surtout, le livre vous aide à la pratique: Un chapitre détaillé décrit comment fabriquer vous-mêmes votre four solaire (le modèle 'standard en bois' du catalogue de SOLEMYO) et un autre vous livre un grand nombre de recettes (végétariennes, la Plage étant un éditeur de livres de cuisine végétarienne) pour commencer vos expériences!
96 pages
To order: http://suninside.de/index.php?route=product/product&product_id=68

Du Soleil dans mon assietteEdit
A new French-language solar cookbook titled Du Soleil dans mon assiette is available from Bolivia Inti-Sud Soleil. Fifty recipes, ranging from appetizers to main dishes to desserts, are nicely presented in this book along with full-color pictures. Several of the recipes also include tips for cooking with fuel-efficient wood stoves and heat-retention cookers. The book sells for 12.50 € ($16) plus shipping. Proceeds benefit the organization's projects in Andean countries.
Bolivia Inti-Sud Soleil
18 rue Gaëtan Rondeau
44200 Nantes
France
Tel: +33 02 51 86 04 04
Email: soleil@boliviainti.org
Solarkoch- und Informationsbuch
Edit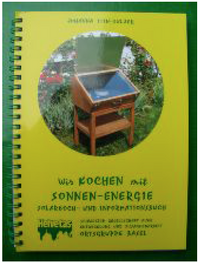 Wir kochen mit Sonnenenergie
Johanna Itin-Sulzer
Helvetas, 1991
Rezepte für Solarkocher
Bauanleitungen für Solarkocher
Hintergrundinformationen
160 Seiten, 11 Farbbilder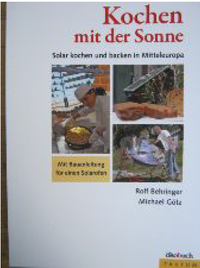 Kochen mit der Sonne
Edit
Solarkochen und backen in Mitteleuropa
Rolf Behringer, Michael Götz
Ökobuch-Verlag 2008
Auch auf Französisch: Cuiseurs solaires
Geschichte des solaren Kochens,
Solarkochertypen, Rezepte, Tipps,
Bauanleitung für Boxkocher
Available in Europe from http://solarfood.de.
Order this product from Amazon.com. Use Amazon Smile to donate a portion of the purchase price to Solar Cookers International (SCI). Sign up using your existing Amazon account at smile.amazon.com and help support SCI!

Trocknen & Dörren mit der Sonne
Edit
Bau und Betrieb von Solartrocknern
Claudia Lorenz, Michael Götz
ökobuch-Verlag 2010

auch auf Französich: Séchoirs solares
Anleitung und Tipps zum solaren Trocknen,
Beschreibung und Bauanleitung
verschiedener Solartrockner
Available in Europe from http://solarfood.de.
Order this product from Amazon.com. Use Amazon Smile to donate a portion of the purchase price to Solar Cookers International (SCI). Sign up using your existing Amazon account at smile.amazon.com and help support SCI!

Das Solarkocher-Handbuch
Edit
The author has collected over many years of work experience will be provided with the solar cooker manual to all who are interested in sustainable technology. The book begins with a historical part, followed by the description of various types. The physical contexts and conditions await with technical explanations. Similar techniques, such as solar cooling, solar wax melter, etc. are explained. There are a number of pictures, many of which were not previously published. Future trends and possibilities are discussed. Text is in German. More information...

Solarkocher
Edit
Solarkocher, Grundlagen, sowie praktische, sozio-ökonomische und ökologische Betrachtungen von Bernd Hafner, Willi Heizen, und Paul Krämer. Seite für mehr Informationen. Erwerb über Amazon.de.

Die Parabel
Edit
Die Parabel, Broschüre über die Berechnung und Handhabung von Parabeln, insbesondere im Hinblick auf das Konstruieren von Solarkochern, ISBN 978-3-8442-4131-0. Erwerb hier oder bei jeder Buchhandlung.
Forni Solari
Edit
Forni Solari, by Nicola Ulivieri
A comprehensive guide to solar cooking, as reviewed by Italian speakers of the solar cooking community. Available from Amazon

Sabor Solar
Edit
The full text of the Sabor Solar Cookbook from Grupo Fenix shows how to cook Nicaraguan foods in a solar cooker. (English version also available.)
Recetaria de Olla Solar
Edit
Libros por Bernardo Sosa
Edit
All items (4)
Community content is available under
CC-BY-SA
unless otherwise noted.