Last edited:
25 June 2020
Institutional solar cooking involves cooking for groups with a single integrated solar cooking system, rather than simply using many smaller solar cookers. It may be designed for communal village use, a restaurant or bakery, or large-scale production facilities preparing many thousands of meals per day. The cooking equipment employs basic solar cooking principles, and takes advantage of economy of scale. Steam production is also an option for institutional solar cooking systems, allowing the cooking to take place indoors.
News
[
]
October 2017: New solar bakery for orphanage - The SOS Children's Village in Mamelodi, South Africa recently received a community-scaled solar box oven to serve as a bakery, funded by the Embassy of Switzerland. The new solar oven should meet their own needs as well as generate a surplus of baked goods to be sold, providing an income for the institution. On a good day it takes the bakery about 40 minutes to bake 80 loaves of bread. Read more...
December 2016: Ashram switches from steam to thermic solar cooking - The Muni Seva Ashram, located in Goraj, Vadodara, India, has converted its steam-based Scheffler solar cooking array to use thermic fluid, with heat storage capabilities, to be able to provide nighttime cooking. This is the first such conversion in India, where many existing Scheffler reflector systems are currently in use. The new thermic fluid system also provides the ability to roast, bake, and fry foods, within comfort of the kitchen, not possible with the steam-based system. Read more...
May 2016: Usability of the solar dish cooker for large scale community cooking - Kurukshetra Journal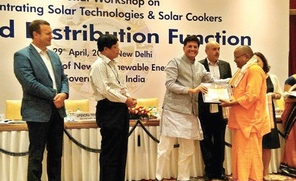 May 2016: Solar thermal excellence award - Ramakrishna Mission Students' Home in Chennai was recently conferred with an award for Concentrated Solar Thermal Excellence (CST) for their Solar Cooking System by MNRE, Government of India. The award was given for the school's installation of the ARUN 100 institutional solar steam generating and heat storage system. Award for excellence - NYOOOZ
April 2010: A Scheffler Community Kitchen was installed in the spring of 2010 at the Jamhuriat High School for Girls in Afghanistan through the efforts of Solare Brücke. The school is located in the heart of Kabul. The school has an enrollment of 1000 girls and the new kitchen will serve approximately 700 students who have lunch at the school each day. Everyone there looks forward to stop using the wood-fired kitchen stove, and are quite proud that the entire new solar kitchen has been produced in Afghanistan.
Using steam heat
[
]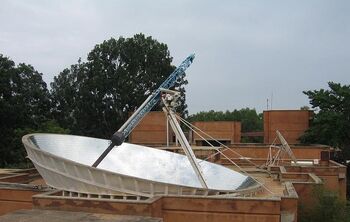 Some of the most familiar examples of institutional cooking have used Scheffler reflector technology to heat water to create steam for cooking. Installations at religous shrines, such as those at Tirupati and Shirdi in India, illustrate the prodigious cooking capability of this approach. The system at the Shirdi shrine uses seventy-three parabolic reflectors mounted on the kitchen rooftop, and prepares food for 20,000 devotees daily. It is in use over 300 days per year. The remaining days it uses the back-up wood fired boiler, which had been their sole source for cooking until January 2011.
Another example of concentrating parabolic reflector techinology is used at the Auroville Solar Kitchen, a collective kitchen for the Auroville community, an "experimental" township in the Viluppuram district, in Tamil Nadu, India. It serves lunch daily in its dining hall, and sends lunches out to schools and to individuals as well. It derives its name from the large Auroville Solar Bowlon its roof, which provides the steam for cooking on all the sunny days of the year. Back-up steam, if needed, is provided by a diesel fired boiler.

Using direct sunlight
[
]
Institutional, or community systems, can also use large Parabolic solar reflectors to focus sunlight directly onto a cooking chamber, often with an integral grilling surface used with the Scheffler Community Kitchen.
A smaller scale example of a parabolic community solar cooker is the Community Solar Cooker 3 SQ MT designed by Ajay Chandak.
A solar box cooker approach, scaled for community use, is offered by Sun Ovens International, and is called the Villager Sun Oven. Villager Sun Ovens are currently in use in fifty-five countries around the world. The primary use is for large scale feeding or for bakeries. The oven is capable of reaching temperatures in excess of 260°C (500°F).
There is an optional 150 piece Sun-Bakery package, enabling the creation of a self-sustaining micro-enterprise to turn out fresh baked goods, while creating jobs and eliminating the cost of fuel. Some schools use a Villager oven to cook lunches and then bake bread in the afternoon, which is sold to help generate additional income.

Audio and video
[
]
Reports
[
]
Articles in the media
[
]
See also
[
]
All construction plans
[
]
All designs
[
]
Trending pages
All items (14)