Last edited:
25 April 2022
Photovoltaic cooking designs offer another approach to harvesting the sun to cook food. Instead of solely relying on the sun's direct radiation to cook, these systems use photovoltaic cells to create electricity to provide power to electric induction cooktops and resistance heating elements. Typically the energy is stored in batteries for use when needed.
Research has also been undertaken to test the cooking potential of a simplified system incorporating an array of diodes connected directly to photovoltaic panels.
Although the induction heating elements efficiently use electricity to directly heat ferrous cooking pots, their efficiency can be increased when combined with a well-insulated solar thermal cooker, or with using insulated cook pots.
Evacuated tube solar cooker designs provide a platform well suited to this hybrid approach. With the availability of an chargeable battery or phase-change thermal storage, this type of cooker makes cooking possible after sunset or in the early morning.
News
[
]
NEW: 

April 2022: Danish company has developed a PV-induction cooking system - Pesitho, has designed the ECOCA, a compact, self-contained, multi-purpose home cooking unit. It is to be imagined as a fully working kitchen, which can provide an entire family in a rural area with food and electricity throughout the whole day. It consists of an electric base, which includes a battery pack, a solar panel array and a highly insulated cooking pot that can keep food warm for hours.
NEW: 

April 2022: PV-induction stove developed in India - Researchers at the Department of Electrical Engineering at the National Institute of Technology-Calicut (NITC) have designed, and developed, an eco-friendly smart solar stove with zero operating cost for domestic and roadside eateries (thattukadas). Read more...
April 2021: Using nichrome wire as an assist to solar cooking, and as stand-alone cooker with (PV charged) batteries - Craig Bergland, a solar inventor living in Nevada, USA, has been experimenting heating nichrome wire to assist in raising the cooking temperature within solar box ovens, seeing raises of 27 - 38 °C (81 - 100 °F). He has managed to do this with relatively low cost components. Read about his results here on his personal page.
February 2021: Cooking directly from PV panel to heating element: - Bernhard Müller has shared his recent experiences. He initially used a 50w heating pad connected directly to a 50W PV panel, but discovered using a 40w pad was more efficient. He was able to have the heating pad reach 120 °C (248 °F). He recommends this approach can be used for most cooking, except for baking and frying. It is important to use a well-insulated cooking chamber and limit the length of the connecting cables, as cable resistance will limit output.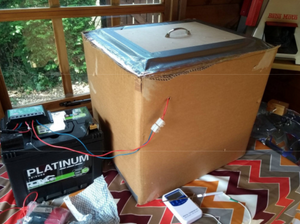 February 2021: Jane and Seggy Segaran have been experimenting cooking with a 60 watt heating element powered by photovoltaic panels. They first charge a battery with the panels. This makes it possible to provide a more concentrated amount of power to the heating element than can be achieved directly from the PV panels. The food is cooked within a highly insulated assembly. They have found "A 100 W solar panel can provide a peak power of 70 to 80 Watts. If it is in a fixed orientation (and does not track the sun) then my estimate was 50 watts average power over a 6 hour period. 50 watts means a current of around 4 Amps going into a 12 V battery. So to fully charge a 75 Ah battery is going to take around 20 hours – or just over 3 days. So 3 days of charging will provide 10 hours of cooking." Read more...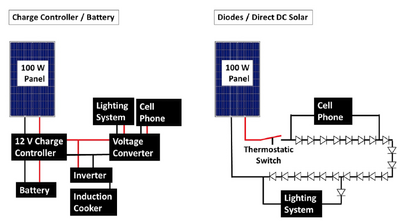 March 2020: Research begins using thermal diode arrays for cooking - Cooking powered by photovoltaic panels appears to be developing rapidly. Early research involved cooking directly with induction heating elements. However the direct thermal output was low temperature, and researchers concluded induction systems worked more efficiently when included with battery storage, or a phase-change medium. The phase-change medium would be heated throughout the day, and be able to give back the heat at a higher rate to the induction element for cooking later in the day (See August 2019 news item). Recent development with incorporating thermal diodes arrays shows the possibility of using a simpler and less expensive system to generate heat for cooking. They do not require 12v charge controllers, voltage converter, batteries, and inverters of traditional PV systems, but they do not intrinsically have energy storage capabilities. They require a thermostatic switch to interrupt the circuit above a predetermined temperature. This research is in its infancy, and more detailed information can be found in: Hot diodes!: Dirt cheap cooking and electricity for the global poor? - Volume 4, 2019, 100044 ScienceDirect (See also the May 2020 video below produced by Pete Schwartz and his team cooking with this method in Ghana.)
November 2019: Electric cooking starts to simmer in rural India - Following the success of the Saubhagya initiative and its announcement of 100 per cent rural household electrification, efficiency gains and cost reductions in solar panels and batteries are opening up a new market that has the potential to avoid using any solid or fossil fuel, with solar-powered electric cooking or e-cooking using pressure and rice cookers and induction stoves gaining traction. The winner of the 2017 challenge, IIT Bombay, has since conducted a project to convert the entire village of Bancha in Madhya Pradesh, India to solar panels and induction cookstoves instead of wood-burning or LPG stoves. With Rs 8.5 million provided by ONGC, all the 75 houses in Bancha now rely on solar-powered electric stoves to meet their cooking needs. Besides reducing air pollution, villagers no longer have to collect firewood from nearby forests, saving time and effort. More information...
August 2019: Cooking with PV and phase change materials in place of a battery - Pete Schwartz explains how his research group at Cal Poly, USA is using a relatively low power photovoltaic panel to produce electricity to run an induction heating element, which runs through a phase changing heat storage medium. The medium melts at 120 °C (248 °F) during exposure throughout the day. In the evening the medium is hot enough to cook a meal fairly quickly without the sun, stored battery power, or further input from the induction heating element.
March 2016: Antonia Lecouna Neumann reports: "We use erythritol as heat storage material, cheap, durable, edible and has a melting heat similar to ice. We found it superior to other alternatives although long term durability is still an issue." Read more...
Documents
[
]
Articles in the media
[
]
Audio and video
[
]
External links
[
]
See also
[
]
References
[
]
All construction plans
[
]
All designs
[
]
Trending pages
All items (6)