m

m

(29 intermediate revisions by one other user not shown)
Line 1:
Line 1:
 

{{GoogleTranslateLinks}}

 

{{GoogleTranslateLinks}}

−

{{Updated|4|8|15}}

+

{{Updated|8|}}

 

<table cellspacing="2">

 

<table cellspacing="2">

 

<tr>

 

<tr>

 

<td valign="top" width="45%">__TOC__</td>

 

<td valign="top" width="45%">__TOC__</td>

 

<td valign="top" width="55%" style="padding:10px;">

 

<td valign="top" width="55%" style="padding:10px;">

−

[[File:Les femmes réfugiées du Darfour cuisinent solaire|thumb|370px|none|VIdeo shows hundreds of [[CooKit]]s in use at the [[Touloum Refugee Camp]] in Chad.]]

+

[[File:Les femmes réfugiées du Darfour cuisinent solaire|thumb||none|VIdeo shows hundreds of [[CooKit]]s in use at the [[Touloum Refugee Camp]] in Chad.]]

 

'''The Solar Cooker Project improves lives of Darfur refugees''' -

 

'''The Solar Cooker Project improves lives of Darfur refugees''' -

−

More than 50,000 people in four Darfur [[refugee camps]] in Eastern Chad are using locally made solar [[CooKit]]s designed by [[Solar Cookers International]]. The project is run by [[Tchad Solaire]] and by the British NGO [[CORD]]. Funding has been provided by [[Jewish World Watch]] and the [[Kozon Foundation]]. The project has improved the safety and survival of the women in the [[refugee camps]]. Previously, they were faced with dangerous and arduous trips outside the camps to collect scarce firewood. Two of the most extensive projects are at the [[Touloum Refugee Camp]] and the [[Iridimi Refugee Camp]].

+

More than 50,000 people in four Darfur [[refugee camps]] in Eastern Chad are using locally made solar [[CooKit]]s designed by [[Solar Cookers International]]. The project is run by [[Tchad Solaire]] and by the British NGO [[CORD]]. Funding has been provided by [[Jewish World Watch]] and the [[Kozon Foundation]]. The project has improved the safety and survival of the women in the [[refugee camps]]. Previously, they were faced with dangerous and arduous trips outside the camps to collect scarce firewood. Two of the most extensive projects are at the [[Touloum Refugee Camp]] and the [[Iridimi Refugee Camp]].

 
+

{{SignificantProjectLink}}

 

</table>

 

</table>

 
+
 

==Events==

 

==Events==

 
+

{{{{PAGENAME}}Events}}

 

{{CalendarAndPastEvents}}

 

{{CalendarAndPastEvents}}

 
+
−

==News and recent developments==

 
 
+

=={{HeadingNews}}==

 
+

[[File:Pietro_Rusconi_teaches_in_Chad,_11-13-17_copy.jpg|thumb|300px|Father Pietro Rusconi demonstrates a [[parabolic solar cooker]] in Chad. ''Photo credit: Marco Roncalli'']]

 
+

*{{NewNov17}}'''November 2017: Jesuit inventor frees women from the bondage of fire''' - Through solar kitchens and "foyer améliorés", in [[Chad]] the father Pietro Rusconi values ​​a renewable energy at zero cost and prevents women and mothers "break their backs in the Savannah to collect firewood and shrubs" or "buy expensive coal or oil". {{GoogleLinkAuto|http://www.lastampa.it/2017/11/01/vaticaninsider/es/en-el-mundo/el-jesuita-inventor-que-libra-a-las-mujeres-de-la-esclavitud-del-fuego-ZGlniMzOii1fxbiF4Ba32N/pagina.html|Read more...}}

 
+
 

[[File:Solar_Cooking_in_the_Sahel_map,_1-19-15.png|thumb|Solar Cooking in the Sahel - ''NOWCAST''|300px]]

 

[[File:Solar_Cooking_in_the_Sahel_map,_1-19-15.png|thumb|Solar Cooking in the Sahel - ''NOWCAST''|300px]]

−

*'''January 2015: Scholarly paper documents the available sunshine in the Sahel region of Africa''' - Authors, Beth Newton, Sophie Cowie, [[Derk Rijks]], Jamie Banks, Helen Brindley, and John h. Marsham have published a well-documented analysis of the potential sunshine available for solar cooking in the Sahel region, particularly in northern [[Chad]] where a number of Sudanese [[refugee camps]] are located. [[TchadSolaire]] has been training both refugees and the indigenous population to solar cook in the region since 2005. Even along river population centers where clouds tend to form, solar cooking is possible for over 330 days a year. Read more: [[Media:Solar_Cooking_in_the_Sahel,_NowCast,_1-19-15.pdf|Solar Cooking in the Sahel]] - ''NOWCAST''

+

*'''January 2015: Scholarly paper documents the available sunshine in the Sahel region of Africa''' - Authors, Beth Newton, Sophie Cowie, [[Derk Rijks]], Jamie Banks, Helen Brindley, and John h. Marsham have published a well-documented analysis of the potential sunshine available for solar cooking in the Sahel region, particularly in northern [[Chad]] where a number of Sudanese [[refugee camps]] are located. [[TchadSolaire]] has been training both refugees and the indigenous population to solar cook in the region since 2005. Even along river population centers where clouds tend to form, solar cooking is possible for over 330 days a year. Read more: [[Media:Solar_Cooking_in_the_Sahel,_NowCast,_1-19-15.pdf|Solar Cooking in the Sahel]] - ''NOWCAST''

 
 
 

[[File:PICT2221.jpg|thumb|300px|Women prepare a farewell dinner for the international team that had been evaluating their solar cooker project.]]

 

[[File:PICT2221.jpg|thumb|300px|Women prepare a farewell dinner for the international team that had been evaluating their solar cooker project.]]

−

*'''November 2013: Only solar cooking makes something like this possible''' - In 2009 several hundred women from Darfur refugee camps gathered together, each carrying a pot of raw food and a folded 12" x 12" cardboard and aluminum foil [[CooKit]]. They were preparing a farewell dinner for an international team that had been evaluating their solar cooker project. The women opened their CooKits and left their pots of food to cook unattended for 90 minutes while they sat in the shade. The result was a banquet for hundreds of people. If each of these woman had been required to haul a fuel-efficient stove and a bundle of wood to this location along with her pot of food, she would have had to stay out in the sun, along with the other women, to tend her fire through the cooking process. Imagine hundreds of fires burning in the desert sun to cook what the ladies in this photo cooked with no fuel and no fire at all.

+

*'''November 2013: Only solar cooking makes something like this possible''' - In 2009 several hundred women from Darfur refugee camps gathered together, each carrying a pot of raw food and a folded 12" x 12" cardboard and aluminum foil [[CooKit]]. They were preparing a farewell dinner for an international team that had been evaluating their solar cooker project. The women opened their CooKits and left their pots of food to cook unattended for 90 minutes while they sat in the shade. The result was a banquet for hundreds of people. If each of these had been required to haul a fuel-efficient stove and a bundle of wood to this location along with her pot of food, she would have had to stay out in the sun, along with the other women, to tend her fire through the cooking process. Imagine hundreds of fires burning in the desert sun to cook what the ladies in this photo cooked with no fuel and no fire at all.

 
 
 

[[File:Touloum refugee camp 1.jpg|thumb|250px|A mother with her child watch over the [[solar panel cookers]] at the [[Touloum Refugee Camp]].]]

 

[[File:Touloum refugee camp 1.jpg|thumb|250px|A mother with her child watch over the [[solar panel cookers]] at the [[Touloum Refugee Camp]].]]

−

*'''May 2013: Solar cookers preparing food for 30,000 people daily at the refugee camps in Chad''' - [[Derk Rijks]], a volunteer with the [[KoZon Foundation]], recently responded to [[Jewish World Watch]] with this note of appreciation. "Last week I was at the [[Touloum Refugee Camp]]. The chief of the workshop, Fatimé, told me there were new arrivals. We walked over to the last of the dunes and there was one woman who had just walked in with four kids, sitting in the sand. Her village was bombed one week ago, and she had fled to escape the Janjaweed, walking for seven nights. Fatimé looked at me, I nodded " yes", and in the next few hours she had her cooker and started her solar cooker training, even before she had a shelter. No words needed, no paper needed. That is the way your contribution works." He also explains, in the six camps where they work in Chad, and in the villages of the population around the camps, about <u>29,000</u> families now do solar cooking, and about <u>130,000</u> people are eating solar cooked meals. In this part of the world solar cooking works about 300 days a year. From the empty bags of the food shipped in by the World Food Programme, and the snippets of aluminum foil and cardboard left over from the manufacture of the cookers, the refugees make "[[haybasket|thermos baskets]]" to keep the food, cooked between 1 p.m. and 4 p.m., warm until the evening meal at 5 p.m. or 8 p.m. They do not have to search for wood so much any more and there are far fewer conflicts for that reason. As one of the elected representatives of the women refugees said: "Solar cooking brings us justice and peace".

+

*'''May 2013: Solar cookers preparing food for 30,000 people daily at the refugee camps in Chad''' - [[Derk Rijks]], a volunteer with the [[KoZon Foundation]], recently responded to [[Jewish World Watch]] with this note of appreciation. "Last week I was at the [[Touloum Refugee Camp]]. The chief of the workshop, Fatimé, told me there were new arrivals. We walked over to the last of the dunes and there was one woman who had just walked in with four kids, sitting in the sand. Her village was bombed one week ago, and she had fled to escape the Janjaweed, walking for seven nights. Fatimé looked at me, I nodded " yes", and in the next few hours she had her cooker and started her solar cooker training, even before she had a shelter. No words needed, no paper needed. That is the way your contribution works." He also explains, in the six camps where they work in Chad, and in the villages of the population around the camps, about 29,000 families now do solar cooking, and about 130,000 people are eating solar cooked meals. In this part of the world solar cooking works about 300 days a year. From the empty bags of the food shipped in by the World Food Programme, and the snippets of aluminum foil and cardboard left over from the manufacture of the cookers, the refugees make "[[haybasket|thermos baskets]]" to keep the food, cooked between 1 p.m. and 4 p.m., warm until the evening meal at 5 p.m. or 8 p.m. They do not have to search for wood so much any more and there are far fewer conflicts for that reason. As one of the elected representatives of the women refugees said: "Solar cooking brings us justice and peace".

 
 
 

{{OldNewsLink}}

 

{{OldNewsLink}}

 
 
 
+

=={{HeadingHistory}}==

−

==The history of solar cooking in {{PAGENAME}}==

 
 

{{ArchivedPagesForHistory}}

 

{{ArchivedPagesForHistory}}

 
+

=={{HeadingClimateCulture}}==

−

==Climate, culture, and special considerations==

 
 

[[File:Solar_Cooking_in_the_Sahel_map,_1-19-15.png|thumb|Solar Cooking in the Sahel - ''NOWCAST''|300px]]

 

[[File:Solar_Cooking_in_the_Sahel_map,_1-19-15.png|thumb|Solar Cooking in the Sahel - ''NOWCAST''|300px]]

 

*'''January 2015: Scholarly paper documents the available sunshine in the Sahel region of Africa''' - Authors, Beth Newton, Sophie Cowie, [[Derk Rijks]], Jamie Banks, Helen Brindley, and John h. Marsham have published a well-documented analysis of the potential sunshine available for solar cooking in the Sahel region, particularly in northern [[Chad]] where a number of Sudanese [[refugee camps]] are located. [[TchadSolaire]] has been training both refugees and the indigenous population to solar cook in the region since 2005. Even along river population centers where clouds tend to form, solar cooking is possible for over 330 days a year. Read more: [[Media:Solar_Cooking_in_the_Sahel,_NowCast,_1-19-15.pdf|Solar Cooking in the Sahel]] - ''NOWCAST''

 

*'''January 2015: Scholarly paper documents the available sunshine in the Sahel region of Africa''' - Authors, Beth Newton, Sophie Cowie, [[Derk Rijks]], Jamie Banks, Helen Brindley, and John h. Marsham have published a well-documented analysis of the potential sunshine available for solar cooking in the Sahel region, particularly in northern [[Chad]] where a number of Sudanese [[refugee camps]] are located. [[TchadSolaire]] has been training both refugees and the indigenous population to solar cook in the region since 2005. Even along river population centers where clouds tend to form, solar cooking is possible for over 330 days a year. Read more: [[Media:Solar_Cooking_in_the_Sahel,_NowCast,_1-19-15.pdf|Solar Cooking in the Sahel]] - ''NOWCAST''

 
 
−

===See also===

+

See also

 
+

*{{WikipediaClimate|https://en.wikipedia.org/wiki/Chad#Climate}}

 
+

*{{NewAug19}}{{EnergySituationEnergypedia}}

 

*[[Africa#Northern Africa|Discussion of northern Africa's suitability for solar cooking]]

 

*[[Africa#Northern Africa|Discussion of northern Africa's suitability for solar cooking]]

 

*[[Solar cooker dissemination and cultural variables]]

 

*[[Solar cooker dissemination and cultural variables]]

Line 35:
Line 44:
 
 
 

==Resources==

 

==Resources==

 
+

{{ContinentInfo|Africa}}

−

[[File:ChadMap2009.jpg|250px|right]]

+

[[File:ChadMap2009.jpg||right]]

 

{{ArabicPlans}}

 

{{ArabicPlans}}

 
+

===Project Evaluations===

 
+

*{{NewDec16}}'''September 2014:''' [[Media:Solar_Cooking_in_the_Sahel,_NowCast,_1-19-15.pdf|Solar Cooking in the Sahel Region of Northern Africa]] - ''NOWCAST''

 
+
 
+

*{{NewJan17}}'''November 2009:''' [[Media:Touloum_Refugee_Camp_Evaluation_-_November_2009.pdf|TchadSolaire Project Evaluation, Touloum Refugee Camp, Chad - Final Report]] - Evaluation of [[Cookit]] distribution in the [[Touloum Refugee Camp]] in [[Chad]] by [[TchadSolaire]] with notes about successful program elements and recommendations for technological improvements.

 
+
 
+

*{{NewJan17}}'''October 2007:''' [[Media:Iridimi_Evaluation_Report_October_2007_compressed.pdf|Solar Cooker Project Iridimi, Refugee Camp, Chad - Final Evaluation]] - Observations from a five day evaluation of solar cooker use in the [[Iridimi Refugee Camp]]. Evaluation based on interviews with 121 refugees and includes recommendations for improving solar cooker use in the camp.

 
+
 
+

*{{NewJan17}}'''July 2006:''' [[Media:Granada_06_derk_rijks.pdf|Use and Manufacture of CooKits in a Refugee Camp, Iridimi, Chad]]

 
+
 

===Refugee camps===

 

===Refugee camps===

 
 
Line 61:
Line 80:
 

*'''February 2009:''' [http://science.howstuffworks.com/solar-cookers-save-lives.htm How are solar cookers saving lives in Chad and Darfur?] - ''HowStuffWorks''

 

*'''February 2009:''' [http://science.howstuffworks.com/solar-cookers-save-lives.htm How are solar cookers saving lives in Chad and Darfur?] - ''HowStuffWorks''

 

*'''July 2007:''' [http://www.csmonitor.com/2007/0726/p01s02-ussc.html Simple sun-cooker takes off as a way to help Darfuris] (includes [http://www.csmonitor.com/slideshows/2007/chadsolar video]) - ''The Christian Science Monitor''

 

*'''July 2007:''' [http://www.csmonitor.com/2007/0726/p01s02-ussc.html Simple sun-cooker takes off as a way to help Darfuris] (includes [http://www.csmonitor.com/slideshows/2007/chadsolar video]) - ''The Christian Science Monitor''

−

*'''March 2007:''' [http://www.washingtonjewishweek.com/main.asp?SectionID=4&SubSectionID=4&ArticleID=6927&TM=82981.36 Hands-on help: Columbia Jewish Congregation gives solar cookers to Darfur refugee women] - ''Washington Jewish Week''

 
 

*'''March 2007:''' [http://solarcooking.org/newsletters/scrmar07.htm#Darfur_refugees Darfur refugees keep on cookin'] - ''Solar Cooker Review''

 

*'''March 2007:''' [http://solarcooking.org/newsletters/scrmar07.htm#Darfur_refugees Darfur refugees keep on cookin'] - ''Solar Cooker Review''

 

*'''February 2007:''' [http://www.presstelegram.com/news/ci_5154686 Darfur heroes honored] - ''Long Beach Press Telegram''

 

*'''February 2007:''' [http://www.presstelegram.com/news/ci_5154686 Darfur heroes honored] - ''Long Beach Press Telegram''

Line 81:
Line 99:
 

*'''July 2007:'''

 

*'''July 2007:'''

 

::[[File:Solar Cooker Workshop in Darfur|none|400px|This is a solar cooker workshop in Nyala, Darfur. As the women look for firewood around the displacement camps they face the danger of rape and abduction. Solar cooking offers an alternative to using firewood for cooking.]]

 

::[[File:Solar Cooker Workshop in Darfur|none|400px|This is a solar cooker workshop in Nyala, Darfur. As the women look for firewood around the displacement camps they face the danger of rape and abduction. Solar cooking offers an alternative to using firewood for cooking.]]

−
 
−

===Blogs===

 
−

*[http://solarmoxie.blogspot.com/2009/10/chad-solar-cooking-project-evaluation.html Solar Cooking & Water Treatment in Africa]-''[[Karyn Ellis]]''

 
 
 
 

===Web pages===

 

===Web pages===

Line 89:
Line 104:
 
 
 

{{CountryContacts}}

 

{{CountryContacts}}

⚫
 
⚫
 
 

[[Category:Countries]]

 

[[Category:Countries]]

 

[[Category:French-speaking countries]]

 

[[Category:French-speaking countries]]

 

[[Category:Chad]]

 

[[Category:Chad]]

 
⚫
 
⚫
---
Revision as of 00:43, 5 August 2019
Last edited: 4 August 2019      
Events
17-23 December 2021: Solar Cooking Awareness Week (Southern Hemisphere) - A loosely organized bid to acknowledge the fun and benefits of solar cooking. Show someone how to solar cook and share a meal.
NEW: 24-26 January 2022: Fourth International Conference: Advances in Solar Thermal Food Processing - CONSOLFOOD Chairman, Celestino Ruivo, has announced an extended call for abstracts for the upcoming conference in January 2022, which is now planned to be an online event. Advances in solar cooking as well as solar food processing will be considered for inclusion. The event schedule and submission requirements are in CONSOLFOOD 2022 conference information.
See also: Global Calendar of Events and past events in Chad
News
November 2017: Jesuit inventor frees women from the bondage of fire - Through solar kitchens and "foyer améliorés", in Chad the father Pietro Rusconi values ​​a renewable energy at zero cost and prevents women and mothers "break their backs in the Savannah to collect firewood and shrubs" or "buy expensive coal or oil". Read more... - (English version)
January 2015: Scholarly paper documents the available sunshine in the Sahel region of Africa - Authors, Beth Newton, Sophie Cowie, Derk Rijks, Jamie Banks, Helen Brindley, and John h. Marsham have published a well-documented analysis of the potential sunshine available for solar cooking in the Sahel region, particularly in northern Chad where a number of Sudanese refugee camps are located. TchadSolaire has been training both refugees and the indigenous population to solar cook in the region since 2005. Even along river population centers where clouds tend to form, solar cooking is possible for over 330 days a year. Read more: Solar Cooking in the Sahel - NOWCAST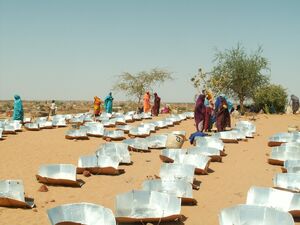 November 2013: Only solar cooking makes something like this possible - In 2009 several hundred women from Darfur refugee camps gathered together, each carrying a pot of raw food and a folded 12" x 12" cardboard and aluminum foil CooKit. They were preparing a farewell dinner for an international team that had been evaluating their solar cooker project. The women opened their CooKits and left their pots of food to cook unattended for 90 minutes while they sat in the shade. The result was a banquet for hundreds of people. If each of these women had been required to haul a fuel-efficient stove and a bundle of wood to this location along with her pot of food, she would have had to stay out in the sun, along with the other women, to tend her fire through the cooking process. Imagine hundreds of fires burning in the desert sun to cook what the ladies in this photo cooked with no fuel and no fire at all.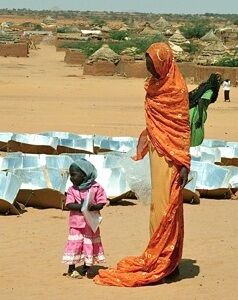 May 2013: Solar cookers preparing food for 30,000 people daily at the refugee camps in Chad - Derk Rijks, a volunteer with the KoZon Foundation, recently responded to Jewish World Watch with this note of appreciation. "Last week I was at the Touloum Refugee Camp. The chief of the workshop, Fatimé, told me there were new arrivals. We walked over to the last of the dunes and there was one woman who had just walked in with four kids, sitting in the sand. Her village was bombed one week ago, and she had fled to escape the Janjaweed, walking for seven nights. Fatimé looked at me, I nodded " yes", and in the next few hours she had her cooker and started her solar cooker training, even before she had a shelter. No words needed, no paper needed. That is the way your contribution works." He also explains, in the six camps where they work in Chad, and in the villages of the population around the camps, about 29,000 families now do solar cooking, and about 130,000 people are eating solar cooked meals. In this part of the world solar cooking works about 300 days a year. From the empty bags of the food shipped in by the World Food Programme, and the snippets of aluminum foil and cardboard left over from the manufacture of the cookers, the refugees make "thermos baskets" to keep the food, cooked between 1 p.m. and 4 p.m., warm until the evening meal at 5 p.m. or 8 p.m. They do not have to search for wood so much any more and there are far fewer conflicts for that reason. As one of the elected representatives of the women refugees said: "Solar cooking brings us justice and peace".
History
Archived articles
Climate and culture
January 2015: Scholarly paper documents the available sunshine in the Sahel region of Africa - Authors, Beth Newton, Sophie Cowie, Derk Rijks, Jamie Banks, Helen Brindley, and John h. Marsham have published a well-documented analysis of the potential sunshine available for solar cooking in the Sahel region, particularly in northern Chad where a number of Sudanese refugee camps are located. TchadSolaire has been training both refugees and the indigenous population to solar cook in the region since 2005. Even along river population centers where clouds tend to form, solar cooking is possible for over 330 days a year. Read more: Solar Cooking in the Sahel - NOWCAST
See also
Resources
Possible funders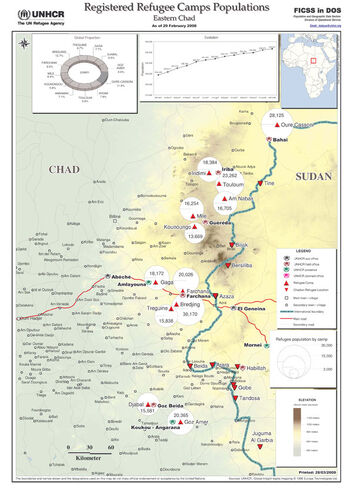 Construction plans in Arabic
Project Evaluations
Refugee camps
These refugee camps have current or past solar cooking projects:


Reports
Articles in the media
Audio and video
Web pages
Contacts
The entities listed below are either based in Chad, or have established solar cooking projects there:
SCI Associates
NGOs
Manufacturers and vendors
Individuals
Government agencies
Educational institutions
See also
References