Jurassic World: Dominion Dominates Fandom Wikis - The Loop
Play Sound
Last edited:
14 September 2021
| | |
| --- | --- |
| | The Delicias del Sol restaurant, known for serving excellent food, has become a tourist destination for the village of Villaseca, Chile. Begun in 2000 with an initial seating capacity of sixteen, the solar restaurant now seats 120. The dry central valley area receives over 300 days of sunshine a year, and like similar areas, traditional fuel sources are becoming ever more scarce and expensive. The tourists enjoy viewing the solar kitchen at work. Visit the Delicias del Sol restaurant. |
Events
[
]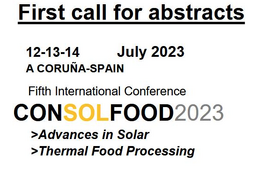 NEW: 

12-14 July 2023 (A Coruña, Spain): CONSOLFOOD2023 - Organizers have released a first call for abstracts to participate in the Fifth International Conference, taking place in Spain in 2023 as an in-person conference. The deadline for submission is 15 December 2022. More submittal information...
See also: Global Calendar of Events and past events in Chile
News
[
]
September 2021: New restaurant in Villaseca - EntreCordillera Restobar opened in 2018, and joins the successful Delicias del Sol as another solar-fueled restaurant. Luisa Ogalde uses the solar ovens to make traditional stews, including beef or chicken-based cazuela, and even desserts such as the flan-like leche asada with goat milk. "We're rescuing all of the old recipes of the area and giving value to the homestyle foods of our grandparents," she explained. Yet, while the recipes may be old, the way of cooking them is brand new. The new restaurant is a member of Association of Solar Artisans of Villaseca, which helps support and promote the local community of restaurants. Read more...
October 2019: Taller Combarbalá - Ruddy Viscarra Les comparta parte de su trabajo con una escuela de Combarbalá, Chile, donde les enseñó a fabricar una cocina solar Fun-Panel y les explicó sobre los colores y la temperatura que toman con el Sol.
January 2014: New solar cookers ready for distribution in Chile - Guai Bao, traveling in Chile, sent along this photo of newly constructed solar box cookers at a manufacturing facility in Ovalle. The cookers are well thought out. They are sturdy with insulated inner walls and an internal high-back reflector to catch late day sun. The front wall is low and slightly tipped forward to avoid blocking any sunlight. The external side reflectors appear to be able swing closed and protect the glass surface. They look ready to start cooking sitting on the small tables, which provides a convenient work height for users. The cooker construction is being supervised by Ruddy Viscarra. See more assembly photos on the Solar Cookers World Network Facebook group.
October 2013: Celestino Ruivo, Doctor of the University of Coimbra's academic and University of Algarve, Portugal, visited the Technical University Federico Santa Maria, invited by the Academic Department of Architecture, Pedro Serrano. Both belong to international solar cooking organizations. Dr. Ruivo has been developing new lightweight and portable solar cookers, and spent time with students to discuss innovation. Later they traveled to Villaseca to visit Delicias del Sol, the popular local solar restaurant.
March 2013: Solar oven design contest winners - Carlos patricio Eyquem, with his partner Javier, won first place in Chile's national competition for solar oven design. Their solar box cooker design also incorporates some convective and conductive heat transfer concepts. There is a small array of oil-filled copper tubing in front of the cooker which becomes hot, and through convection, transfers the heat to the bottom of the cooking pot inside the cooking chamber. The copper tubing becomes hot as well, and transfers additional heat to the cook pot through direct conduction. Carlos has included some instructions on how to make their design. Read more...
December 2012: The Delicias del Sol restaurant, known for serving excellent food, has become a tourist destination for the village of Villaseca, Chile. Begun in 2000 with an initial seating capacity of sixteen, the solar restaurant now seats 120. The dry central valley area receives over 300 days of sunshine a year, and like similar areas, traditional fuel sources are becoming ever more scarce and expensive. The tourists enjoy viewing the solar kitchen at work.
October 2011: The borough of Combarbalá, located in northern Chile, is soon to be named Chile's first "solar neighborhood." The households of the borough will use solar panels to heat 16 gallons of water at 113 °F, which will allow savings of up to 80 percent on Chile's notoriously high gas bills. To take advantage of the system, each house was built with an orientation towards the north to get the most sunlight possible. In addition, families were trained in energy saving and solar cooking and heating. Read more...
April 2011: Restaurant Ayllu in San Pedro de Atacama has begun using solar cookers to prepare food for their patrons. Guests are welcome to see the solar cookers in action.
August 2009: Responding to the urgent need to introduce alternative fuels, the United Nations Development Program, the Global Environment Facility, and the European Union partnered with the Chilean government and communities in northern Chile to bring an eco-friendly and creative solution – using energy from the sun. The project sparked entrepreneurship, and some apprentices have become masters, selling ovens, stoves or teaching the techniques to other communities in other regions. In a previous, similar initiative in Chile's Atacama Desert, local people built special stoves that look like mirrored parabolic dish antennas. Miguel Perez, one of the beneficiaries, now teaches the solar stove-building techniques to people in neighbouring communities.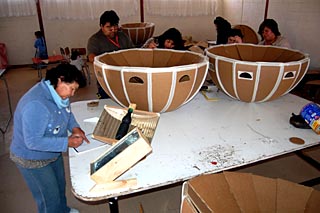 July 2009: A group of 25 neighbors, under the guidance of solar cooker specialist Aldo Bravo, have begun to build solar cookers out of cardboard and aluminum foil. Their goal is to create an environmentally friendly and economically feasible method of cooking. For the full article on this workshop, see Vecinos construyen cocinas solares con taller impartido por Codelco - Loactual: Comunicación Digital
History
[
]
The long thin nation of Chile, stretching along the western flank of the Andes for close to half of the continent, has lively and extensive solar cooking programs in this part of the world. Considerable collaboration between a number of university faculty members, government units, and voluntary organizations has produced a situation which provided enormous publicity for the use of solar cookers. Even though the technology cannot be used in all parts of Chile for all months of the year, a number of projects have been carried out successfully and use is widespread in areas where solar cooking is appropriate.
University of Chile
Faculty members of the Institute of Nutrition and Food Technology, University of Chile, were instrumental in starting early programs in various regions of the country, testing devices and project methods in arid and semi-arid regions where fuel had become extremely scarce. In early stages, a "national contest" was held to encourage innovation in design and to create widespread interest in the potential. Twenty-two designs were submitted to the competition, clearly reflecting strong interest. Eight of them proved to function satisfactorily and were later used in the demonstrations. Next, an "encounter" was held, focusing on how to make cookers available economically and how to adapt them to the specific needs of households. A project was then developed in a rural municipality town, Lampa, north of Santiago (central in the country), employing a population of 72 families as interviewees to explore issues of fuel usage and expense, household size and food preferences, cooking patterns, etc. A small number of cookers were made available for use of selected families as "experimenters." Considerable interest was generated, other community meetings were held, and ultimately the community decided to build cookers themselves. This experiment served as the basis for projects in different areas. A portion of this work was accomplished in connection with a UNESCO project focused on use and conservation of hydrological resources in Latin America and the Caribbean. Representatives of this university unit have also prepared an excellent solar cookbook for use in projects in Spanish-speaking countries.
Villaseca solar restaurant
A number of other institutions have collaborated in solar promotion in Chile, including the Universidad Technica, School of Architecture, where a prominent promoter, Pedro Serrano, is affiliated. The best known project in Chile is located in Villaseca, also north of Santiago. In this community, virtually all residents cook with solar power. The area is ideally suited, being blessed with 310 days of sunshine in a year and plagued by dramatic fuel scarcity. Perhaps the best known part of the work in Villaseca (and certainly the best publicized) is the open-air solar restaurant using ten large reflecting ovens and providing employment for members of 26 families. It serves meals to around 60 people a day and must turn down 40 others until it can increase its capacity. It is a frequent stop for tourist groups from many nations. The owners also use homegrown organic vegetables and fruits and are reputed to serve the best food in Chile.
Many stories are associated with the Villaseca experiment, including one about the local safety inspector who insisted they needed a chimney for smoke to pass through. But for the most part, the work garners praise and its proprietors are kept busy responding to questions from other villages that would like to emulate the project. Serrano estimates that there are around 300,000 potential users of solar ovens in Chile. Villaseca women have also been lending a helping hand to women in neighboring Paraguay who are interested in learning more about solar cooking.
Solar Institut Jülich
The experiments in Chile appear to have substantial support from government and other organizational sources. In addition, as long ago as 1992, the German group Solar Institut Jülich had demonstrated the use of parabolic cookers with retained heat capacity, an experiment later repeated in India, Egypt, and elsewhere. Chileans have thus been exposed to a range of types of cookers in the search for designs powerful enough for their climate.
Archived articles
Climate and culture
[
]
Audio and video
[
]
Resources
[
]
Possible funders
[
]
Facebook groups
[
]
Blogs
[
]
Reports
[
]
Articles in the media
[
]
Audio and video
[
]
External links
[
]
Contacts
[
]
The entities listed below are either based in Chile, or have established solar cooking projects there:
SCI Associates
[
]
NGOs
[
]
Manufacturers and vendors
[
]
Individuals
[
]
Government agencies
[
]
Educational institutions
[
]
See also
[
]
References
[
]