Last edited:
6 August 2019
Solar Cookers in Tibetan Areas of China

Solar cookers shown in use in Tibetan areas of China help reduce the difficult task of gathering cooking fuel.
Events
[
]
NEW: 

15-17 September 2021: Climate Chance Summit Africa 2021 - Registration is open to attend the virtual 3rd edition of the Climate Chance Africa Summit. Three days of sessions on key themes and sectors of climate action hosted by non-state actors engaged in climate change in Africa. There is no charge for attendance, but registration is required
NEW: 

Friday, 17 September 2021 (10:30am CDT, 15:30 GMT): Homeschool program on solar cooking - The Syracuse-Turkey Creek Township Public Library, in Syracuse, Indiana, USA, offers online programs for homeschool students on Fridays at 10:30am. This program is described as learning to build and use a solar cooker. Read more...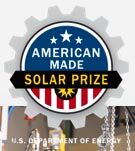 NEW: 

5 October 2021: American made solar competition - The U.S. Dept. of Energy is sponsoring a a multi-part competition to spur solar manufacturing, develop innovative solar solutions and products, and create domestic jobs and opportunities through public-private partnerships. The contest is open to U.S. residents, and the final phase is still open for submittals until 5 October 2021. Much of the attention has been with photovoltaic solutions, and this last phase is structured with two tracks that focus separately on hardware and software components. Solar cooking equipment should qualify as hardware solutions. Read more about the competition...
NEW: 

22-26 November 2021: 2nd National Congress for Solar Drying and Cooking Food - An affiliated group of universities in Mexico will host an online conference relating to solar food drying and cooking, as well as, food safety and energy savings realized with minimal environmental impact. Participants can register to view the presentations, or apply for presentation consideration. The conference will be in Spanish. Registration information... - (English version)
17-23 December 2021: Solar Cooking Awareness Week (Southern Hemisphere) - A loosely organized bid to acknowledge the fun and benefits of solar cooking. Show someone how to solar cook and share a meal.
24-26 January 2022: Fourth International Conference: Advances in Solar Thermal Food Processing - CONSOLFOOD Chairman, Celestino Ruivo, has announced an extended call for abstracts for the upcoming conference in January 2022, which is now planned to be an online event. Advances in solar cooking as well as solar food processing will be considered for inclusion. The event schedule and submission requirements are in CONSOLFOOD 2022 conference information.
See also: Global Calendar of Events and past events in China
News
[
]
August 2018: Solar cooker demonstration in Dezhou - Two dozen chefs with white aprons and hats prepared soups, baked "baozi" pork buns, and boiled rice porridge at a festival designed to demonstrate the potential of solar cookers that organizers claim can help reduce climate-changing greenhouse gas emissions. As hundreds of people strolled by, chefs armed with oven mitts scaled ladders to uncover piping-hot cooking tubes arrayed on nearly 2-meter (6-foot)-tall industrial racks. Smaller-scale vendors used 1-meter (3-foot)-long solar cookers designed to fold up for picnics. Read more...
September 2017: The 2017 2nd International Conference on Advances in Energy and Environmental Research (ICAREE 2017) organized by the Global Scientific Research Association (GSRA) was held on 11-13 August 2017 in Guangzhou, China. Representing solar cooking, Shyam Nandwani, Ph.D., was one of the keynote speakers. There were about 40 participants, mainly from China, the rest from Taiwan, Indonesia, England, and Dr. Nandwani from Costa Rica.
History
[
]
(Information for this section was taken originally from State of the Art of Solar Cooking, 2002 by Dr. Barbara Knudson)
The world's largest solar cooker programs are found in China. One contemporary spokesperson for this issue in China is Chen Xiaofu, Deputy Secretary General of the China Association for Rural Energy. He writes that China has been active in designing devices, in materials technology, in establishing technical standards for industrial production, and in dissemination and sales for over 20 years. An earlier spokesman, speaking at the First World Conference in Solar Cooking, held in 1992, provides an even longer history. Wang Xiping, a participant in that meeting in Stockton, California, outlines the use of light-collecting and focusing devices in China back into antiquity. He tell his audience that solar cooking had appeared in China before the beginning of the 20th century, with Peking duck roasted in Xiao's Duck Shop, ChengDu, China, in 1894 (Pejak, ed., 1993, p. 12).
Both gentlemen and other reporters tell of a number of efforts within China in the 1980s and 1990s. Following up on an initial meeting in 1973 on solar cooking as a new technology, the first China National Solar Energy Congress was held in 1975, a second in 1979. From initially using principally circular parabolics and simple box cookers, new and improved designs were introduced during this period, and materials for several new designs were explored and tested. In 1982, at the national level, a United Key Task Team on Solar Cooking was created, under the auspices of the Ministry of Agriculture, since the technology was particularly needed in rural areas where fuelwood was increasingly in short supply. The work of the Task Team was to begin the rigorous assessment and establishment of standards for solar cooking devices to assist consumers and policy makers in comparing the efficiency and consumer acceptability of solar stoves. Even as this was occurring, solar cooking was spreading rapidly through the countryside as the new designs emerged. The need for mechanisms to evaluate cooking equipment became clear; by 1990, National Standards for examining and testing focusing cookers were ratified by the China State Standard Agency. Over time, these beginnings have led to movement from experimentation to industrial production, and from strong government support to semi-commercial dissemination strategies.
Most of the effort has been focused on rural areas. Districts with cooking fuel shortages have shown strong support for cookers using the sun's energy. Even as subsidies have been reduced, sales have continued to grow. Factories supply most of the cookers, which are made of metal or concrete, with glass as reflecting mirrors. Others are made by hand, and in both modes, new and improved designs continue to be developed and tested. Government sources continue to provide technical and financial assistance, both to active and potential manufacturers and to low-income consumers, through subsidies and tax reductions.
The most recent estimate of cookers in use in China is 560,000. While there is considerable variance by region, each cooker is believed to have saved from 600-1,000 kg (somewhat under 300 to 500 pounds) of fuelwood per year, important benefits to both economic and environmental circumstances.
Tibet appears to be a special case in regard to solar cookers. The Solar Energy Research and Demonstration Center of Tibet, in Lhasa, indicates that approximately 70,000 solar cookers, mostly of the concentrator type, have been sold in Tibet. Initially, these sales were heavily subsidized, but that seems no longer to be the case. The cost of the devices is roughly USD 60, but fuel savings amortize the cost quickly. The devices are more popular in rural areas than in cities, as agriculturalists and herders are eager to save animal dung for use as fertilizer rather than as cooking fuel.
An example was seen recently by American subscribers to the National Geographic magazine. Many were startled when they opened the January 2002 issue of National Geographic to find a picture of a woman making herself tea beside a modest house in the middle of China's Alashan Plateau, an isolated high natural desert in the far north of China, bordering Mongolia. The surprise was the stove she used, a mirrored solar collector. The brief story said that she was a widow of Mongolian heritage, 72 years old, living alone since the death of her husband almost 30 years ago, existing on earnings from herding camel and sheep. The lonely life meant she saw few people and had few opportunities to spend her small income. She therefore decided to invest in some "creature comfort" for herself and purchased a parabolic solar cooker for about USD 150. She uses it regularly to cook her meals, make tea, and prepare food for occasional visitors in this area where the sun shines most days. She was very pleased with herself and her purchase.
Many reports of correspondence from manufacturers, research institutes, and social organizations confirm the steady interest in China in solar cooking. Perhaps this interest, expertise, and promising experience with solar cookers might be harnessed in some way to assist other nations of the region.
To that end, a September 1994 International Solar Energy Applications Training Workshop was held for citizens of other Asian nations, sponsored by the National Energy Research Institute of Gansu Province, Academy of Science, and aided by the Ministry of Foreign Trade and Economic Cooperation. The workshop is one excellent model for dissemination of the technology in Asia. China was also represented among those demonstrating solar cooking at the 2002 Johannesburg World Social Summit.
Archived articles
Climate and culture
[
]
Solar Cookers International has rated China as the #2 country in the world in terms of solar cooking potential (See: The 25 countries with the most solar cooking potential). The estimated number of people in China with fuel scarcity but ample sun in 2020 is 98,100,000.
See also:
Carbon credit projects
[
]
Resources
[
]
Possible funders
[
]
Websites
[
]
Reports
[
]
April 2009: Numerous solar cooker projects have been implemented in Qinghai, Gansu, and Sichuan. These projects were mostly done by Tibetan students at Qinghai Normal University. Also see these documents:
The detailed nature of the final reports in .pdf format gives insight into village conditions, the cost of solar cookers, and the amount of local contributions for the solar cookers.
Audio and video
[
]
Articles in the media
[
]
External links
[
]
Contacts
[
]
The entities listed below are either based in China, or have established solar cooking projects there:
SCI Associates
[
]
NGOs
[
]
Manufacturers and vendors
[
]
Individuals
[
]
Government agencies
[
]
Educational institutions
[
]
See also
[
]
References
[
]