Last edited:
28 February 2018
Christopher Nyerges is the co-founder and director of the School of Self-Reliance in California, USA.  He is the author of The Self-Sufficient Home: Going Green and Saving Money as well as other books. He incorporates the use of solar heater/oven techology for the heating and purification of water, as well as for home cooking. He has been teaching self-reliance, nature awareness, and emergency preparedness classes since 1974.
News and recent developments
[
edit
|
edit source
]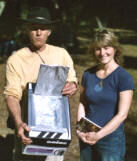 March 2006: Christopher Nyerges reports that solar cooker classes are offered at the School of Self-Reliance, an institute that has taught various aspects of solar use for over 30 years. The school offers classes and educational materials on a number of other self-reliance topics, including wild food foraging, primitive tools, orienteering, gardening, and conservation.
School of Self-Reliance
Box 41834
Eagle Rock
California 90041
USA
Tel: (626) 791-3217
Email: dnyerges@yahoo.com
Web: http://ChristopherNyerges.com and http://www.self-reliance.net
Community content is available under
CC-BY-SA
unless otherwise noted.