This article is about an entity that either no longer exists or that may no longer be active in solar cooking promotion. It is retained here for archival purposes.


Last edited:
28 February 2018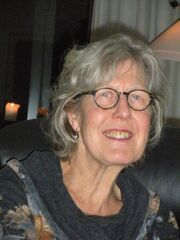 Clara Thomas started with her work on solar cooking in 2004. Until December 2016, she was chairman of Solar Cooking KoZon (SCN-KoZon) and advisor of Horn of Africa Regional Environment Centre and Network (HOAREC/N) since spring of 2011. Roughly twice a year she visited SCN-KoZon projects in Uganda and Ethiopia.
December 2016: Solar Cooking KoZon reports: "To our regret Clara Thomas, member of the board and country coordinator East Africa, has decided to give up her activities after 13 years Solar Cooking The Netherlands (SCN) and Solar Cooking KoZon. Her departure is a great loss to us and to our partners in Africa. In 2004 Clara Thomas founded SCN. Until the merger [with the KoZon Foundation], she was president and project leader, first in Uganda and later on in Ethiopia. Thanks to her boundless dedication and expert knowledge, she made a very important contribution to the dissemination of solar cooking means and techniques in East Africa. Not only was she active in Africa, but also through her many contacts both nationally and internationally she successfully advocated the need to use sustainable energy, and in particular solar cooking. She contributed extensively to the preparations for the merger. During this past year she has transferred her knowledge and experience to our project coordinators and she has fully coached her successor, Alewijn van Asperen. We will miss Clara. But it is good to know, for Clara as well as for us, that Solar Cooking The Netherlands – KoZon is, also thanks to her, a new, sound and strong foundation that is ready for the future."
Community content is available under
CC-BY-SA
unless otherwise noted.