Last edited:
12 April 2022
Education is one of the most important components in spreading the uses and benefits of solar cooking. The classroom resources below can be used for learning, and for teaching others about solar cooking.
News
[
]
October 2018: School for the Deaf and the Blind offers solar cooking - Students at the Virginia School for the Deaf and the Blind were given an introduction to solar cooking in a recent class. They were given the opportunity to try a solar oven by cooking sweet potatoes which were grown on the school's own farm. Read more...
September 2018: An eighth-grade teacher from the Mary Putnam Henck Intermediate School in Lake Arrowhead, California, USA was awarded a 20,000 USD grant to expand Science, Technology, Engineering and Mathematics (STEM) education in his classroom. Solar cooking is set to be used as a means demonstrate the power of solar energy for his students.
May 2017: Solar cooking project builds on STEAM - Middle school students were exposed to a multi-facetted lesson plan, with their challenge to design and build their own solar cooker. The lesson met the requirements for STEAM recognition. To qualify, a project typically integrates each of the core classes, including math, science, language arts and social studies. STEAM stands for science, technology, engineering, art and math.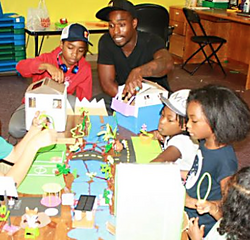 April 2017: Special pricing to benefit teachers - To show support for teachers this solar cooking season, Solar Cookers International is offering a $5 discount on any order of a CooKit solar cooker while supplies last.
August 2016: Children learn about their solar future - At a week-long day camp in Minneapolis, Minnesota, USA, young participants learned how solar energy will integrate into their coming lives. They learned to build solar lanterns, design a solar oven to bake a cake, and working in teams, design their own solar-powered devices. Read more...
Lesson plans
[
]
Elementary school
[
]
Middle school
[
]
High school
[
]
Documents
[
]
Books
[
]
Iqbal and His Ingenious Idea
[
]
By Elizabeth Suneby
Iqbal learns that his school's upcoming sustainability fair has the theme of sustainability, and comes up with the perfect idea for his entry: He will design a stove that doesn't produce smoke, win the prize, and help his family's health. Details and purchasing information...
Audio and video
[
]
February 2016: Engaging Students in Cross-Curricular Solar Cooker Lessons - Want to know how to inspire and educate the next generation of solar cookers? Expert science teacher Mary Buchenic will explain how solar cooking can be taught across disciplines and to meet curriculum standards. Learn how to teach 1500 children and their families about solar cooking, just like Mary has done. Webinar recordings are available for free to SCI Associates. Click here to join the SCI Association or login and view.
Articles in the media
[
]
See also
[
]
External Links
[
]